Each month, we'll be sharing bite-size summaries of the top social media best practices, examples and trends we've come across. Both from our own experience working with our clients, and from what we've been reading around the web.
See if you can apply these tips to accelerate your reach, engagement and follower growth. Of course, be sure to always test before changing your strategy entirely, as not ever technique works for every type of account!
Want even more social media tips, trends and best practices? Check out our November 2021, October 2021, and other monthly roundups.
1. Instagram tip: Likes are good, but are saves best?
Instagram likes might make us look great. But should you be encouraging your followers to take other actions instead?
AMPR Group suggests that saves, shares and comments are more important to the algorithm, and therefore more helpful in making your account grow. Something worth testing with your own audience.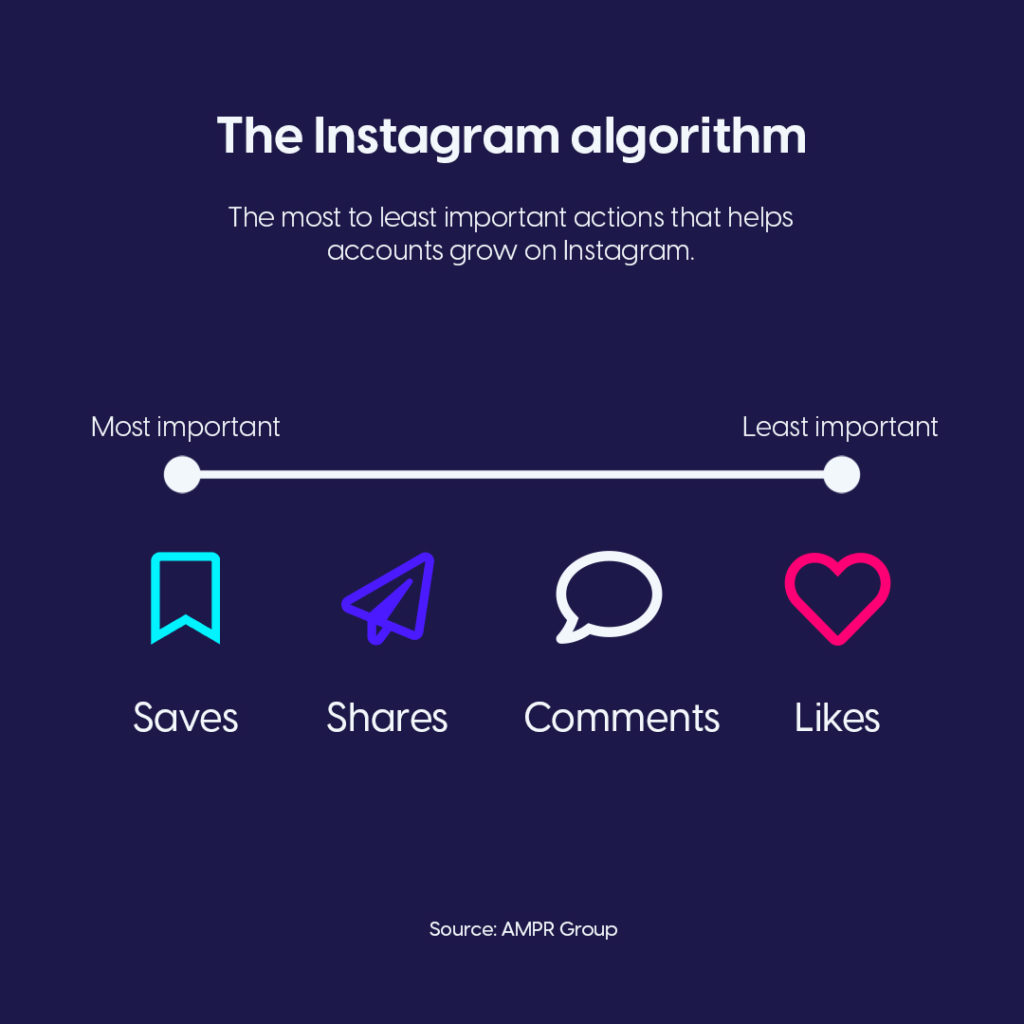 2. Twitter tip: Stories about others get more retweets
A study on Twitter influencers and celebrities found that tweets that tell a story about others receive 33% more retweets. And tweets that tell a story about the author receive 5% more retweets.
On the other hand, facts about yourself (-15%) and angry outbursts (-22%) are retweeted less.
See if the same applies for your business pages. Instead of sharing facts about your company or organization, try sharing stories about others, such as your customers' successes, inspiring fan stories or employee achievements. Or if you're working with influencers, choose those that use storytelling.
3. Social media trend: Don't ignore the older generation
According to Hootsuite, the pandemic caused a 66-point increase in baby boomers' social media screen time. Especially on Facebook, as the platform remains a favorite for Gen X and baby boomers.
So drop the belief that social media is only for the younger generations. And start thinking about how you can tap into this often ignored market.
4. Instagram tip: Drive engagement with carousels
Instagram carousels continue to drive the highest engagement compared to other post types.
Not only do people feel more compelled to swipe left on carousels, but Instagram will also often push your carousel posts into followers' feeds multiple times. Once with the first carousel image, and again with another image from the carousel as the first image.
View this post on Instagram
5. Instagram trend: Make your Guides
Have you tried Instagram's recently-launched Guide feature yet? Instagram is always pushing its new features, so it usually pays off to get involved early.
Instagram's Guide feature is similar to its Stories Highlight feature, but designed for your posts instead. It lets you group posts together, including your own posts and those from other accounts. It's a great way to tell a story or highlight your most popular posts.
See how Tottenham Hotspur and HubSpot are already using this feature.
6. Facebook tip: Check out your competitors' ads in the Ad Library
A couple of years ago, Facebook launched its Ad Library. Yet we find that only few social media managers seem to know about this search tool. So here's a reminder.
In Facebook's Ad Library, you can search for any ad that is running across Facebook's products. This includes your competitors' ads. So have a little look around to see what they're up to, and what you can learn from it. (Be sure to choose the "Search all" option when searching the library).
7. Instagram tip: Use blue to boost engagement
According to Jenn Herman, via Social Media Examiner, the color blue is proven to get 20-30% more engagement.
If your team or brand's colors already include blue, you're all set. But if not, try to get some blue backgrounds, blue skies, blue clothing or blue products into your shots. And see if it makes a difference to your engagement.
View this post on Instagram
Are you running your organizations' social media channels? See how you can speed up your branded content creation process with Content Stadium. Explore our super user-friendly and always on-brand platform for sports, employer branding and recruitment, and communications teams.