Content Stadium expands its platform beyond social media content creation with the launch of a new content distribution tool: Content Stadium SHARE. Content Stadium SHARE makes it easy for (social) media teams to share content with members of their network, who can then post it on their own social media channels.
Dutch Eredivisie football club AZ was first to pilot Content Stadium SHARE. And after a successful test, the club is planning to roll out the use of the tool to its entire first team.
About Content Stadium and Content Stadium SHARE
Content Stadium already offers the most user-friendly content creation tools in the sports industry. More than 150 sports clubs, leagues, federations and media companies are using its Content Stadium CREATE and LIVE tools to create on-brand social media content at speed.
Content Stadium SHARE is the latest addition to the platform. The distribution tool enables (social) media teams to share photos, branded graphics and videos with their team members (players, coaches, sponsors, affiliates and other partners), in a few clicks. Members can then easily post this content on their own social media channels, helping to amplify the organization's message and increase its reach.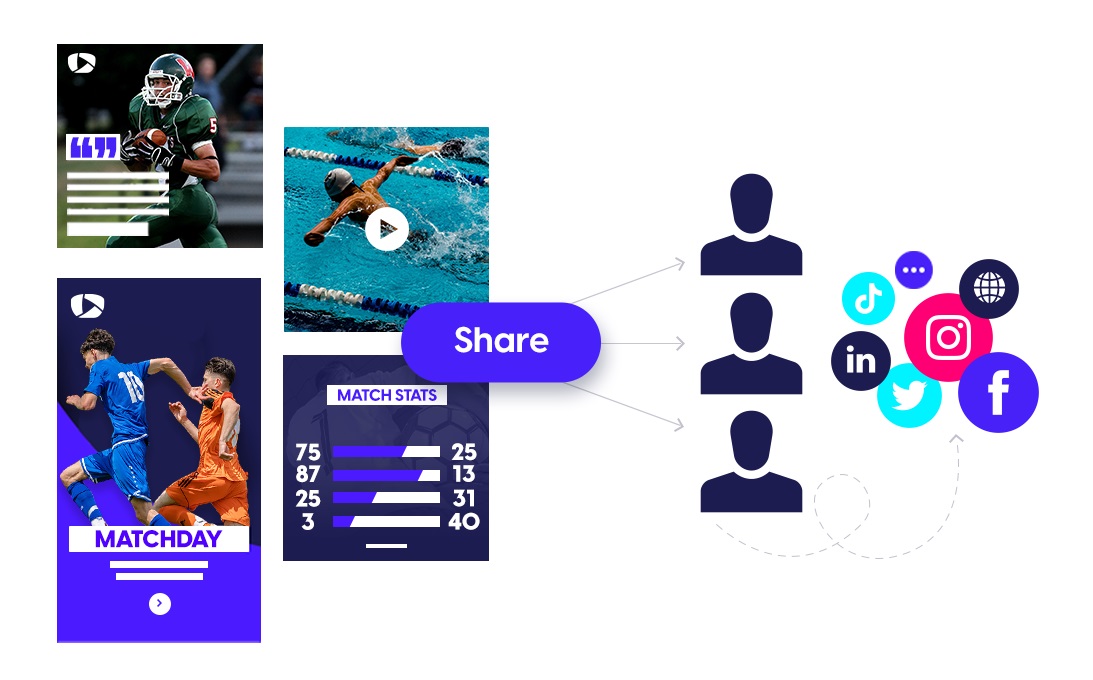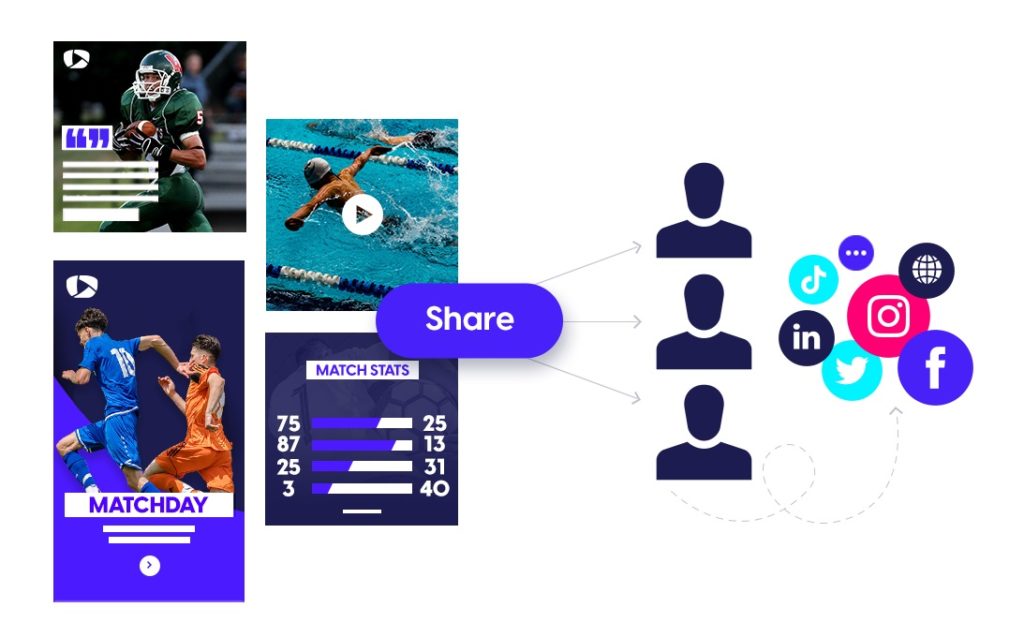 Content can be distributed both via a dedicated app or via link sharing. When using the app, members get a notification once new content is shared with them. They can then publish it directly to their social media channels from their phones. While link sharing allows teams to distribute their content through any communication channel, which is perfect for one-time users and external partners.
Additional Content Stadium SHARE features include the ability to divide members into groups, analytics data, and integration with the Content Stadium CREATE template tool. Plenty more features are also on the roadmap, including connections to third-party media sources, AI face recognition for automated distribution to relevant members, and the ability for members to share their own content (UGC) back to the (social) media teams.
Jasper Swelheim, CEO of Content Stadium, says: "Our goal at Content Stadium is to continue to grow our platform, to give teams the tools they need to execute their social media strategy efficiently and effectively. With this new distribution tool, we're catering to a growing focus on influencers, external promoters and employee (including player) advocates as a way to grow a brand on social media. We're also currently developing video editing, media management and other tooling, to further simplify the social media manager's day-to-day processes."
Football club AZ puts Content Stadium SHARE to the test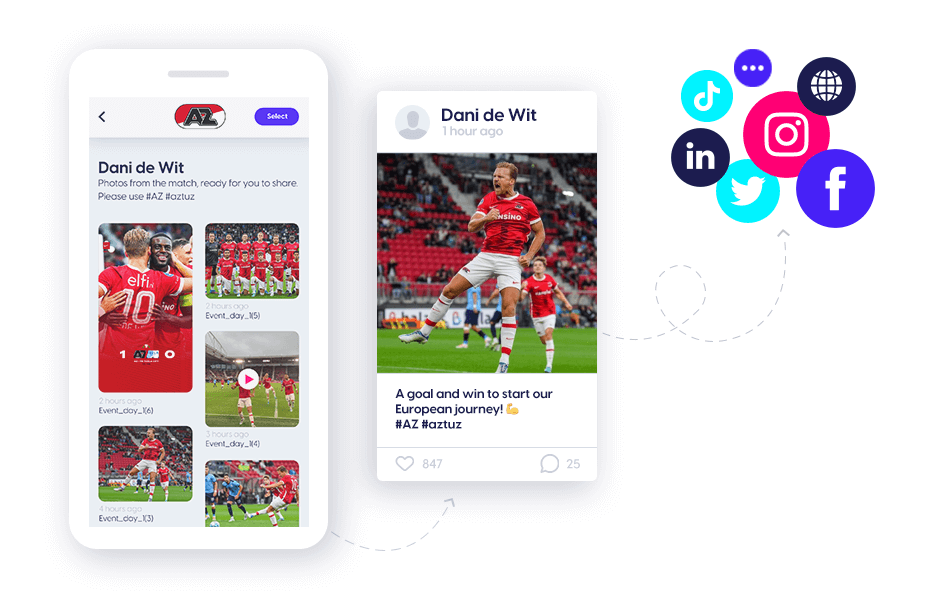 Dutch Eredivisie football team AZ was first to pilot the new distribution tool. After a successful test with selected players, the team now plans to extend the use of Content Stadium SHARE to its entire first team.
Benefits of Content Stadium SHARE for sports teams
One way for sports teams to reach new audiences and amplify their club's message is to leverage their players' own social media networks. However, players don't always have the time to seek out content to post on their channels, or to keep up with their club's latest social campaigns. In addition, they frequently post visuals with incorrect branding or no branding at all.
And while players are often eager to receive good content to share on their own networks, organizing and sharing relevant content with them can be time-consuming for clubs' communications teams. This is where Content Stadium SHARE can help.
How do sports teams benefit from using Content Stadium SHARE? From game day announcements, to behind-the-scenes videos, action photos and match insights, Content Stadium SHARE offers a quick and easy way for clubs to provide players with relevant content to post on their own channels. This means that:
Players have access to a personalized content feed, which they can share with their entire following in just 1 click.
The club increases its social media reach and following through its players' network, as well as thanks to a higher content rhythm.
The club has more control over the uniformity of its communications, which helps to build a stronger, more unified brand.
And it's not limited to players — or to clubs!
Clubs can also use Content Stadium SHARE to distribute content to coaches and other staff members, as well as sponsors and external partners.
While sports leagues, federations and other organizations can share content from their own games or events with participating teams or individual athletes, as well as with sponsors, affiliates and other partners.
About Content Stadium
Content Stadium helps teams simplify their social media processes, by giving them the tools to create, share and post on-brand social media content, in a few clicks.
Our content creation and distribution tools include:
Content Stadium CREATE template-based content creation tool: Create on-brand social media content faster with our custom templates.
Content Stadium LIVE mobile app for on-the-go content creation: Add branded elements to your social media stories straight from your phone.
Content Stadium SHARE content distribution and employee advocacy tool: Make it easy for your team members to receive and post your content on social media.
Launched in 2016, Content Stadium is now used by social media, marketing, editorial and recruitment teams in multiple industries and around the world to simplify their social media processes and level up their strategy. Book your demo to find out more.