At Content Stadium, we're always working hard to meet and anticipate the needs of our clients. We do this throughout the year, by regularly checking in with them and making continuous updates to our platform. Each year, we also send out a survey, to formally review our performance.
Read on to see the results of our 2022 client feedback survey and how our clients review our Content Stadium CREATE template-based content creation solution.
What are our clients' top priorities?
Before diving into what our clients think of us, let's first review what's important to them.
Our clients typically work in communications, social media, marketing, employer branding, and/or recruitment teams. In our survey, we asked them what is the most important goal or KPI for their role via an open-ended question. These were their top responses:
34% social media and community engagement
16% content creation goals, including speed of creation and creativity of content
12% reach or exposure
12% community and follower growth
12% traffic to website and sales
4% brand image
16% other marketing and communication goals
Why do our clients use Content Stadium?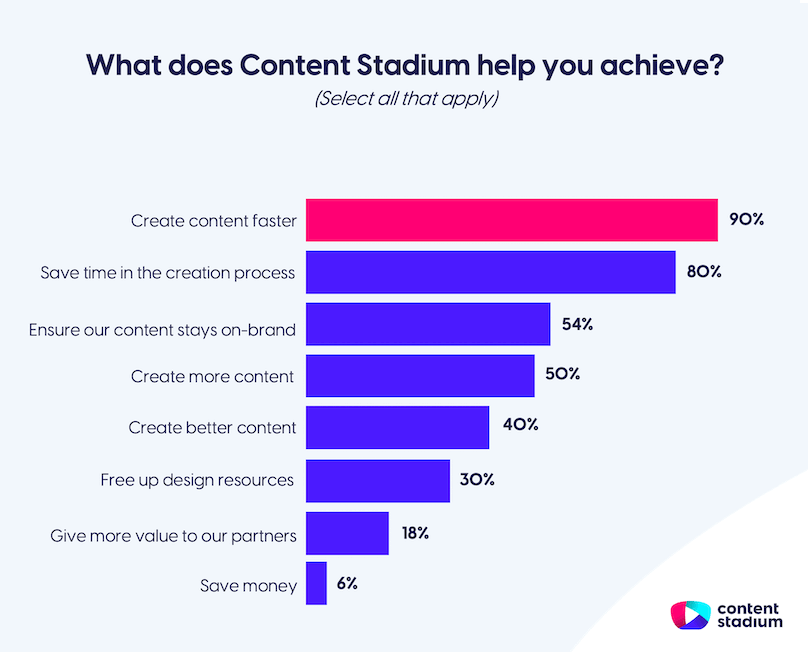 When asked what Content Stadium helps them achieve, almost all our clients indicated that we make their content creation process more efficient, with 90% stating that we help them create content faster and 80% selecting that we help them save time in the creation process.
Other popular reasons to use our content creation platform included ensuring their content stays on-brand (54%), creating more content (50%), and creating better content (40%).
This shows that Content Stadium doesn't just help teams simplify their content creation process, but also helps them level up their content with more, better and consistently on-brand content.
We were also curious to understand what tools or resources (if any) our clients were using to create their visuals, before choosing to switch to Content Stadium to simplify their processes, and level up their content:
66% Photoshop
28% in-house designer
24% were not using any tools
14% Canva
12% external agency
10% other content creation tools
Where do they use their Content Stadium visuals?
Our Content Stadium CREATE platform was first designed with social media content creation in mind. And it's clear that this is still the biggest need, with all our survey respondents (100%) using their Content Stadium templates to create their social media content.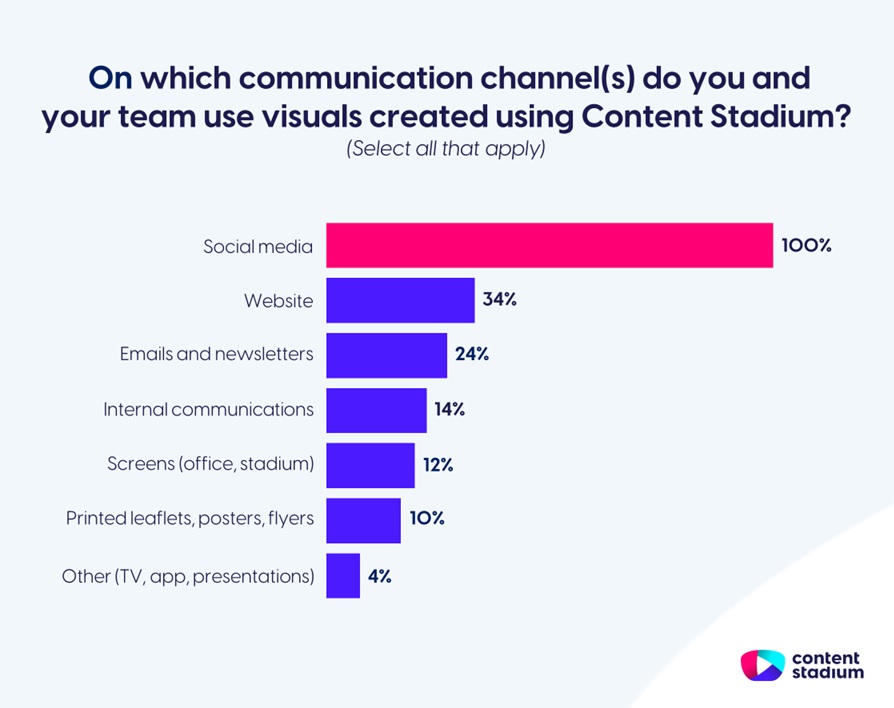 However, some clients also use their templates for other purposes, from website images to internal communications, screens and leaflets.
Because we custom-design and custom-make all of our clients' templates based on their requirements, we can create templates of any size and for any need, including both print and digital.
Final thoughts
Finally, we asked our clients to share any additional feedback through open-ended questions. These were some of our favorite quotes:
"When using Content Stadium, you don't need a designer/need to be a designer to create cool content really fast!"
"The platform saves time and guarantees quality."
"Content Stadium helps us to properly propagate our house style and to further professionalize our content."
"It is the best tool to use as it allows you to be faster and create quality graphics for your fans and stakeholders."
"The templates are ready with all the appropriate measurements and we just add content. This saves a lot of time."
Read more Content Stadium reviews
Want to get more insights into our Content Stadium platform from the perspective of our clients?
Be sure to check out our case studies, or read more client reviews on the independent software review site G2.
Want to know more about Content Stadium?