At Content Stadium, we're always working hard to meet — and exceed — the needs of our clients. We do this throughout the year, by chatting to our clients and making continuous updates to our platform and toolkit.
Each year, we also send out a survey, to formally check in on how we're doing. Read on to see the results of our 2020 client feedback survey and how our clients review Content Stadium.
What are our clients' top priorities?
Before diving into what our clients think of us, let's first review what's important to them.
Most of our clients work in communications, social media, marketing, employer branding, and/or recruitment teams. In our survey, we asked them what is the most important goal or KPI for their role. These were their top responses:
26% (social media) engagement
16% reach or exposure
15% speed of content creation
15% traffic to website and sales
13% community or follower growth
13% quality of content
11% brand image
Why do our clients use Content Stadium?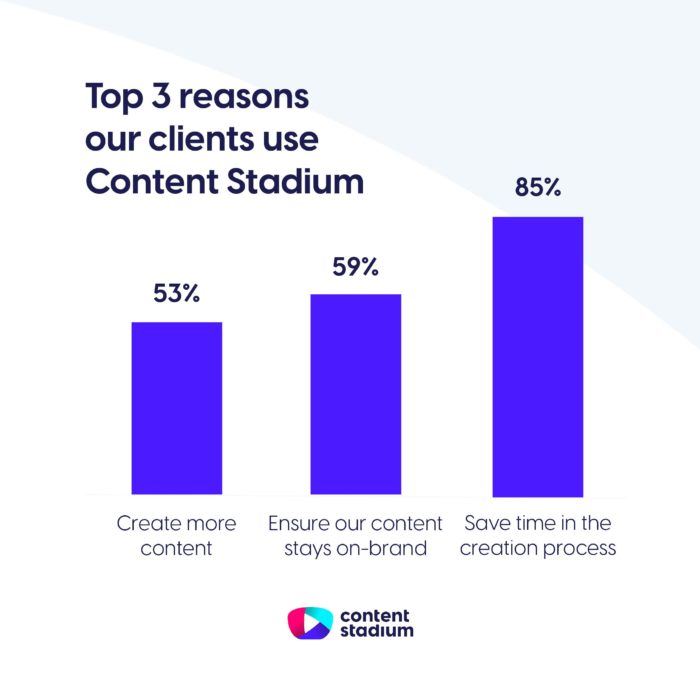 When asked what challenges they were looking to solve with Content Stadium, most of our clients stated that they were looking to save time in their content creation process (85%). Other reasons to use our platform included ensuring their content stays on-brand (59%), creating more content (53%), and solving a lack of design resources (40%).
We then checked how well we were meeting these needs. All respondents (100%) agreed that we met their needs. And 79% said we met their needs very well or perfectly. Sounds like we're a great fit!
How would our clients describe us?
In an open-ended question, we asked our clients to describe Content Stadium in 3 words.
We then ran through all their reviews to see what they really think of us. "Easy" was a standout favorite, not just as a response to this question, but also across the entire survey responses. Here were some of their other most-used words, grouped by topics:
72% Easy, simple, user-friendly
32% Fast, time-saving, efficient
26% Professional, great or creative designs
25% Practical, effective, helpful
17% Good, great, incredible
We especially loved Tennis Canada's response to this question, who described us in the following 3 words:
Want to know more about Content Stadium?