Carousels have proven to be some of the most engaging post types across social media, from Instagram to Facebook. This is also the case for Twitter. Twitter carousels drove a 15% increase in click-throughs for website ads, and a 24% increase in installs-per-impressions for app download ads. Yet we've noticed that most brands and organizations don't make use of carousel tweets.
While Twitter carousels are exclusively available for users with a Twitter ad account, you don't necessarily have to pay to use this feature. Here are some examples of Twitter carousels, including both carousel ads and organic (free) carousels. We hope these inspire you to create your very own!
Table of content:
Examples of different Twitter carousel formats
Twitter carousels are made of up to 6 side-by-side visuals, across which you can swipe. The visuals are also clickable, with the link displayed below them, helping you drive more traffic to your website. Within this format, there are different options that you can choose from. So let's start by looking at what kind of carousels you can create with the below examples.
Square Twitter carousels
This is probably the most-used format for Twitter carousels. The large visuals take up the maximum available space, which helps grab people's attention in the feed.
Landscape Twitter carousels
Landscape images take up less space in the feed than square ones. But these can still be a great format option for certain visual types, such as images of scenery and landscapes like in this example. Twitter recommends a ratio of 1.91:1 for landscape images.
Video Twitter carousels
Until recently, carousels were the only way to upload multiple videos in a single tweet. You can use them to share multiple videos, or to divide one video into different parts, such as in this example, to make your video more easily digestible for viewers. And since video carousels have auto-advancing cards, once a video ends, the next card will advance and begin playing automatically (if the user has auto-play settings enabled).
Twitter recommends a video length of 15 seconds, but they also support up to 2 minutes and 20 seconds (even 10 minutes for selected advertisers), while ratios are either 1:1 or 16:9.
Mixed-media carousel tweets
You can also choose to mix images and videos in the same carousel, such as in this tweet example which includes a video as the first card (open on Twitter to watch the video). Just be sure to keep the aspect ratio of your images and videos consistent.
Carousels with app download button
You can use Twitter carousels to link to a website landing page, or directly to an app download page. Linking to an app download page creates a large blue CTA button, such as in this tweet example.
Multi-destination carousel tweets
Twitter carousels also allow you to use different headlines and landing pages on each carousel card. Use this feature to drive your audience to different landing pages within one tweet. (Note that multi-destination carousels can only link to web pages, not app installs.)
See how this example tweet uses the carousel feature to showcase different products with a link to each relevant product page.
Examples of Twitter carousel ads
Because Twitter carousels contain clickable visuals with prominent links, carousel ads are best suited for website visits and app-download objectives. But they can also be used as part of video views, engagement, and awareness campaigns. Take a look at the carousel examples below for ideas for your next Twitter ad.
Product or feature showcase
Gopuff and Yemeksepeti wanted more people to download their apps. Thanks to carousels, both companies were able to show off the variety of products they offered, attracting buyers' interest in a way that could not be allowed by just a single-image post. Through Twitter carousel ads, they told a bigger story, which drove consumers to their apps.
Product unveiling
In this Twitter ad example, Volvo uses the carousel to slowly unveil its new product. They do this by having first a picture where only a part of the car is shown, then a close-up shot of it, before finally revealing the entire thing. This increases buyers' curiosity and pushes them to check out Volvo's website.
Dynamic product teaser
Comico's ad aims to catch viewers' attention with a sequence of videos. Bit by bit, the videos reveal the story of one of the comics they offer. This hooks the consumer, who will want to know more about what is going on. Moreover, the video elements make the tweet more dynamic, and consequently more interesting to look at.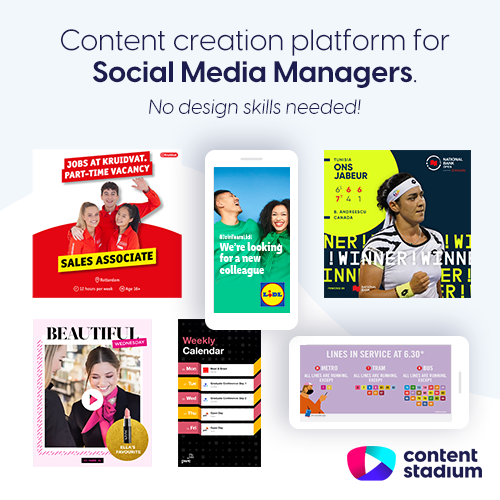 Organic Twitter carousel examples
You can also create organic (i.e. free or unpromoted) Twitter carousels. All you need is a Twitter ad account. See how brands and organizations are using free, organic carousels in the examples below.
Storytelling
In this example, football club PSV use the function to tell a visual story. Their carousel takes the form of a timeline with highlights from player Donyell's career at the club. They use a mix of text and visuals, with images that flow from one slide into the next, to create a vivid and engaging (almost 2,000 likes!) story. They then link to a news article that provides more information.
Product showcase
Dior uses the carousel to showcase multiple products in their collection. Each slide focuses on a singular object. Meanwhile, Hyundai uses the carousel to draw attention to different features of a single product – their Hyundai SANTA CRUZ pickup. Both have the same goal: to redirect users to their online store via the carousel link.
Large photo gallery
Another way to use the carousel is to simply treat it as a large, interactive photo gallery, with a prominent link as a bonus. In these Twitter carousel examples, the Junior Premier League shows off highlight images from a match. While Ford stretches one large, landscape image over two slides.
Breaking down a message
The different slides of the carousel are great to break down messages. This will avoid having images that are too busy. Each slide reveals more information as you swipe, making the whole post more interesting and interactive for viewers. See how Mercedes-AMG PETRONAS F1 Team and Pepsi do exactly that.
Visual quiz
Like these examples, you can also ask a question and use the carousel to showcase multiple answer options. This can help capture users' interest and lead to more engagement, as users share their opinions in the tweet's comments.
How to create a free Twitter carousel
You do not need to run any paid campaigns to make use of the carousel feature. All you need is a Twitter ad account and to provide your payment details. When creating your organic carousel, simply uncheck the "Promoted only" box to publish your carousel tweet on your profile for free.

How to create a Twitter carousel
Now that you've seen some examples, it's time for you to create your own carousel tweet. If you need a refresher on how to do this, check out this article by Twitter which includes a step-by-step guide of the process. Have fun with it!
Get more social media advice and examples