Every month, we're sharing bite-size summaries of the top social media trends, best practices and ideas we came across. These are based both on our own experience helping our clients create their social media content with the help of our platform, and from dozens of articles we've been reading around the web.
Take a look at these October trends for ideas on how to improve your social media strategy. Just be sure to always test before making any big changes, as not every approach works for every brand or audience.
Want even more social media trends and tips? Check out our December 2022, November 2022, and other monthly roundups.
1. Social media news: Catch up on the latest platform updates
Stay up to date with the biggest social media platform news and developments for October 2022 (which include a lot of copycat features this month!):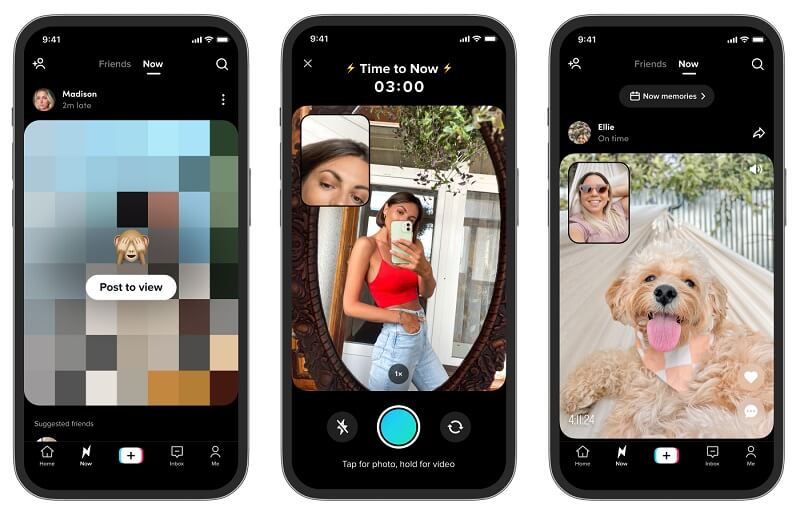 2. Social media tip: Praise your competitors
2022 research found that praising competitors publicly (such as on social media) improves attitudes towards your brand, and makes people more likely to buy from you. This is because we favor brands that give us a feeling of warmth (show sincerity and kindness) — and the seemingly risky move of praising a competitor is the ultimate show of sincerity!
The research also found that praising a competitor will benefit you more than it will your competitor. And that positive comments about your competitors are more beneficial than negative ones. But don't do it too often, or the effect will fade or even backfire.
Try it for yourself: praise a competitor or rival on their latest product launch, win or award, or admirable initiative.
Congratulations @NintendoUK on the launch of Switch 👏🎉 pic.twitter.com/CziAbyk3xY

— Xbox UK (@xboxuk) March 3, 2017
3. Facebook tip: How to reach more people
Facebook recently released 3 tips on how to get your content in front of people who don't yet follow you ("unconnected distribution"). These include:
Make original content. This means content filmed or created by you. Or, if it makes sense for you to share existing content with your audience, be sure to add value to the original content through meaningful modification, such as adding a commentary or compiling different clips together.
Optimize for shares. Make content that your followers want to share and that sparks meaningful engagement.
Get recommended (via "Pages you may like," "Suggested for you" feed posts, etc.). This means avoiding the 5 topics which, although allowed on Facebook, aren't eligible for recommendation. These include: harmful content (such as violence), exaggerated or low-quality content about health and finance, clickbait content or giveaway posts, low-quality publishing, and false or misleading content.
4. LinkedIn tip: Use Showcase Pages to segment your audience and provide them with tailored content
Hootsuite recently shared their tips on why and how your brand might benefit from a LinkedIn Showcase Page.
LinkedIn Showcase Pages are sub-pages or "extensions" of your company's main LinkedIn Page. Use them to divide up your content based on your different audiences' needs, while keeping a central page for your main brand. For example, you could create separate Showcase Pages for your different brands or products, countries, or initiatives, providing that the audience you are targeting and the communication strategy is different for each of these pages.
Your Showcase Pages will be shown on the right side of your main page under "Affiliated Pages," and will also appear in relevant search results.
A good example is Meta which created separate Showcase Pages for Facebook Gaming, Messenger for Business, Meta AI and more — each of which are unlikely to draw in the same audience. This way, Meta can make sure followers are only receiving relevant content.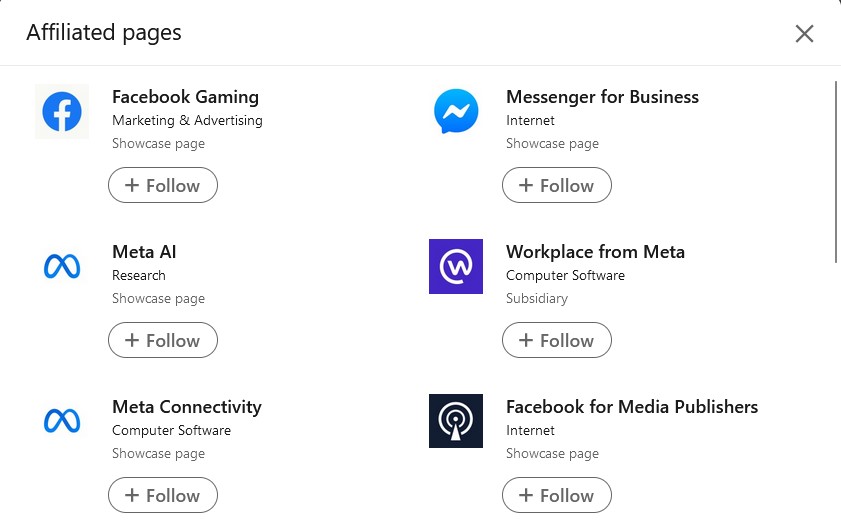 Of course, not every company needs one or more Showcase Page. If your main brand is already communicating to one cohesive audience, keeping this entire audience on your central company page might be the most efficient and effective strategy.
5. Instagram tips: Add cool effects to your Stories with these hacks
Business Insider rounded up the top effect hacks and lesser-known features to create Instagram Stories that stand out. Here were some of our favorites:
Overlay yourself over any background with green screen: Start a Story and choose Camera. Swipe the Effects icons at the bottom of the screen until you get to the magnifying glass. Tap it and search for "green." Select the Green Screen filter when it appears in your search results. Now you can tap Change media to choose a photo from your camera roll and overlay yourself on top of it.
Make your emojis pop with text background effects: Choose the text option and add an emoji. Make sure the text background is on, then choose from the various fonts at the bottom of the screen (see image below for some results).
Reveal a hidden photo behind a solid background with the eraser tool: Add a photo to your Story. Tap the three dots and choose the Draw tool. Select a color, then tap and hold to turn the entire screen this color. Now choose the Eraser icon and start erasing some of the foreground color to reveal the original photo.
Add a background image to a shared post: Add the post you want to share to your Story. Tap the Stickers icon and choose the Camera Roll sticker. Select the image you want to use as a backdrop from your camera roll. Then move the post and the background images to opposite sides of the screen so you can see both, and tap and hold the background image with two fingers. Now tap and hold the post until it snaps in front of the background image. Adjust the background image until it covers the whole screen, then position the post back into the center.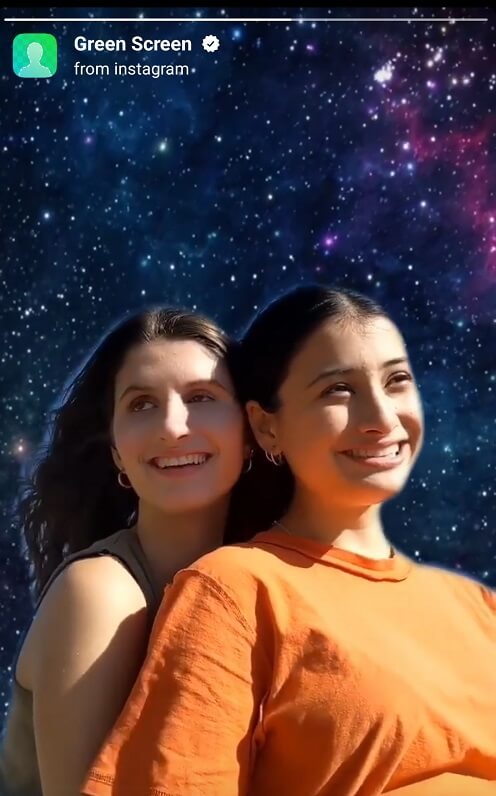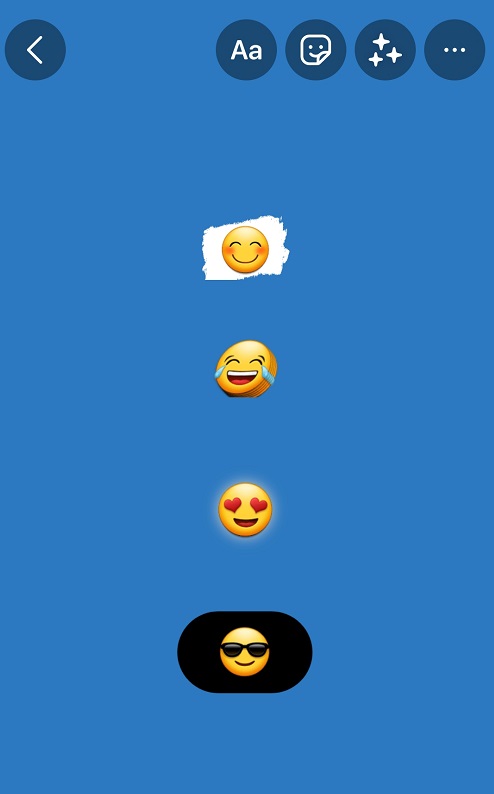 Plus — New this month! Content distribution and employee advocacy solution
Need to make it easier for your colleagues and other partners to receive and post your brand's content on their own social media channels? Check out our new solution: Content Stadium SHARE — officially launched last month 🥳
Our content distribution and employee advocacy solution enables social media and communications teams to share photos, branded graphics and videos with their team members (employees, players, sales teams, and other internal and external partners), in a few clicks. Members can then easily post this content on their own social media channels, helping to amplify brand messages.
Find out more about Content Stadium SHARE.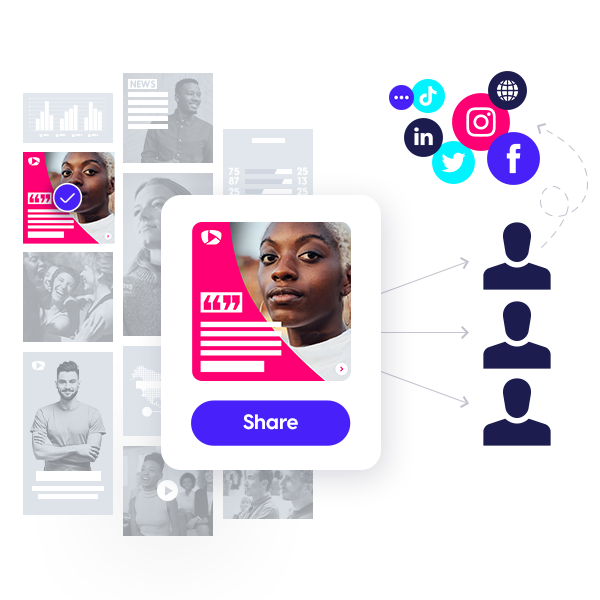 Discover more social media trends and tips
Plus, follow us on LinkedIn to get our monthly social media best practices and more straight to your feed!