Every month, we're sharing bite-size summaries of the top social media trends, content ideas and best practices we came across. These are based both on our own experience helping our clients improve their social media content, and from what we've been reading around the web.
Take a look at these August tips for ideas on how to level up your social media strategy. Just be sure to always test before changing your approach entirely, as not every strategy works for every brand or audience.
Want even more social media tips and tricks? Check out our October 2022, September 2022, and other monthly roundups.
1. Social media news: Catch up on the latest platform updates
Stay up to date with the biggest social media platform news and developments for August 2022:
2. Social media trends: Social recruiting and employer branding in 2022
We recently surveyed 250+ in-house recruitment and employer branding specialists to uncover their social media habits, challenges and best practices in 2022. Here were some of the key takeaways from the report:
Around 1 in 2 already have an employer branding and/or EVP strategy in place.
96% use social media for recruitment and employer branding, including 64% who have dedicated recruitment social channels.
LinkedIn and Facebook are the most-used channels for social recruiting.
Only 19% use carousels, which means 81% are missing out on this engaging content type.
86% encourage their employees to get involved in their social recruiting activities.
71% face content creation challenges, mostly due to a lack of time, resources, and/or design skills.
The report also features best practices and candid quotes from the recruitment, employer branding and talent acquisition professionals surveyed — including the below advice. Download the full social recruiting and employer branding report for all the stats and insights.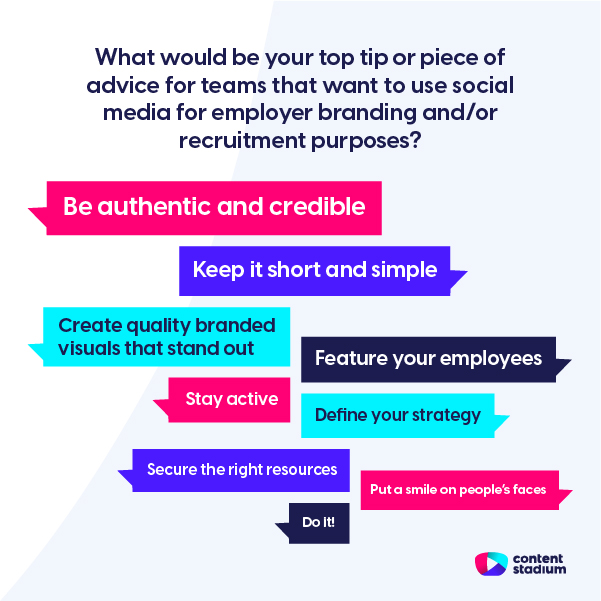 3. YouTube tips: Focus on live, Shorts and TV, and prioritize your audience
MrBeast, YouTube's top earner in the US, explained how the YouTube algorithm works and shared his best practices at VidCon 2022. TechCrunch reported on his talk, which included the following tips:
Invest in short-form video: "Short-form is here to stay and is only going to get bigger and bigger."
Include livestreaming: It's easier to feel connected with a community on live video.
Optimize for the big screen: While the most popular way to watch YouTube videos is via mobile, the fastest-growing way is via TV.
Pay most attention to the retention rate: Look at where viewers drop off and use that data to improve future videos.
Update your thumbnails: Review thumbnails from your older videos to make what the video is about clearer.
Prioritize storytelling and your audience over gaming the algorithm: Instead of positioning videos to perform well for the algorithm, think about how they can perform best for your audience.
4. Social media tip: Post at 3 a.m. on Facebook, and 9 a.m. on Twitter
When is the best time to post on social media? Sprout Social is back with updated insights for Facebook and Twitter, based on data from its customers. Below were the overall results. Read the full Facebook and Twitter articles for additional data on best times to post for specific industries.
Best times to post on Facebook: 3 a.m. Monday to Friday, and 10 a.m. and noon on Tuesday.
Best days to post on Facebook: Tuesday to Friday.
Worst day to post on Facebook: Saturday.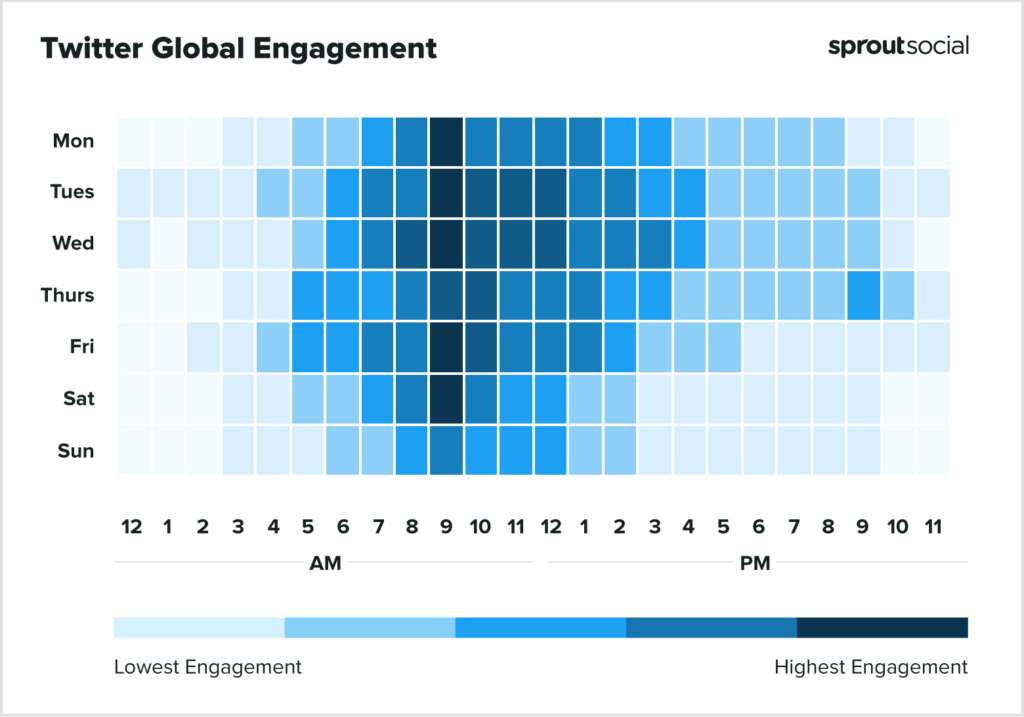 Best times to post on Twitter: 9 a.m. on Monday, Tuesday, Wednesday, Friday and Saturday.
Best days to post on Twitter: Tuesday and Wednesday.
Worst day to post on Twitter: Sunday.
Note that the times listed in these findings are all CST. And while the best time to post always depends on your brand, strategy and audience, these research-backed recommendations can make a good starting point for your own experiments.
5. Social media research: Drive purchase by encouraging brand conversations
How much does talking about brands or products increase sales? To find out, Twitter surveyed 9,600 consumers on 6 leading social media platforms in the US, UK, India, and Mexico. These were their findings:
92% of people actively seek out comments about brands, services or products on social media.
68% changed their impression of a brand after experiencing brand conversation.
60% of shoppers who recalled a conversation on Twitter said it made them much more likely to consider the product they bought.
35% think social brand conversations are more impactful than traditional reviews (vs 44% who think traditional reviews are more impactful).
81% of brand conversations recalled involved brands or people shoppers didn't know personally.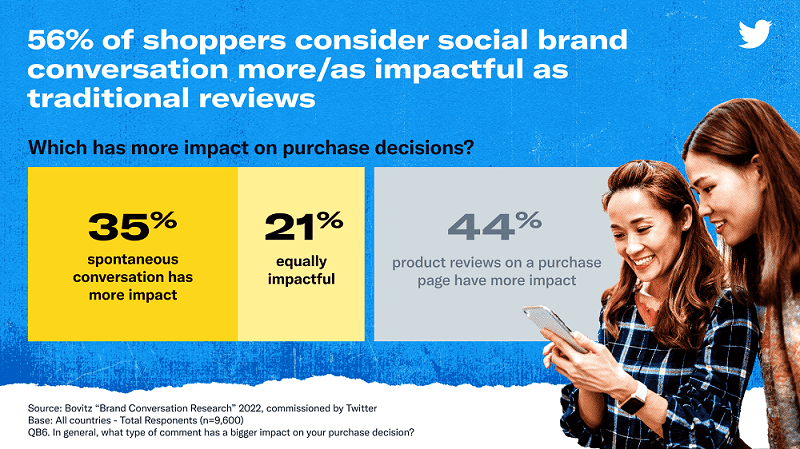 How can businesses tap into this influence of brand conversations?
Get the conversation going: Post content or lead initiatives that get people talking about you.
Stay active: While the influence of conversations is immediate, the impact on brand impression and consideration declines over time. So it pays to have an always-on (organic and/or paid) strategy.
Don't be worried about a few negative comments: The research found that shoppers remember positive conversations more than negative ones.
Find your voice: Conversations around cultural events and social issues are a powerful driver of consideration.
6. Social media tip: Improve accessibility and increase reach with alt text
Alt text (alternative text) is a text that you can add to your images to describe what they are showing. This text description has a number of uses: it shows up when the image fails to load, it can be read by screen readers (used by people who are visually impaired), and it is used by search engines and platforms (such as Google or the social media platform itself) to understand and rank your image in relevant searches.
Therefore, adding alt text to your social media images helps you improve your reach. Not only by making your content accessible to those people who cannot otherwise see your images, but also by giving your content more opportunities to appear in search inside and outside of the social media platform.
How can you add alt text to your social media images?
Twitter: Currently, the platform will give the option to "Add a description" when you upload your image. But it is now also testing a pop-up reminder, as part of its broader efforts to improve accessibility on the platform.
Facebook: You'll find the alt text option either under the three dots or "Edit" options that appear as you upload your image.
Instagram: The alt text field is a little more hidden on Instagram, you'll find it under "Advanced settings" on the final screen before sharing your photo.
LinkedIn: As soon as you upload an image, you have the option to add alt text, you'll find this right next to the "Edit" and "Tag" options.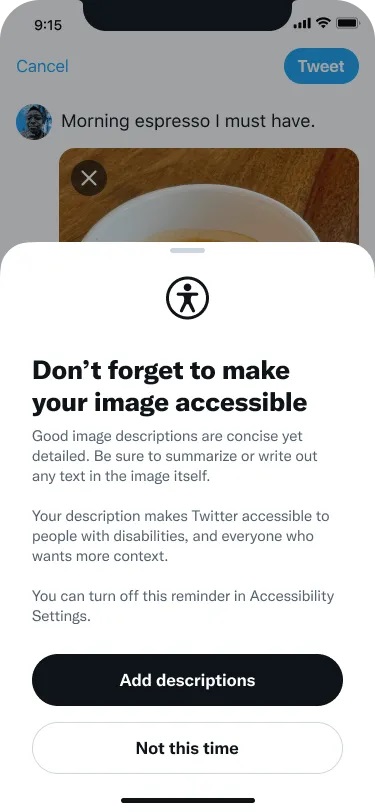 Plus — Did you spot us in Transfermarkt's Reel? 👀
See how the Transfermarkt team uses our Content Stadium templates to create their social media content in their behind-the-scenes video:

Get more social media trends, tips and news
Plus, follow us on LinkedIn to get our monthly social media best practices and more straight to your feed!