Every month, we summarize the biggest social media news and latest best practices to help you, as a Social Media Manager, improve your strategy. These are based on hundreds of industry posts and articles we read monthly, as well as what we see working well for our clients.
Try out these July tips and ideas to improve your social media approach. Just be sure to always test before changing your strategy entirely, as not every best practice works for every brand and platform.
Stay up to date with the latest social media trends and tips: Read our June 2023, May 2023, and other monthly roundups, plus discover how our content creation platform can help you create professional content faster.
1. Social media news: Catch up on the latest platform updates
Get up to date with the biggest social media platform news and developments for July 2023:
2. Social media ads tip: Use (mildly) surprising copy to make your messages more effective
Researchers from Frankfurt School of Finance & Management conducted A/B tests using Facebook and Instagram ads that received a combined 350,000 impressions, as well as analyzing 15,000 product reviews on Amazon. Their findings showed that using mildly surprising words and sentence structures increases CTRs (click-through rates).
An example of a mildly surprising sentence would be "A delicious meal at your door, by Uber Eats," instead of "Uber Eats delivers a delicious meal to your door."
Here's a summary of the main takeaways from the report:
Increase effectiveness with surprising syntax: Users clicked more on ads or paid more for a product when the description had surprising words and sentence structures. This is because when we are surprised, or when what we read is unexpected, we pay more attention to the sentence.
Don't push the limits: Copy that's too surprising can make the message difficult to understand, which reduces effectiveness.
Facebook case study: Ads for a fashion brand had a 74% higher CTR (1.6% vs 0.92%) when the text used an unexpected passive voice: "…since the seas are cleaned and pollution is eliminated by [brand]…," instead of "…since we clean the seas and eliminate pollution to produce our fibers."
Instagram case study: Ads for a fashion brand had a more than 2x higher CTR (1.82% vs 0.80%) when the ad copy was surprising: "Take a beauty break, get a Hydrafacial," instead of "Take a beauty break to get a Hydrafacial."
Want to test the level of surprise in your copy? Use this calculator developed by the researchers.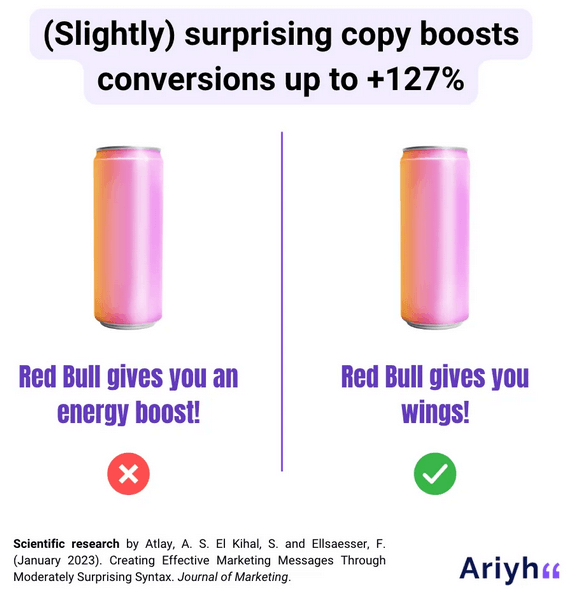 3. Instagram tip: Add an easy-to-answer question to your caption to increase comments
In his latest social media case study, Tommy Clark analyzes the simple — but powerful — way Nick Bare increases engagement on his Instagram account: asking simple questions periodically.
Nick Bare is the founder of Bare Performance Nutrition. But his organic social media strategy is focused on his personal account (learn how Aston Martin and Airbnb do the same). His comment-driving strategy on Instagram consists of:
Posting a picture of himself after doing exercise and sharing his results.
Using a simple CTA in the caption relevant to his niche (fitness), that encourages his audience to show off. For example, "Drop your morning miles 👇."
Repeating this approach every 1 to 2 weeks.
Looks simple, right? But it always works. And his community loves it. Test this approach to help you connect with your own community and drive engagement:
Keep it simple: Ask direct questions that only require a simple answer (for example, a number). Avoid elaborate questions which require long replies.
Choose a topic relevant to your audience and niche.
Ask a question that allows people to show off or feel good about themselves.
Don't overdo it. Space out how often you use this tactic.
And if you can, use a personal account (connected to your brand) to boost engagement.
4. LinkedIn tip: Increase reach by sharing your expertise with your connections
Following in the footsteps of Instagram, which recently made clear how its algorithm works, LinkedIn revealed the big changes in its own algorithm, which were rolled out over the past few months.
Following these changes, here are the main factors to keep in mind before posting on LinkedIn:
Don't try to hack the algorithm. LinkedIn is aware of the increasing non-professional, Facebook-style posts that are mainly used to catch attention with low-quality content. They are working to reduce this type of content and ensure that users' feeds are more relevant and informative, and not just "engaging and sticky."
Focus on first-degree connections. People you know are more likely to engage on your posts than people you don't. Therefore the algorithm is now showing more posts from direct connections in feeds.
Show your expertise by sharing high-quality advice. The algorithm is now trying to identify each user's interests to show them more relevant niche and expert posts. To boost your visibility, be sure to not only share your expertise, but to also speak to a distinctive audience, and respond to your comments to start quality conversations. Recent data also shows that being the first to comment on your own post is no longer penalized, and even has the same impact as comments from others.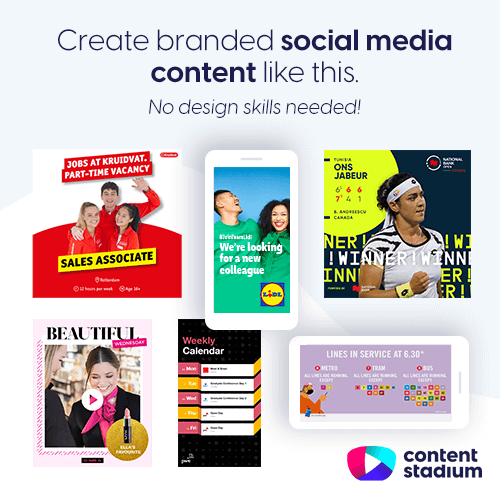 5. Snapchat insights: How to approach Gen Zs
To help you effectively target and market to Gen Zs, Snapchat analyzed their motivations and preferences when using different platforms.
For context, they started by summarizing Gen Zs' typical characteristics, which include:
Gen Zs are digital natives. They are also constantly connected to the world through their smartphones and social media.
They are socially conscious and want to make a difference in the world.
They are unusually individualistic and express their unique personalities.
They value authenticity and transparency in the brands they support.
Snapchat then shared tips on how you can approach Gen Zs, and what you should consider in your social media strategies:
Create honest, socially responsible content. Gen Zs want to know what your brand stands for and what your company is doing to make a positive impact on the world.
Use video content. Create engaging, compelling and informative videos, but keep them short. Include user-generated content for even better results.
Provide personalized experiences. Gen Zs not only prefer, but expect personalization aligned with their interests and values.
Include influencers in your campaigns. Gen Zs trust and value influencers' opinions more so than other generations.
6. Influencer case study: Sephora's two-way influencer strategy to boost engagement
Collaborations with influencers is not always easy. The balance between brands and influencers can be difficult to strike, and understanding the brand and its objectives can be complicated for outside creators. This is why Sephora created its Sephora Accelerate program.
Participants in the Accelerate program embark on a 6-month journey to build a successful business with support from Sephora. But this program doesn't only help founders develop their business, it also helps Sephora grow its community of influencers and brand advocates. In this way, Sephora has changed the influencer game by creating a bidirectional environment, where support goes both ways.
For Sephora, creating a hub has been the key to developing a strong strategy in terms of boosting engagement with influencers. But this is not the only way. For example, other ideas we can suggest include: inviting your influencers to creative sessions with your brand, or letting them have an opinion in your new campaigns. This is not only a good way to develop better ideas, but also to build strong relationships with your influencers, and help them better understand your brand and campaigns.
7. Instagram research: Influencer posts that include friends or family get more engagement
After analyzing over 55,000 Instagram posts from 763 influencers, researchers from Stanford and Rice Universities discovered that influencer posts are far more effective when they include, or even mention, close friends or family.
Influencers have always been a topic of debate for social media managers, as their level of impact on campaigns is often not clear. When using influencers, it's therefore important to understand how they can best connect with your audience, and brief them on these best practices.
Here were the main learnings from this report to maximize your influencer campaigns:
Mentioning a close social relationship (best friend, family, etc.) increased engagement on posts by 8.67%.
Posts with 2 people received 28.6% more likes than posts with 4 or more people.
Mentioning a close social relationship in the caption or hashtags increased likes by 95%.
In addition, posts are generally more effective when influencers express emotions or show vulnerability, as well as when they use first-person pronouns.
Get more social media tips and ideas
Plus, follow us on LinkedIn to get our monthly social media best practices and more straight to your feed!