Every month, we summarize the biggest social media news and latest trends to help social media teams improve their strategy. These are based on hundreds of industry posts and articles we read monthly, as well as tactics that work well for our clients.
Apply these May tips to improve your social media approach and boost your KPIs. But be sure to always test before changing your strategy entirely, as not every best practice works for every brand and social media platform.
Don't miss out on more social media trends and tips: Read our June 2023, April 2023, and other monthly summaries, plus discover how our platform can help you simplify and scale up your content creation process.
1. Social media news: Catch up on the latest platform updates
Stay up to date with the biggest social media platform news and developments for May 2023:
Have more you want to share on @instagram? You can now add up to 5️⃣links to your bio so you can highlight what you're passionate about, bring awareness to causes and more. pic.twitter.com/yrKSK1Ln0f

— Meta Newsroom (@MetaNewsroom) April 18, 2023
2. Twitter Blue news: The latest benefits and policies
It's been a busy and messy month for Twitter Blue and verifications. Let's review some of the key new features and developments below — but bear in mind that these could change again at a moment's notice!
Verified accounts are now prioritized

— Elon Musk (@elonmusk) April 25, 2023
3. Instagram tip: Influencers with 100k-500k followers bring in more engagement
Is the goal of your influencer campaign to drive engagement? Consider working with medium-sized influencers.
After analyzing more than 12,500 Instagram posts and stories from 1,738 influencers, a 2022 study found that medium-sized influencers (100,000 to 500,000 followers) are the most effective at driving engagement. That is, they bring more likes, shares and comments compared to larger and smaller influencers.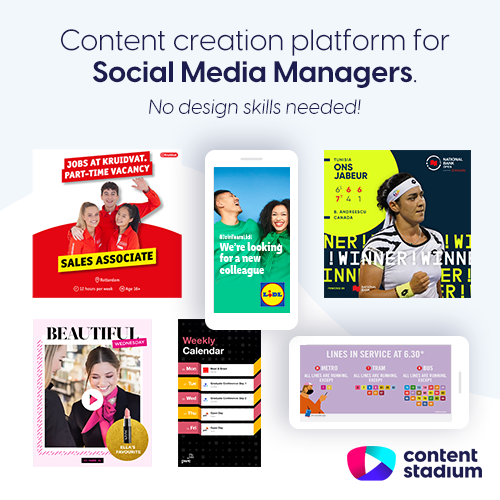 4. Social media trends: Look out for these new and rising apps
There has been a lot of talk lately about numerous new social media apps coming onto the market — including plenty of alternatives to Twitter. Below, we summarize the top ones to watch out for.
New Twitter alternatives (text-based social media networks):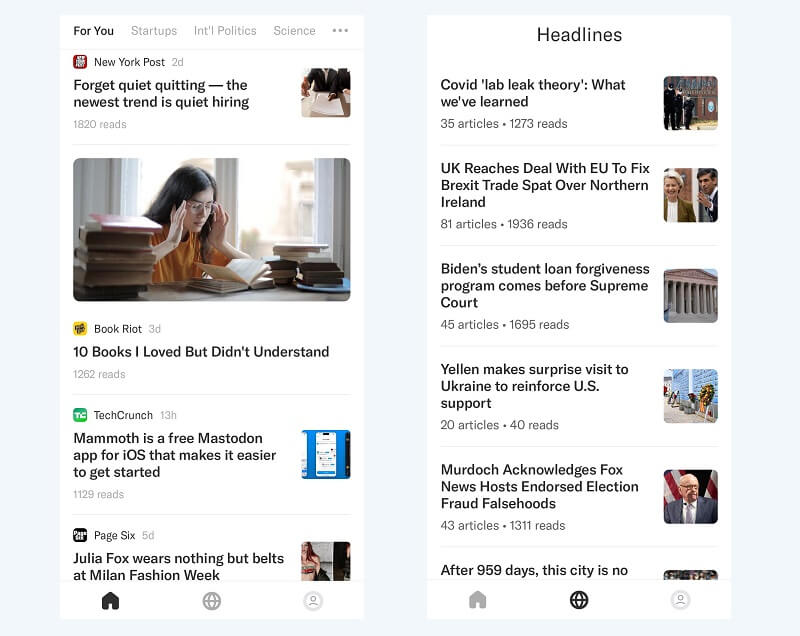 Additional new social media apps rising in popularity: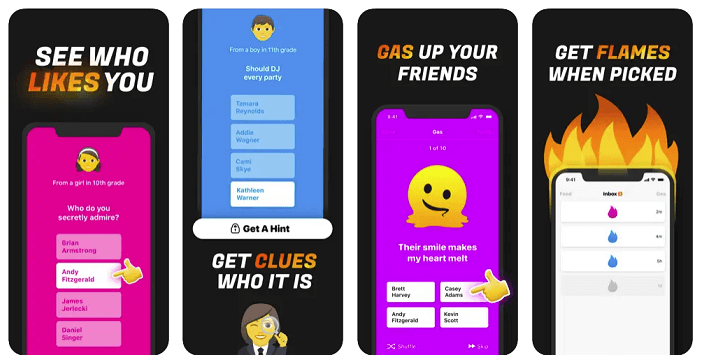 5. YouTube Shorts tips: Try longer Shorts and keep an eye on your 'viewed vs swiped away' rates
Paddy Galloway, a social media expert and YouTube content creator, studied 5,400 Shorts across 33 YouTube channels to learn more about how the YouTube Shorts algorithm works. These were his initial findings:
What is the best length for Shorts? While the majority of Shorts in the survey were between 20 and 40 seconds, the findings showed a clear correlation between video length and number of views, with longer videos getting the highest number of views. This suggests that the algorithm, on average, favors longer Shorts.
What Shorts metrics are the most meaningful? The "viewed vs swiped away" rate seems to be a good indicator of success, with the best-performing Shorts having a rate of between 70% and 90% views (vs swiped away). Therefore, it's important to have an impactful first second to hook viewers' attention early on. Think of it as a thumbnail. On the other hand, engagement metrics (likes, shares, comments) didn't show any strong correlation with performance.
Do Shorts help grow your subscribers? On average, long-form videos still convert subscribers better (per 10,000 views) than Shorts. However, Shorts typically require less effort to create than long-form videos. The findings change when looking at channels with more than 1 million subscribers, where Shorts convert more subscribers.
Do Shorts bring in significant money? The average revenue per 1,000 views is currently at $0.06, but this number is expected to rise.
But what is the best length to make for performance?

The initial findings here show a clear relationship between length and views. Longer shorts in the study performed much better on average.

There will be other forces at play here, but this is pretty staggering. pic.twitter.com/S0i7TOE2R2

— Paddy Galloway (@PaddyG96) April 14, 2023
Well actually, our initial findings here show that on average long-form videos still convert subscribers better (per 10,000 views) than shorts.

I was a little surprised by this. pic.twitter.com/dtmy4EwSCj

— Paddy Galloway (@PaddyG96) April 14, 2023
6. Social media trend: Facebook is still the most popular social network for news in the UK
According to research conducted in March by Find Out Now and Woburn Partners, out of 2,004 UK adults surveyed, 33% (623 adults) get their news from social media. Among these 623 adults, Facebook is the most popular social network for news (63%), followed by Twitter (34%), Google (30%), and Instagram (29%).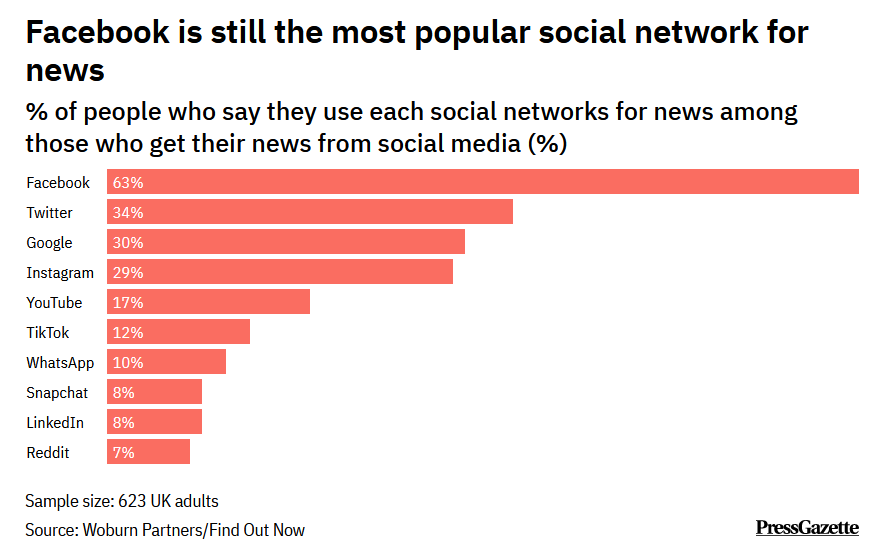 These results correlate with those of a 2022 US study by the Pew Research Center, which found that Facebook was the preferred social media platform for news for US adults.
7. Social media tips: Try these ideas for football accounts
Are you managing football, sports, or even entertainment social media channels? Consider (variants of) these 15 ideas and strategies to improve your accounts:
Double down on posting about your wins. When you win, everything you post on social media turns to gold. So be sure to capture every moment of every win, and post post post.
Use your players' social media networks. Provide them with personalized content to share on their own channels.
Post frequently. Studies found that professional sports teams was both the most active and engaging industry on social media.
React quickly to game day action. Set up a content creation process that enables you to respond to the action on the field and quickly tap into the emotional response that follows.
Create content faster with custom templates. Consider custom-built templates to speed up your visual content creation, lock in brand consistency, increase fan engagement and more.
Focus on entertaining content to appeal to new audiences and increase your reach.
Segment your social media channels to target and grow specific fan bases.
Inject some humor into your posts to grow engagement and/or refresh your brand image.
Spotlight individual players to profit from their individual popularity and following.
Prepare for the future. Create an archive of content for each of your players to bring back when they become (even more) successful.
Evoke emotions with your visuals, which you can do through your photography but also through your designs.
Share behind-the-scenes content to satisfy fans' curiosity.
Consider LinkedIn in your social media strategy.
Monetize your content. Generate revenue from your existing posts and/or create new sponsored content.
Get your fans involved with interactive posts, games, quizzes and more.
Read more and see examples from a range of football accounts in our article.
8. LinkedIn tips: Keep video ads short and pack your message in the opening seconds
VidMob analyzed more than 16,000 ads across 804 million impressions from brands that ran Sponsored Content video ads. These are the most interesting takeaways from the report (although the data was not always totally clear):
Videos of up to 30 seconds perform well in both awareness and conversion. For consideration, shorter videos have the best engagement.
Your brand logo or name should be present across the funnel, and especially at conversion stages in the first 2 seconds of the video (+17% lift in CTR).
Messages that cover the full storyline should be displayed in the opening quarter of the video (up to +149% lift in views).
Videos with a length of 7 to 15 seconds receive the highest engagement (+54%).
Get more social media tips and ideas
Learn more about our content creation platform for social media teams. Plus, follow us on LinkedIn to get our monthly social media best practices and more straight to your feed!