Catch up on the most up-to-date employer branding stats for 2022, and get your copy of the 2022 social recruiting and employer branding report for more insights.
With the continued growth of social media, employer branding specialists are diving into these digital platforms to attract and hire new employees. But there is much information that we still do not know about employer branding content strategies.
What percentage of recruitment specialists have taken to social media? What is their social media strategy for employer branding? How are they using social media for recruitment?
We went to find out more. In February 2021, we surveyed 27 employer branding and recruitment specialists from different companies. These specialists were located in the Netherlands, Belgium, Spain, and the UK.
Respondents shared insights into their employer branding social media strategies and content creation processes. We summarized the results with all the key statistics in our employer branding social media report below.
Summary of the key employer branding statistics from our social media survey:
96% of employer branding and recruitment specialists use social media.
Instagram and LinkedIn are the most-used social media platforms.
Content about life at the company is as important as job-related posts.
Almost half of employer branding teams create their social content themselves.
96% face time, budget, or design challenges when it comes to creating social media content.
Read on to dive deeper into these stats, then discover our employer branding social media best practices to level up your strategy.
Is social media part of all employer branding strategies?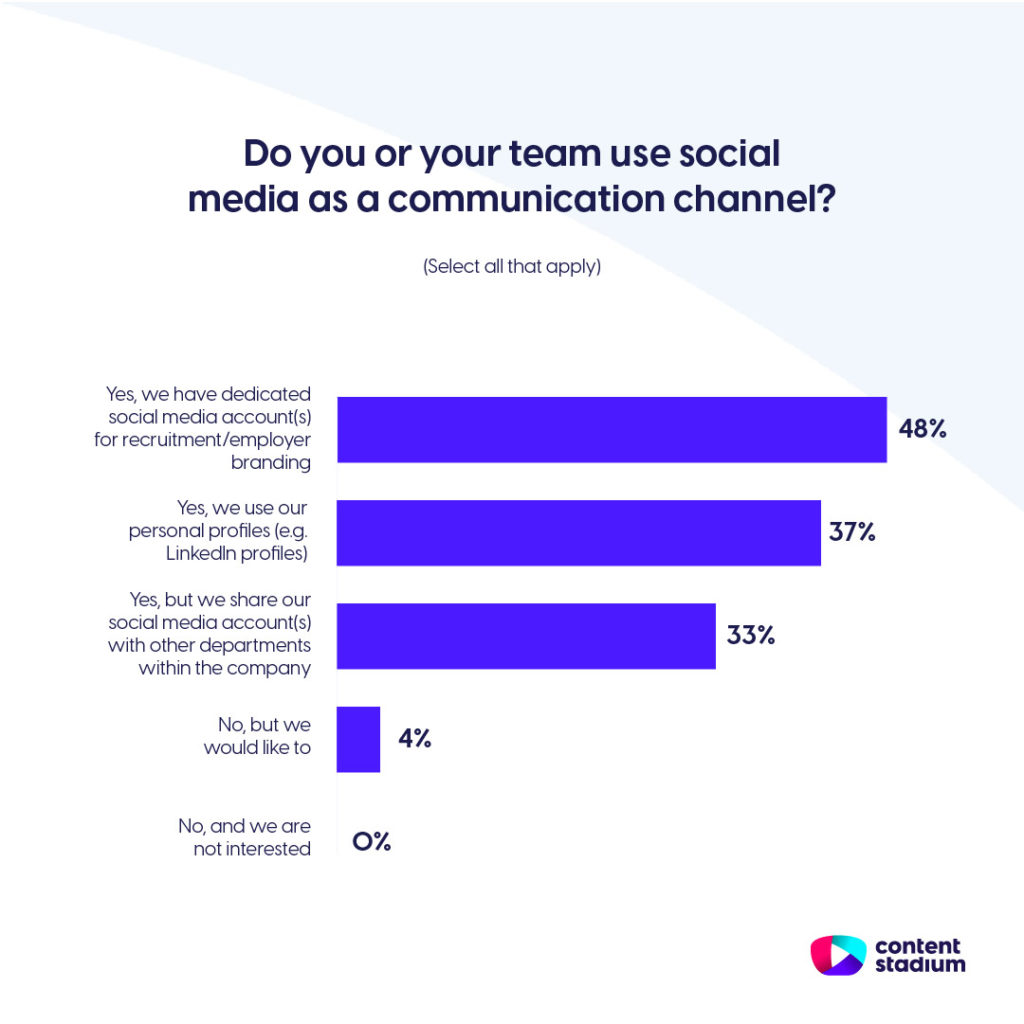 Based on our survey, we can see that social media is an important communication channel for employer branding. Almost all of the employer branding and recruitment specialists we surveyed (96%) said they use social media. And none stated that they were not interested.
On top of that, almost half of respondents take their social media strategy one step further. 48% already run social media channels dedicated to employer branding and social recruitment.
Another way that these employer branding specialists are using social media is through their own personal profiles. 37% of respondents stated that they use their personal social media profiles, such as LinkedIn, for employer branding.
What are the top employer branding social media platforms?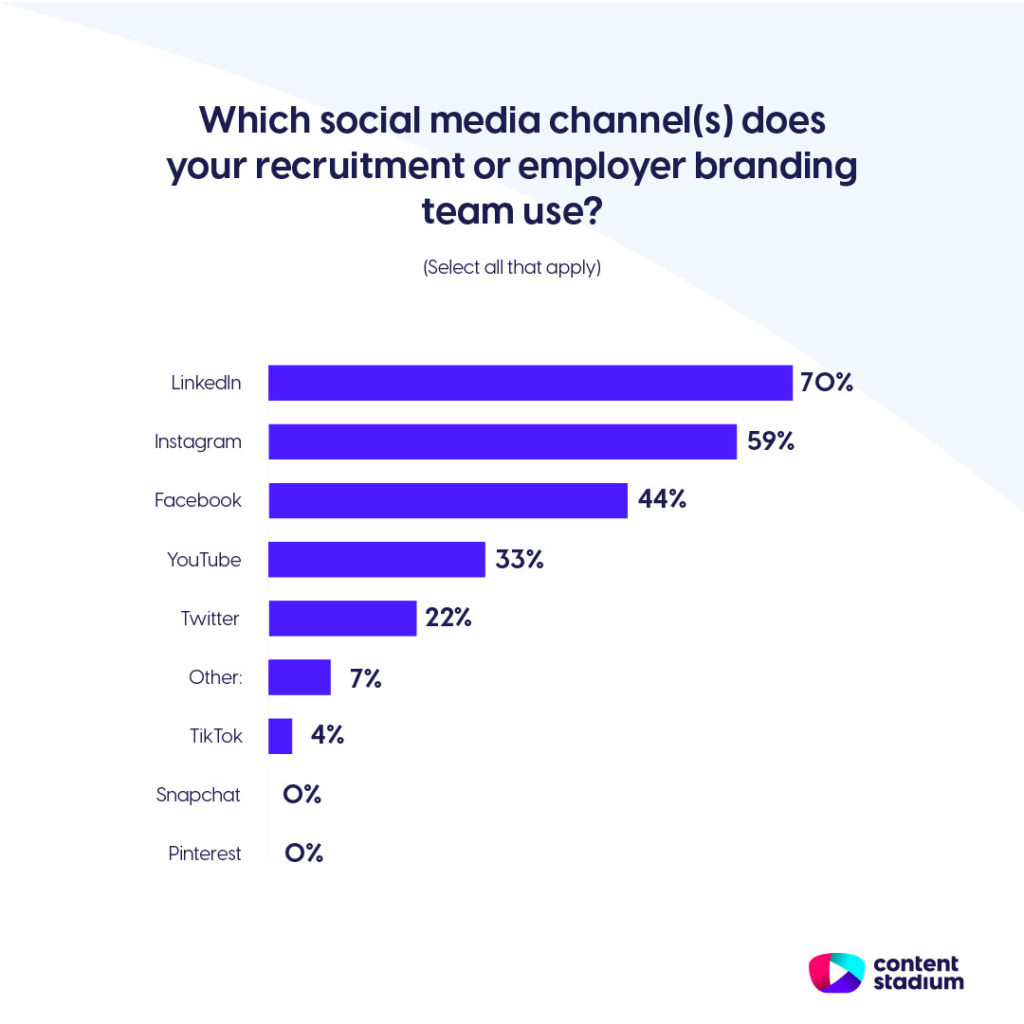 Our employer branding statistics show that Instagram and LinkedIn are the most popular social media platforms. With 70% of participants indicating LinkedIn as their preferred platform for employer branding and recruitment, and Instagram coming in a close second with 59%.
Facebook (44%) and YouTube (33%) are also used for employer branding, but less than LinkedIn and Instagram. Twitter, however, is a channel that only 22% of respondents use.
Though TikTok is probably the most talked-about social media platform of the moment, only a single participant mentioned that they used the platform for employer branding.
Those who selected the option "other" explained that they use platforms like Glassdoor and Vimeo.
What type of content do employer branding specialists post on their social media?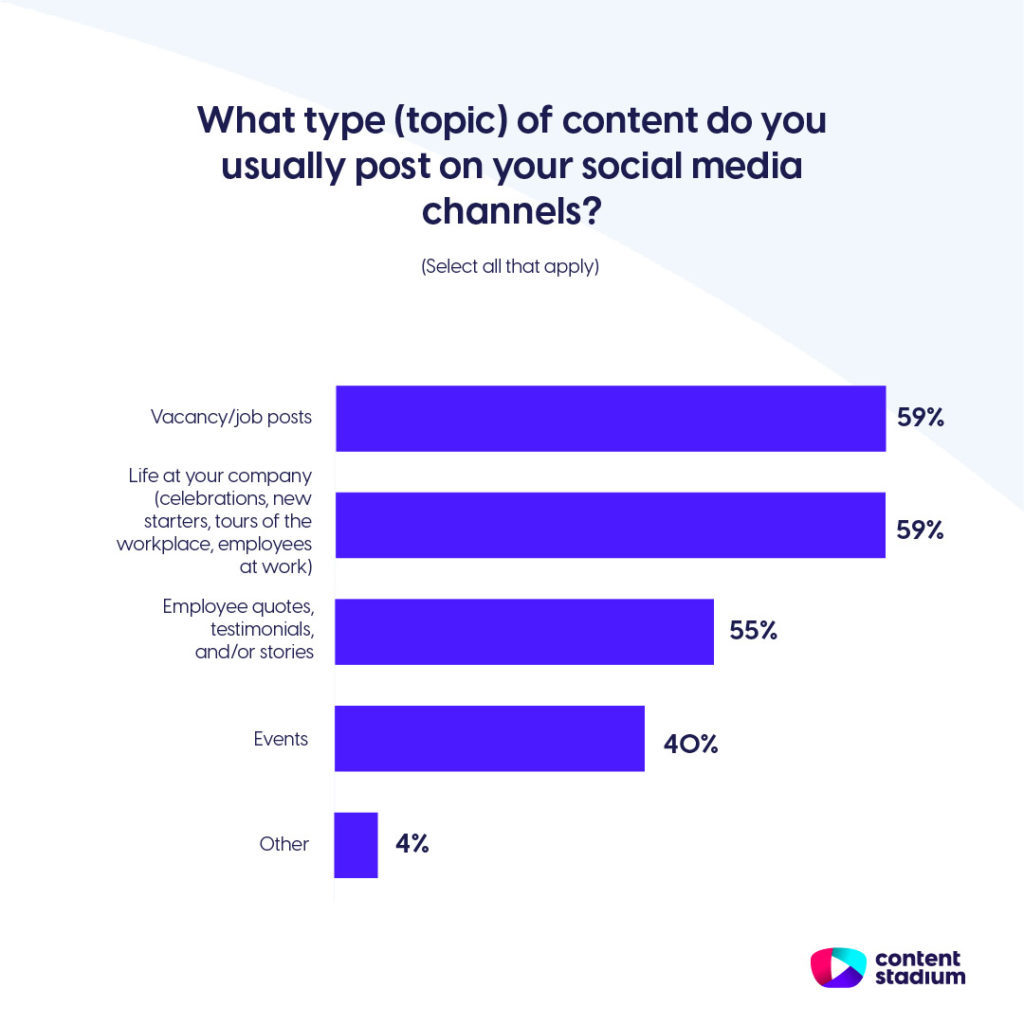 Social recruitment is no longer just about posting job vacancies. Our survey shows that employer branding specialists create social media content about life at the company (celebrations, new starters, tours of the workplace, employees at work, etc.) as much as they post about job openings.
Many also use their employees' voices to build their employer brand on social media: 55% of respondents are creating content around employee quotes, testimonials, and stories.
40% also post about company events. And those who selected "other" stated that their social media channels also covered topics like product releases and company news.
Need more content ideas? Check out our examples of employer branding social media content.
How do they create their employer branding social content?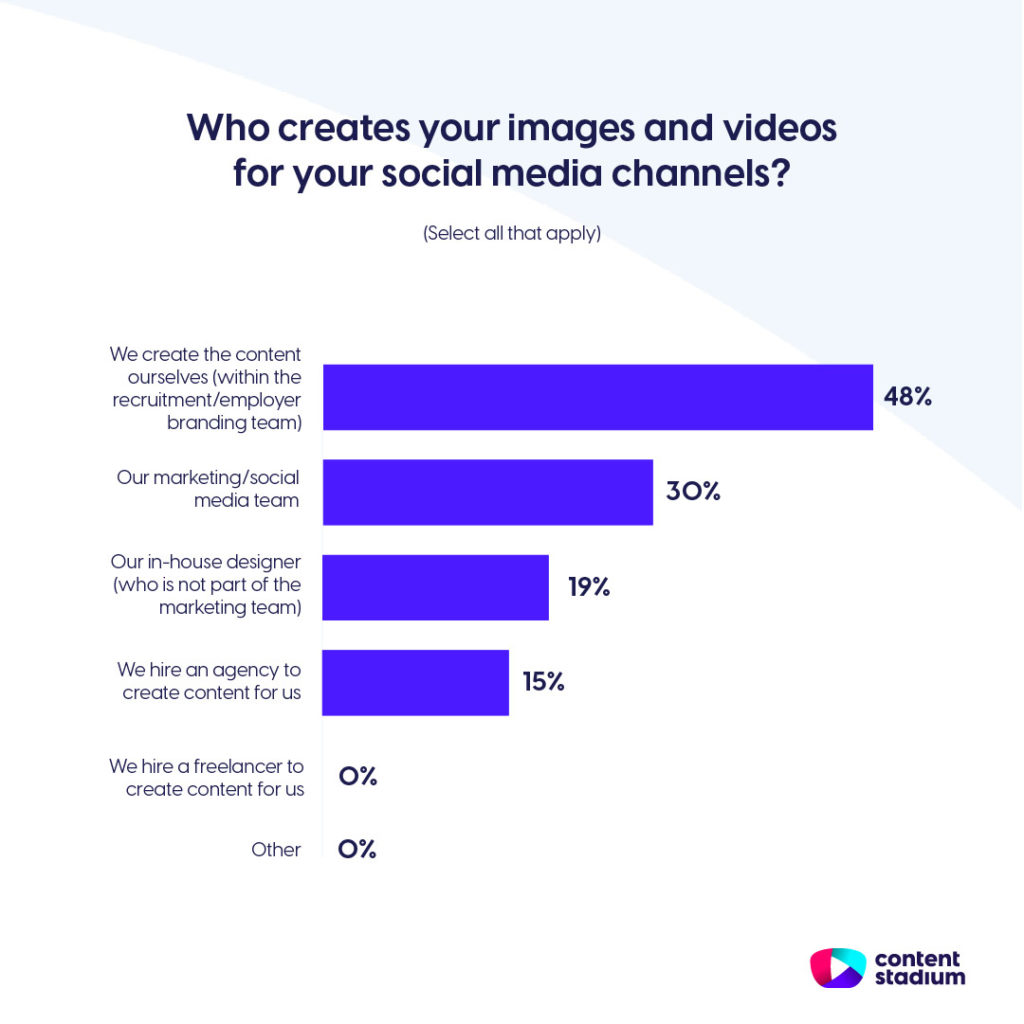 When asked who creates their social media content, around half of employer branding professionals mentioned that they create their images and video content themselves.
The other half outsource the job to other teams. 27% responded that their marketing and social media departments are responsible for content creation. While 18% said their in-house designer makes their content, and 14% hire an agency.
When it comes to creating content themselves, there doesn't appear to be an industry-wide consensus on the best tool to use. Respondents mentioned using tools including Photoshop (18%), Canva (18%), PowerPoint (7%), and even none at all (7%).
But whatever the approach and tools employer branding teams are using to create their social media content, it doesn't seem to be working well for them:
What are the challenges that employer branding specialists face when creating content?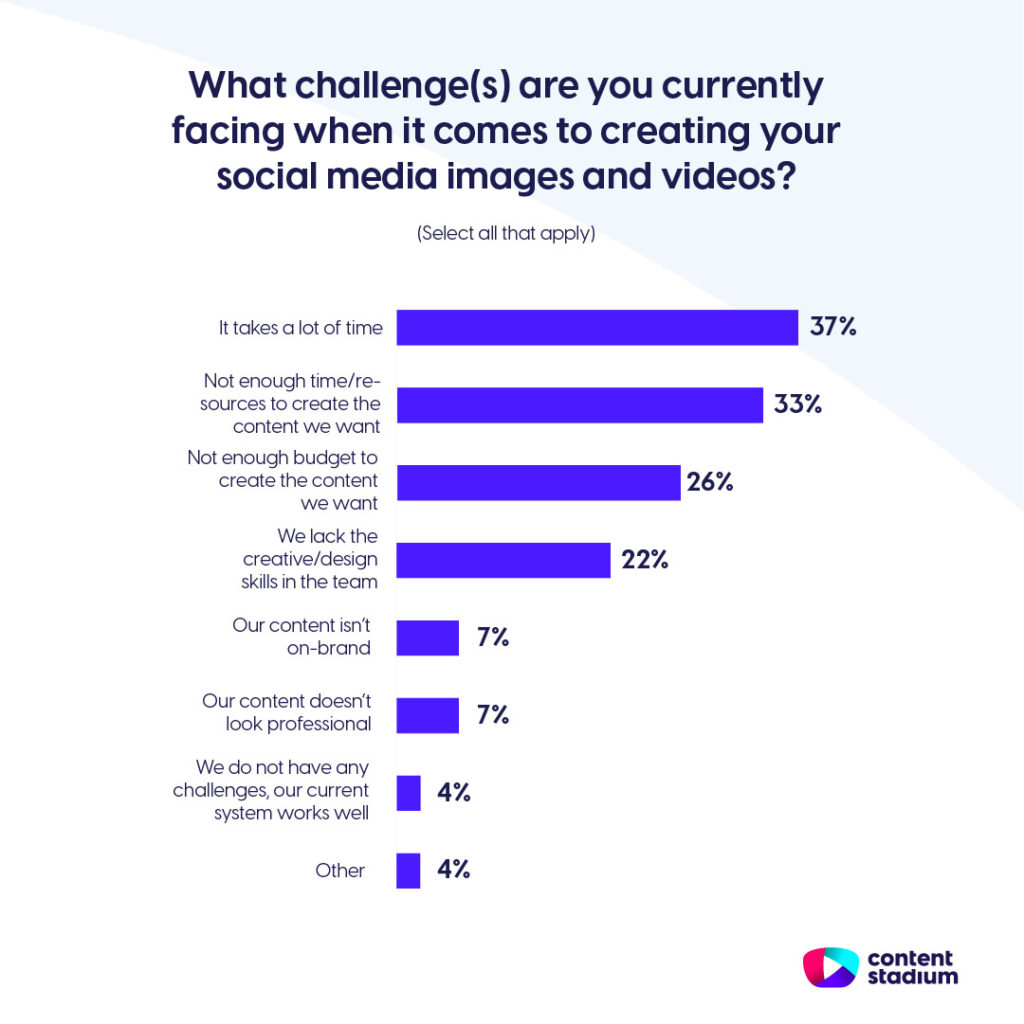 A huge 96% of the employer branding specialists we surveyed face challenges in creating social media images and videos.
After looking at the statistics, their main 3 challenges revolve around:
Lack of time: While some specialists are investing more time than they would like to (37%), some cannot create the content they want due to a lack of time and resources (33%).
Lack of budget: Budget is an issue for 26% of the respondents.
Lack of design skills: 22% of teams lack design skills. This is likely leading to content that is not on brand (7%) or doesn't look professional (7%).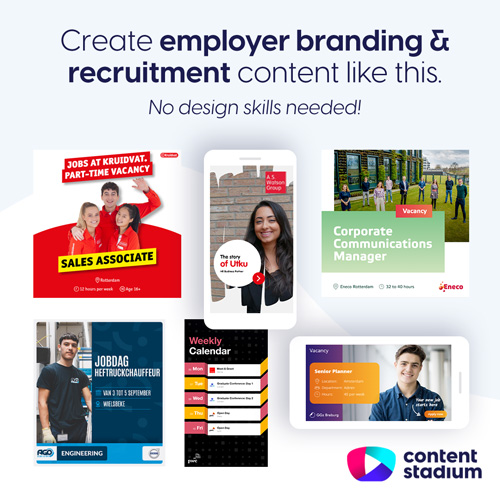 Are you also lacking the time, resources, or design skills to create the social media content you want?
Chances are you consider the creation of (professional-looking) social media content a time-consuming process. But it shouldn't be like that.
Employer branding and recruitment teams from brands including Eneco, PWC, and A.S. Watson (Kruidvat, ICI Paris XL, Trekpleister) are already choosing Content Stadium to quickly and easily create branded content for their careers pages and channels.
We'll facilitate your content creation process through custom-designed templates, making it fast and easy. Not only do such templates save you valuable time, but they are also tailored to your own brand needs. Always on-brand, constantly high quality, and no way to mess it up.
Want to join them? Request a demo with one of our social media experts.
More social media tips for employer branding teams