With 79% of applicants using social media in their job search, it's clear that social channels play a key role in the recruitment process. And it looks like employer branding and recruitment teams have caught onto this. Our 2023 survey of 100+ professionals found that 96% of them already use social media as a communication channel.
But what are the top best practices for using social media for employer branding? How can you use social media to strengthen your employer brand and stay top of mind? How can you increase reach, engagement, and, ultimately, fill more job vacancies?
In this blog post, we share our top employer branding social media best practices, as well as tips and inspiration from some of our clients.
For more tips and ideas, take a look at these 14 social media employer branding examples, and brand consistency best practices for social media.
1. Define your employer branding social media strategy
Start at the start. Our first best practice is to take a step back and determine what you want to accomplish on social media and what success looks like to you. Then define a social media strategy that will help you reach these goals.
Your employer branding social media strategy should include:
Goals and supporting KPIs.
Target audience: who they are, which platform they use, what content resonates with them, etc.
Your employer branding story or EVP (employee value proposition).
Branding and style guide (which we cover in the second best practice below).
As one respondent to our 2023 social recruiting and employer branding survey put it: "Plan your content around your strategy and what you want to achieve. Don't post content for the sake of it. Make sure it has a purpose that aligns with your goals."

2. Develop a consistent identity for your employer brand
To build a recognizable and memorable brand, you need a consistent style, tone of voice and story. The same best practice applies to an employer brand.
We often see recruiters communicating in a number of different ways on LinkedIn, with different styles of content, even though they work for the same brand. This makes it difficult to easily spot which job ad belongs to which company, and to build (employer) brand awareness and familiarity.
So, ensure you take a moment to develop a cohesive brand identity to apply across all your communication channels, including social media. This will help you build a stronger, more recognizable employer brand.
This best practice applies to any employer branding social media content — whether it's for your company or employer branding channels, or for recruiters and employees to share via their own social profiles. Ensure your visual style and messaging remain consistently on-brand.
Need some help? Get tips on how to build and maintain brand consistency on social media, and check out these 16 brand consistency examples for inspiration. Plus, discover how A.S. Watson's employer branding team create consistent content for their ICI PARIS XL careers channels.
3. Launch dedicated employer branding social media channels
Having your own, dedicated employer branding or careers social media channels gives you a platform to tell a stronger employer brand story, get in front of more potential future employees, and engage current employees.
And this is a growing trend. Our latest employer branding statistics show that 65% of employer branding and recruitment specialists already launched dedicated social media channels for employer branding and recruitment.
Check out some examples from across different industries and channels below, and see more employer branding social media account examples in our article.
What is the best social media platform for employer branding?
LinkedIn and Facebook came out on top in our recent report. But several of the employer branding specialists we surveyed also mentioned using Instagram, YouTube and Twitter for employer branding and recruitment purposes.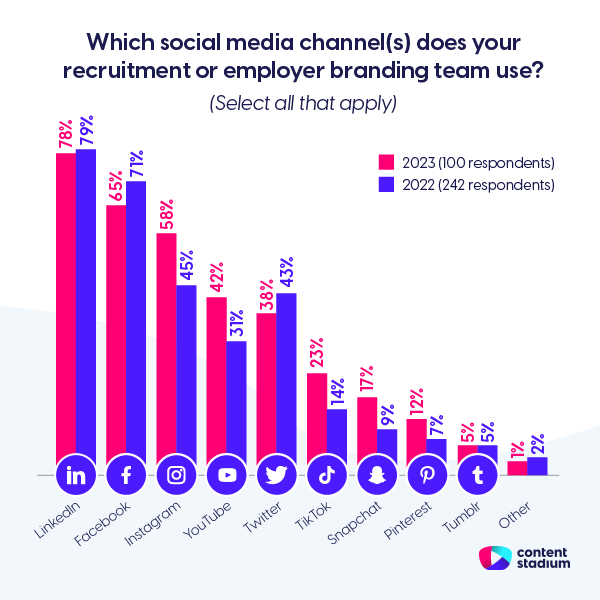 4. Tell an authentic employer branding story
No workplace is a complete paradise. It's important to tell your own story and be authentic.
This employer branding social media best practice comes recommended by Nicole Matijssen, Employer Branding Specialist at Sunweb Group (previously at A.S. Watson), and a Content Stadium client.
She adds: "Share both the good and the bad. Because that's the reality. For example, Kruidvat [one of A.S. Watson's retail brands] is a fun place to work, but it's also hard work. We tell both sides of the story on our channels. We'll put on team challenges which show the team having fun, but also working hard."
View this post on Instagram
View this post on Instagram
Your future candidates are likely to be looking across different social media channels to get an impression of your company.
From reviews on Glassdoor, to current employees' LinkedIn profiles, and even comments from applicants who did not get the job — these are all sources of information about your company that can impact your employer brand.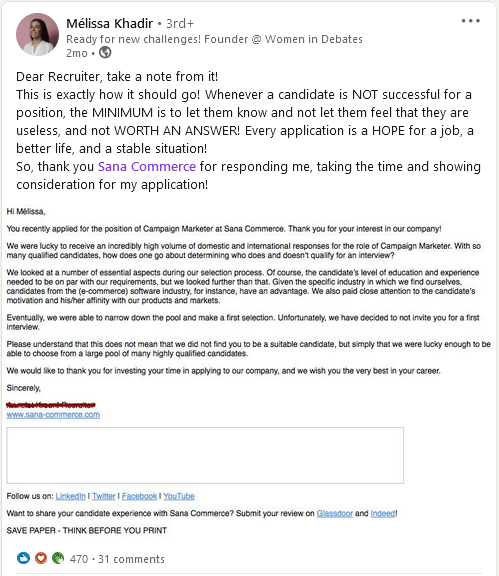 Sending mixed messages and making promises that you cannot deliver upon can only work against you. So a fundamental best practice for employer branding is to make sure the messages you are pushing across your social media channels reflect the reality of life at your company.
5. Vary your employer branding social media content
Social recruitment and employer branding isn't just about posting job vacancies. Our employer branding statistics show that employer branding specialists also create social media content about company news, life at the company (celebrations, new starters, tours of the workplace, employees at work, etc.), event promotions, and employee quotes and stories.
So, think about creating different types of content that will grab your target audience's attention and that your employees will want to share.
From behind-the-scenes shots, throwback photos and employee interviews, to quizzes, questions and humorous content to engage your audience — there's plenty of ways to keep it interesting. Get more ideas and inspiration in our post on social media examples for employer branding.
Whatever topic you choose to post about, be sure to accompany your social media post with an eye-catching visual. This was a recommendation shared by several specialists who took part in our 2023 survey. As one respondent put it, "Do not neglect the aesthetic aspect of your posts, because that's what attracts attention the fastest."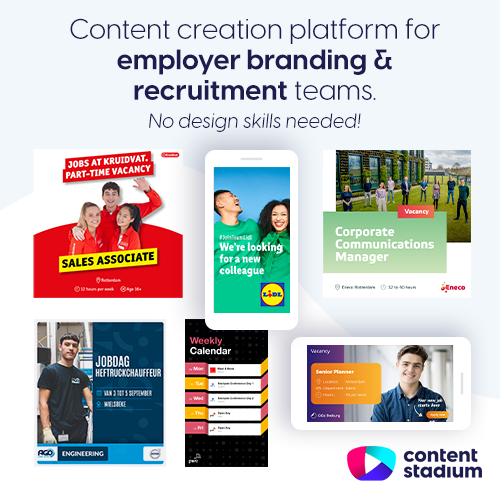 6. Leverage your employees' social media networks
Your employees are your biggest influencers. By tapping into their networks, you can expand your talent pool by 10 times.
Make the most of this huge combined social media reach by providing your employees with content to share with their own networks.
You can approach this in multiple different ways, including the following best practices:
Create fun photo opportunities. Celebrate key milestones or successes with fun team events, certificates, balloons, or other small tokens. Employees will often organically capture and share these moments on their social channels.
Create branded graphics or videos for employees to share on their channels, such as job openings in their team, their own welcome to the team post, or company news that's relevant to them. You can then easily share this content with relevant team members using employee advocacy solution.
Or take it one step further: Give employees self-service access to on-brand templates, using a content creation platform such as Content Stadium. They can then communicate about your company with professional and recognizable graphics that help strengthen your employer brand.
View this post on Instagram
Thanks to our fantastic employees, we have just been named one of the Best Workplaces in Ireland and one of Ireland's Best Workplaces for Women by Great Place to Work. Here's more about the steps we are taking to create a great workplace for all: https://t.co/Rf6qWJcgYc pic.twitter.com/3kpicAb9Z4

— Salesforce Careers (@salesforcejobs) March 10, 2021
And it's not just your current employees who can act as influencers for your employer brand on social media.
Another employer branding best practice is to build an alumni community, for example via a LinkedIn group. This lets you keep former employees up to date with company news, and ask them to share recruitment content with their networks.
Get more ideas on how to activate employees and drive employee advocacy on social media, with 9 best practices from 240+ recruitment and employer branding experts.
7. Let your employees do the talking
Another employer branding best practice is to give potential employees a real and trustworthy insight into your workplace with employee takeovers of your social media channels.
Once a week or month, let employees from different departments take over your employer branding or company channels. They'll be able to give your audience a behind-the-scenes look at what it's really like to work for your company.
This sort of employer branding content is perfect for Instagram Stories. And it makes for super engaging and relatable posts. Check out the Instagram Stories on Eneco's careers channel to see how they do it:

If you're not ready for employee takeovers just yet, be sure to at least feature photos of your employees in your employer branding social media content. Our research found that this helps increase your social media engagement.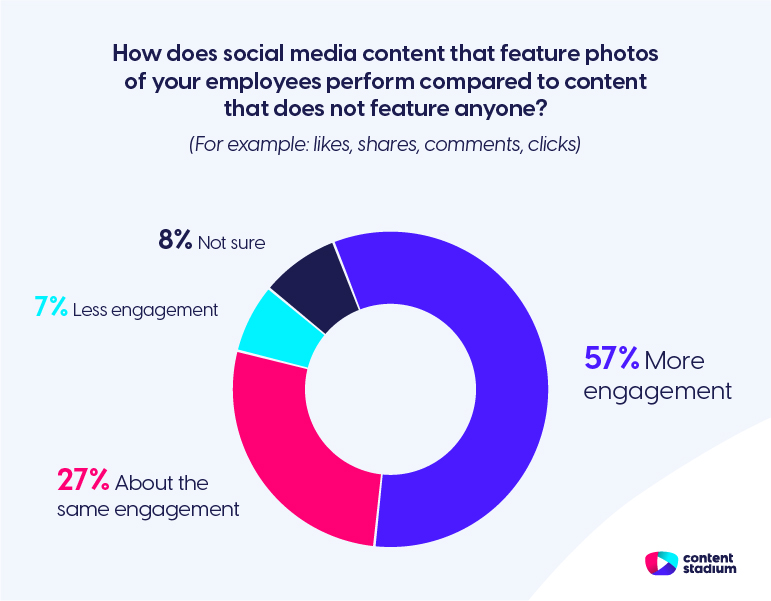 8. Secure the necessary resources
To deliver on your employer branding strategy and create the social media content you need, you'll of course have to invest time and resources. But according to our recent survey, the vast majority of employer branding and recruitment specialists lack the time, budget and/or resources needed to create the content they want: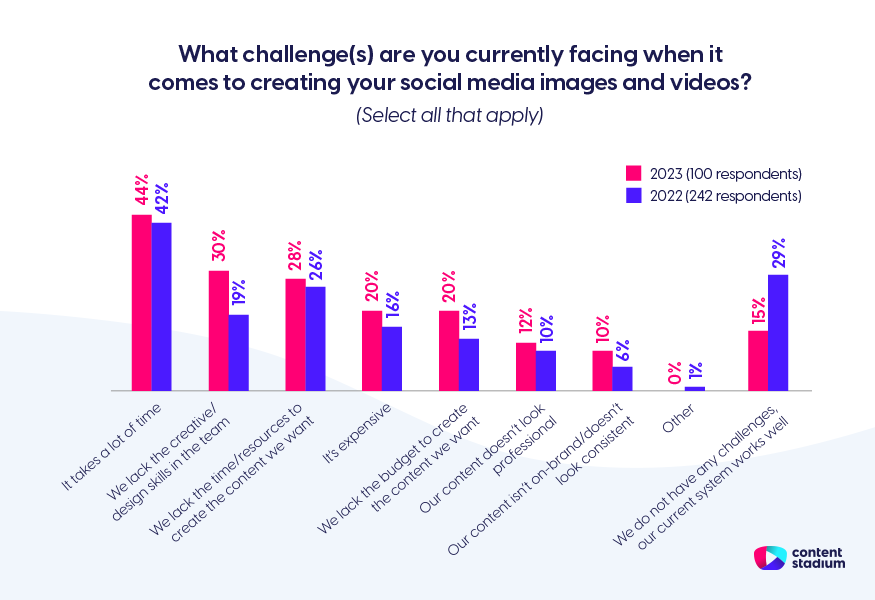 To solve this challenge, the first hurdle to overcome is to secure budget or resources (including time) for your employer branding activities.
This means convincing higher management of the benefits of employer branding. From more and better quality applicants, to higher retention rates and even lower salaries, there is already plenty of research that highlights the importance of employer branding in the success of an organization, as well as the importance of social media for employer branding.
You should also look at what tooling can help you speed up and simplify your social media content creation. So you can free up resources by spending less time and money on the creation process.
Employer Branding Specialist Nicole Matijssen explains why she chose Content Stadium to create social media content for her employer branding social media channels:
At Content Stadium, we help multiple employer branding and recruitment teams to create professional social media content themselves — without the need to go via a designer or the marketing team.
Want to see how it works, so you can make the best decision for your team? Book your personalized demo to speak to one of our social media experts and see examples from companies like yours.
More social media tips & ideas for employer branding teams
Looking for more tips and inspiration?