There are plenty of benefits to posting welcome new employee content on your social media channels. Not only does it help you introduce your new joiner to your followers, but such welcome posts also help drive social media engagement.
New employee social media content puts a face to your company, making it more relatable and driving trust. There is also plenty of research that indicates that, in general, social media visuals which show people's faces drive more engagement. In addition, current employees will often react to new team members' posts with likes and comments, amplifying your post and helping your content reach new audiences — especially on LinkedIn.
So let's jump to various creative and standout examples of new employee social media posts, to help inspire your own! Including welcome new employee LinkedIn posts, Tweets, and Instagram and Facebook content.
Looking for more employer branding social media content ideas? Be sure to check out our "we're hiring" post examples, as well as our 2023 report on social recruiting and employer branding.
Plus, discover our content creation platform for recruitment teams.
Welcome new employee posts: The basics
Let's start with the basic elements to include in your visual and caption when creating a welcome to the team post:
Name of your new starter
Photo
Job title or description
Company logo and visual branding
Featuring only these elements can already create some great welcome to the team posts, such as these examples:
You can also add a simple or fun animation to your welcome post, to grab more attention in the feed.
But there are plenty of ways you can level up your welcome posts! Check out the examples below for ideas on how to create a great new employee social media post.
Add a quote from your new hire
Add a touch of personality to your social media post with a quote from your new team member. The quote can include: why they joined the company, what they look forward to doing, their backgrounds, or even a personal motto.
Share a fun fact about the new starter
Similarly to the examples above, including a fun fact or two about the new employee helps your audience relate to your new joiner and humanizes the company in general. You can add this fun fact in your visual, or keep your image clutter-free by adding it to the caption instead, like in the below Twitter example.
We also love how Healing Partners share fun facts about their employees through icons in their LinkedIn post. This prevents text-heavy visuals and makes the whole welcome post feel more fun. In addition, they drive engagement by asking their social media followers to guess what the icons mean, which leads to quite a few comments.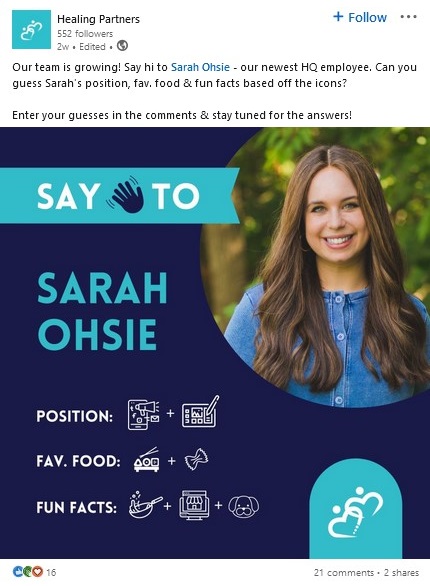 Write a short employee description
Add trust by explaining why your new team member is such a good fit, and how they will bring value to your customers, with a short employee description. You can add this to the visual itself, to the caption, or to both. We recommend keeping the text short on the visual, and to make use of the caption if you'd like to say more.
Create new employee Q&As
Introduce your new starter on social media with an interview or Q&A. You can keep it light-hearted with quick-fire and fun questions, such as in the first Instagram Story example. Or ask more in-depth questions, about both the job and what they get up to outside of work, like in the second welcome to the team social media example. Videos and carousels work well for this type of content. (Click on the images below to watch the full videos on Instagram and Facebook.)
Welcome multiple new employees in a single post
If you work for a large company with many employees, it might make more sense to welcome multiple new team members in a single post. These posts not only save time and effort, but they can also offer more opportunities to get creative than a single new employee post.
Social media carousels and videos work great to welcome several people at a time:
But there are also ways to feature multiple new starters in a single post, such as in these examples:
Display their contact information
If your new colleague is working in sales or another customer-facing role, consider including their contact information in the welcome post. This can help them hit the ground running with already a few inbound leads landing into their inbox.
Share information about what it's like to work for your company
Why not use this opportunity to also plug your company as a great place to work? Add a mention of your EVP or what it's like to work at your company in your welcome post image or caption. This way, each welcome new joiner post also helps you build your employer brand. (Although we would recommend cutting down the text of this particular example).
Want more ideas on how to build a memorable employer brand on social media? Check out our 8 employer branding social media best practices and our 2023 employer branding report.
We just grew by another great mind!

For Digitalzone, getting new people onboard is more than just donning the hat of a hirer.

So let's welcome Mr Frank Carbonetti, our new director of sales. We look forward to having a blast together.#newemployee #sales #people #environment pic.twitter.com/HIJzJwIzEH

— DIGITALZONE (@digitalzoneB2B) December 1, 2021
Let your new hire do the talking
For a more authentic welcome post, hand the mic over to your new employee, and let them introduce themselves to your social media followers through a video. They can explain who they are, their background, and why they joined the company.
We recommend that you overlay your video with branded elements, or add branded intros and outros, to connect the video to your brand. And don't forget to include captions for users who are watching with sound off.
Tag the new recruit in the post caption
Encourage users to connect with your new employee and get to know them better by tagging them in the caption or photo of your welcome to the team post.
This works best on LinkedIn, as it's a professional social media platform. In addition, tagging your new employee on your LinkedIn welcome post will push your post in the feed of their existing connections, increasing your post's reach. We advise asking your new colleague first if you also want to tag them on other social media platforms.
Create a welcome to the team social media hashtag
Group your new employee posts together by creating a unique hashtag for your company. Take a look at the welcome post examples below for some ideas:
Tip for finding more new employee social media post examples
Want even more welcome post examples to inspire your own? Look up these hashtags on LinkedIn, Twitter, Instagram, and other platforms to scroll through hundreds of different examples:
#newemployee and #newemployees
#welcometotheteam
#welcomepost
#newhire, #newrecruit, #newjoiner, #newstarter (and plural versions)
#welcomeaboard
#onboarding
#sayhello
Create your new employee posts in just a few clicks
Do you want to easily create professional-looking recruitment and employer branding social media visuals? Lack of time, design skills, or resources shouldn't stand in your way!
Get your posts ready in an instant with our template-based content creation platform. Use our templates to create professional branded images and videos yourself in just a few clicks, with every design custom-built for your needs. Join Lidl, PwC, Eneco, and more recruitment, marketing, editorial and communications teams who are already benefiting.
Fill in your details on this page to request more information.
More recruitment and employer branding social media ideas