At Content Stadium, we help 150+ sports clubs, teams, federations, leagues and organizations to create quality content at speed with our content creation platform. Based on this experience working with sports (social) media teams, as well as the trends we've seen developing in the industry over the years, we rounded up our top social media content ideas for football clubs and organizations.
Read on for tips and strategies to increase your engagement, reach and other social media goals, alongside examples from our football clients and other inspiring accounts — to help you take your social media football content to the next level!
Football content ideas and strategies for social media: Table of content
Double down on posting about your wins
When you win, all the content you post on social media turns to gold. Even if it's repetitive or lower-quality content than usual. Football fans are hungry for it. So our first football content idea to increase engagement on social media is to capture every moment and every angle of every win, and post post post.
This can include a win for a specific team in your league, a win for your club, or success for an individual player. For example, when Alexis Mac Allister returned to Brighton & Hove Albion football club after winning the 2022 World Cup with Argentina, the club's repetitive Tweets about the event each received a huge amount of views and engagement.
You can also re-share your winning moment again weeks, months or even years down the line with a throwback post for an additional boost in social media engagement, such as in this RB Leipzig football post.
Make use of your players' social media networks
A great strategy to grow your reach and brand awareness is to tap into your football players' own social media networks and audiences.
You can do this by providing them with personalized, branded content to share on their channels. With players often on the lookout for great content to post, this can be a win-win for both the players and your organization (football club, federation, league, etc.): while your players benefit from quality content to post on their channels, you benefit from an increased presence on social media, all while staying in control of your brand image.
For example, FC Utrecht created and shared personalized matchday graphics for each of their players, which several players went on to post on their social media stories and feeds in advance of the game: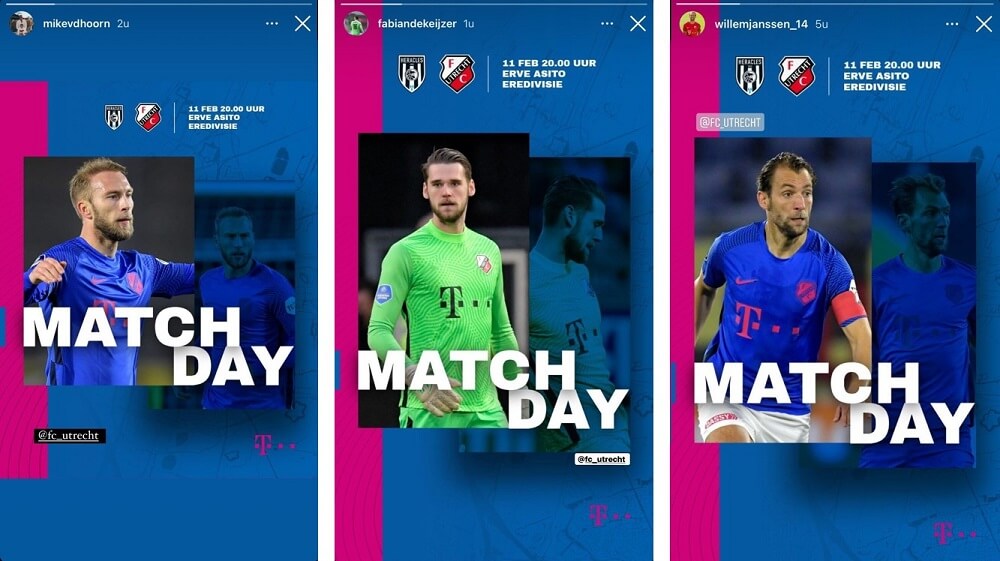 Post frequently on social media
Social media industry benchmark reports from 2023 by both Rival IQ and Sprout Social found that professional sports teams was the most active and engaging industry on social media overall.
These findings show that, when you're managing a sports social media account, posting more frequently than other industries does not necessarily mean diluting your engagement rate. In fact, the data suggests that the opposite could be true.

React quickly to game day action
The faster you can react to the action on the football field during a game, the more you can tap into the emotional response it provokes among fans, and boost your engagement.
Therefore, be sure to have the right processes in place to be ready to respond quickly on social media. This is also one of the top social media recommendations from Troy Lüchinger, Chief Marketing Officer at Swiss football club FC St.Gallen 1879:
"Make sure to define your social media processes — from creating your content to publishing it. For example, when your team scores a goal in a match, how will you be able to get the photo of the goal, create your post, and post it, all within 5 minutes? It's so important to have this formula set and to optimize it continuously, in combination with platforms like Content Stadium which can support you in this process."
Read the full interview with Troy for more of his football social media best practices and learnings.
Create football content faster with custom templates
Are you struggling to create quality social media graphics and videos at speed? Do your designers not have the time to create the content you want? Or do you want to increase your content output?
At Content Stadium, we help 150+ sports (social) media teams speed up their visual content creation, react faster to live events, lock in brand consistency, increase fan engagement and more, with our template-based content creation platform:
From starting line ups, player stats, results and more on matchdays, to programs, interviews and player birthdays outside of game days, our social media templates are perfect for recurring football social media content.
Book your demo to discover how you too can benefit from sports' most user-friendly content creation platform.
Focus on entertaining content to increase your reach
Social media is moving towards mass entertainment. This means that you now have the possibility to get your brand in front of many more viewers through entertaining posts that appeal to a wider audience. So, if (one of) your social media goals is to promote your organization to a mass market and new audiences, make sure to try this content strategy.
Many football clubs, leagues and federations are already taking this approach, especially on TikTok and via Instagram Reels. While football game and team-related content was once the main focus, they are now including a lot more "viral" videos, shareable content, and funny football posts that speak to a much larger audience of football fans and beyond.
Segment your football social media channels to grow specific fan bases
Is your social media goal to target specific audiences and fan bases? The best approach could be to create separate social media accounts for each audience.
This is a strategy used by Dutch football club PSV Eindhoven. Jordy Koppen, PSV's Acting Head of Content & Media, explained why the club created multiple accounts, including on the same social media channels, to segment their target audience and content goals:
"A few years ago, we used to post all types of content on our main channels, including academy, women, foundation content, etc. But 80-90% of our followers follow us for our first team. That's why we created multiple channels. Having these separate channels helps us to offer our audiences a more tailored, personalized experience on social media. […]
"At the same time, this segmentation allows us to build new fan bases. Take PSV Women, for example. These accounts have a completely different audience, including families and women, who only want to follow PSV Women. They can become a fan of PSV, without necessarily liking or following the first team. It's another growth market."
Read the full interview with Jordy for more of his football content ideas and best practices.
Inject some humor into your social media posts
One strategy that multiple football clubs, leagues and organizations are using to rapidly grow their audience is humor. This is especially the case for smaller clubs and lower divisions. While larger organizations can be hesitant to make jokes and laugh at themselves in case it backfires and damages their brand, smaller clubs have less to lose and a lot more to gain.
Take Dutch football club MVV Maastricht, for example. When their game was cancelled, they instead covered their journey back home on social media. This included half-time at McDonald's, and +46 minutes of extra time with an image of a breakdown van.
This type of jokey or even self-deprecating tone of voice can also be a great idea to "refresh" your brand image. And it can make your organization feel more real and authentic — especially among younger audiences. For example, we see a lot of more traditional brands such as sports broadcaster NOS, or bigger football clubs such as Real Betis Balompié taking this approach on TikTok:
Spotlight individual football players
Every football player is an individual celebrity, with his or her own unique social media following. Fans are also typically curious to get to know them, their thoughts, and their personalities better. In addition, Gen Z fans tend to be more interested in individual players, than in football teams and leagues.
Therefore, one idea to increase engagement and reach for your football social media channels is to dedicate some of your posts to individual players.
You can do this by wishing them a happy birthday, summarizing their stats for the game or season, sharing behind-the-scenes footage and exclusive interviews, or celebrating their achievements. You can also include more personal touches, such as heart-warming moments with their families, or their latest fashion choices.
See an example below from football club SC Heerenveen, who used their matchday template to wish their goalkeeper good luck before a World Cup game, with a great reaction from followers. Plus, a player spotlight by the Premier League and Liverpool Football Club.
Start preparing content for the future
All of football's biggest stars were once a young player just starting out. So don't just think about the content and famous faces you can post about right now on social media, but think also about content that might be useful in the future.
Create player profiles by storing content you created for each player (videos, photos, interviews, etc.). Then bring this content back out when the player becomes (even more) successful. Throwback football content on social media is always popular, and you can repost this type of content again and again, each time the player makes it into the news.
Show and evoke emotions with your football content
Another strategy to grab attention in the feed and create a connection with your followers, is to focus on emotions in your football social media posts.
One way to evoke emotion is through posts that include closeup photography of players' expressions, or raw reactions from the crowd, like in the football social media example below. Sharing heart-warming moments of human connections, such as two captains showing each other respect while exchanging shirts, or players interacting with beaming young fans, are also a great way to stir up emotions in your followers.
And it's not just about the photography or video footage. Graphic elements are another way to evoke emotions in your football social media posts. For example, you can use less text but much larger fonts to stir up excitement or joy. Another idea is to position your branded elements and player photos in a way that adds passion and energy to your graphics. See some content ideas below from two football clubs.
Share behind-the-scenes content on social media
Behind-the-scenes content always works well, whatever the industry. Day-to-day moments and activities that might seem normal to you can feel like exclusive insights to your audience, and give them a feeling of inclusion and connection to your football team, league or organization.
Therefore, try to look at what's happening behind the scenes from the point of view of your fans to get some content ideas that can help to satisfy their curiosity. You can also post behind-the-scenes content with a more personal approach through social media takeovers by your players, coaches or other staff.
Behind-the-scenes football content doesn't need to be very high-quality either. Slightly blurry videos caught on a mobile phone camera can still work well, and even give your content a more authentic and in-the-moment feel.
Consider LinkedIn in your football social media strategy
According to its January 2023 report, LinkedIn is once again seeing record engagement. And the platform now includes 900 million members (more than 80% of whom are based outside of the US). So, if you're not yet active on LinkedIn, should you consider the idea?
As a "professional" social media platform, LinkedIn might not seem the most obvious choice for a football club or organization. Yet for FC St.Gallen 1879, this is currently their fastest-growing social media channel, including a large Gen Z following. After all, even when they are in "work mode" fans don't just stop being fans.
On this channel, it's a good idea to strike the right balance between "corporate" and "entertainment" content. While it's good to throw in a few strictly entertaining or football posts to keep things light and engaging, LinkedIn users will likely expect to also get insights into the business side of your organization. But that doesn't mean it all needs to be serious or dull posts. Think about sharing timelapses of what it looks like to work for you, starting conversations around your latest initiatives, or giving more insights into a recent business decision.
Monetize your football content and generate revenue through social media
Every social media post is an opportunity to generate revenue for your club, team, or organization. Some ideas to monetize your football social media posts include:
Monetize your existing game day content through sponsorships, making sure that any sponsor presence is well-integrated into your visuals and content strategy.
Create new content in partnership with a sponsor, such as giveaways, behind-the-scenes posts, awards, quizzes and more.
Use your social media channels to drive e-commerce purchases.
Get more ideas, best practices, and examples on how to monetize your football content in our article.
Get your fans involved with interactive social media posts
Build a sense of community and increase engagement (and therefore reach) among your followers with interactive content.
Interactive football social media post ideas include getting fans involved with fun quizzes, answering their burning questions with player Q&As, asking for their opinion with voting and poll posts, or letting them express themselves with UGC social media campaigns. Be sure to also make use of the social media platforms' interactive features where it makes sense, such as Twitter polls, or "ask me a question" sticker for Instagram stories.
🤔 Right then, Gooners…

Who gets your vote for MOTM tonight? 🌟

— Arsenal (@Arsenal) August 5, 2022
To give fans an even stronger feeling of inclusion and importance, you can also ask them to help you make business or brand decisions. For example, football club AS Monaco asked their fans on Twitter to help them choose their next visual template design.
More football social media ideas