Are you looking for event social media post examples for ideas on how to promote your next conference, fair, trade show or other event? This blog post will focus on exactly that.
You'll find multiple examples of event posts from various organizations and social media platforms, such as LinkedIn, Twitter, Instagram and Facebook. We've also included different creative ways to post about your event, including pre-event, on the day of the event and after-event social media post examples to inspire your own.
Make sure to also check out how our content creation platform can help you make awesome social media posts yourself, in just a few clicks!
Pre-event social media post examples
Event promotion posts: The basics
When promoting your event on social media, there are basic elements that we recommend to always feature in your posts. These include:
Name of the event
Location
Date and time
Information on what the event is about, and who it is for
Instructions on how to join (link to more information, details on how to buy tickets, etc.)
An attractive and clear visual to capture attention (image, video, carousel, etc.)
Your event or company logo, and any additional branding
A unique event hashtag (to group event posts together, and allow people to easily find more information)
Featuring these basic elements in your event social media posts will help you grab the attention of the most relevant attendees for your event, as well as helping them quickly get the information they need — avoiding any friction, frustrations or missed opportunities to catch the eye of your target audience.
Take a look at the event social media post examples below, which include the key information that potential attendees need to know across the visual and caption.
On LinkedIn, you can take this one step further by creating an event page. You can then add the link to this event page in your company page post, such as in the first LinkedIn event post example below (click the image to see the live post). This post format helps you clearly display your event information in a structured way.
Aside from an event announcement post, there are many other ways to promote your trade show, conference or other event on social media, whether you're looking to increase ticket sales or drive excitement for those already signed up. Check out some of the best event social media post examples we've found across LinkedIn, Twitter, Instagram, Facebook and more below.
Countdown posts
A great way to remind viewers of your upcoming event on social media is via an event countdown post. Use it to highlight the remaining time until the start of your event or the deadline for sign up.
A countdown allows you to create a sense of urgency and FOMO (fear of missing out), prompting people to decide quickly before missing out on the occasion. It can also help to drive excitement for those who have already registered to attend.
For an effective countdown post, make sure to put the number of days left in large font to catch viewers' eyes — such as in the pre-event social media post examples below. If you're promoting your event on Instagram, we also recommend using the countdown sticker on your event-related Stories.
Additional event countdown social media post ideas include using a calendar visual, or animating your countdown clock, such as in the Twitter and LinkedIn conference examples below.
Introducing the event lineup
Sharing details about your event can help drive intrigue and interest. And what's often the most compelling part of attending an event? The chance to meet and hear from others. This is why introducing your event guests, hosts and speakers on social media — especially if they are well-known to your target audience — is a best practice to grow your attendee list.
This is something the sports industry does well. See, for example, the matchday social media carousel from our client Hertha BSC football club below. In the first slide, the club gives a quick overview of the lineup, followed by a video that introduces the players one-by-one, in a dynamic visual format to drive excitement.
In your event lineup posts, you can choose to give an overview of your full agenda or to spotlight a single speaker and their achievements, such as in the examples below. We recommend that you tag the speakers featured in your posts, especially on LinkedIn, to increase engagement.
Revealing the venue
In addition to introducing the lineup, you can heighten excitement by disclosing more details about your event as the date approaches.
In the below pre-event social media post examples, both conference organizers chose to reveal the venue ahead of time. In the LinkedIn example, the organizer announces the venue's location, while in the Twitter example, they share a quick glimpse of what the venue looks like inside, as everything is getting set up.
Explaining the benefits
Don't leave it up to your audience to work out why they should join your event: spell out the benefits for them. Use your social media visual to highlight the top reasons why attendees should join (and what they might miss out on if they don't!).
A great way to lay out this information visually could be via a social media carousel, or with an infographic or short video, such as in the following summit and conference post examples.
Custom attendee and partner content
Reach a wider audience by tapping into the social media networks of your guests, speakers, sponsors, and other event partners. You can do this by simply asking them to share your event content on their social media networks, and/or by distributing generic "I'm attending" social media visuals for them to share.
You can also take this one step further by creating personalized content that's unique to your attendees and partners, to increase shares. In the first example below, the event organizer created a custom video to announce each conference sponsor. While in the second example, all conference attendees received a personalized "I'm attending" GIF, with encouragement to share it on their channels.
Did you know? Our content distribution solution allows you to quickly and easily share your branded content with your network of partners, via a dedicated app or link sharing. Learn how Content Stadium SHARE works, and how you could benefit.
Tickets selling fast
People often have a strong sense of wanting to be part of something, and therefore fear being left out (FOMO). You can use this to your advantage and drive ticket sales through "Tickets selling fast!" or "Almost sold out!" social media posts.
For example, the event social media posts below specify how many tickets have already been sold, and add that they are "Selling FAST" or "Almost SOLD OUT" to increase FOMO. Here, you can also use videos with quick cuts or large fonts to increase urgency.
Sold-out event posts
If your event sells out ahead of time, make sure to shout about it on social media! This will highlight your event's popularity and therefore increase interest for the next one. So it's also a great time to already promote your next event (if applicable) and drive registrations, as seen in the Instagram social media example below.
Event tips and tricks
Help your attendees get ready for the day and get the most out of your event by sharing a pre-event checklist on social media. See the below pre-event post example for some ideas.
Examples of social media posts during the event
Create a buzz on social media on the day of your event by posting about the different talks, shows and activities as they happen. This will help you increase awareness for your event and brand, which in turn can help you attract last-minute attendees or drive interest for your next event.
You can also use social media to take your audience backstage and share exclusive behind-the-scenes insights to engage both attendees and non-attendees alike. See more on-the-day event, conference, fair and trade show social media post ideas below.
Real-time posts and Stories
Give your audience an insight into your event by posting photos and videos in real-time on social media.
Stories are a great medium for this, as they are designed for timely and less polished content. But that doesn't mean you need to keep your content unbranded. See how FC Utrecht adds branding to their real-time Stories below. In addition, Stories allow you to add interactive stickers, to keep your audience engaged, such as in the NYFW Instagram example (click the image to watch the full highlight).
Did you know? Our mobile app for real-time content creation allows you to add branded frames, stickers and fonts to your photos and videos, straight from your phone (such as in the FC Utrecht example above). Great for covering live events on social media, while increasing brand awareness. Learn how Content Stadium LIVE works.
You can, of course, do the same via your other social media channels, posting videos, photos and eye-catching graphics as your event unfolds.
Live coverage of key takeaways
If your event features talks and presentations, add value to your followers by sharing the key quotes and takeaways on your social media channels. You can simply type out the quote, such as in the Twitter event post below, or capture it on video and share it as a short clip, just like in the second example.
Daily recaps
If your event is more than a day long, it's a great idea to post a recap of each day on social media. This content may also encourage people who have not yet joined to attend the remaining day(s) of the event after all. Photo albums and fun video compilations are a great way to share these event highlights.
Post-event social media post examples
Even after your event is over, you can still fill your social media calendar with different post-event content.
Bring value to your audience by summarizing the key learnings from your event. Continue to engage your attendees with event follow-up content. And give people who did not join a closer look at what went on, to convince them to do so next time. Take a look at the after-event social media examples below for more best practices.
Event highlights
Summarize your event in one post with a video or photo compilation of the highlights. This is also a great way to promote the recording of your event (if available) for those who were not able to attend, as seen in the Twitter example below.
Event testimonials
After the event, hand the mic over to your attendees and let them explain why they enjoyed your event in their own words. Hearing about the benefits from other attendees is always more relatable and convincing for potential future attendees.
Feedback posts
Continue to engage your attendees after the event on social media by asking them about their experience. People love to share their opinion, and at the same time you can action the feedback to improve your next event. You can ask open questions for more in-depth feedback, or use social media polls to gather quick input, such as in this convention post example.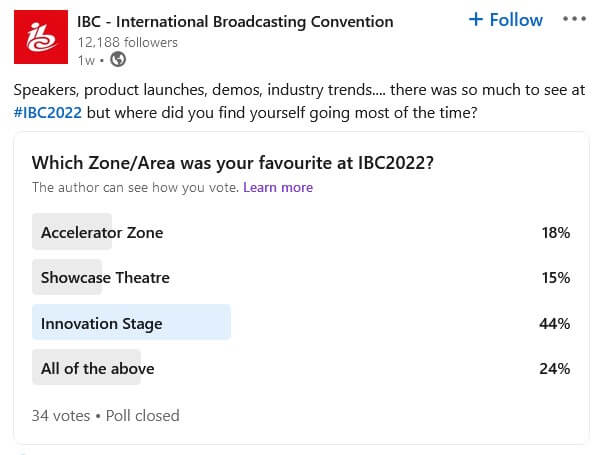 Thank you posts
Events cannot take place without the support of sponsors, partners, speakers, staff, and the attendees themselves. Therefore, a best practice is to share a "thank you" social media post after the event to show gratitude to all those who helped make your event a success. See some post-event thank you examples below.
Written event summary
Another way to reuse and recycle the content of your event is by publishing blog posts around the key takeaways. These allow you to go into more detail about the event. You can then share these articles as a link on social media, such as in the following after-event social media post examples.
In the first example, the conference organizer summarized a single talk into a blog post. While in the second, they rounded up the main event highlights into a LinkedIn article, including an overview of the number of guests, the biggest event moments and key quotes from the presentations.
Create your own event social media posts – no designer needed!
Do you need to create a lot of content to promote your event(s) on social media? Skip having to wait on a designer, or navigating clunky PSD or Canva templates.
Create high-quality, branded images and videos yourself, in a few clicks, with our custom templates. Each template is designed and built just for you, which makes your content creation process super-efficient and your content always on-brand.
Join clients such as Lidl, PwC, SEPHORA, Eurosport and Transfermarkt, who use our content creation platform to simplify their social media processes, lock in brand consistency, and level up their content. Discover how they do it.
Don't miss these additional social media tips