Read our most up-to-date post for January 2023.
Every month, we're sharing bite-size summaries of the top social media tips, news and trends we've come across. These are based both on our own experience working with our clients, and from what we've been reading around the web. As the first month of the year, this January roundup also features plenty of end-of-year reports and predictions for 2022.
See if these January tips can help you increase your social media reach, engagement and follower growth. Just be sure to always test before changing your strategy entirely, and skip any tips that don't make sense for your brand or audience.
Want even more social media trends and ideas? Check out our April 2022, March 2022, February 2022, and other monthly articles.
1. Social media news: Stay up to date with the latest platform developments
Heads up — you can now customize the text and color of your links in Stories. 🙌 pic.twitter.com/3THDTw3QrG

— Instagram (@instagram) December 6, 2021
2. Instagram test: Reach is higher and exit rates lower for brand image Stories
Socialinsider analyzed close to 1 million brand Instagram Stories to determine how brands are using Stories, and what works best to meet different performance metrics. Their main takeaways?
Larger brands (100k+ followers) have doubled their use of Instagram Stories over the past year. Smaller brands have also slightly increased the number of Stories they post.
Posting 5 or less Stories per day keeps retention rates above 70%.
Instagram users are more likely to tap forward sooner on image Stories than video Stories. (This makes sense, since users often have enough time to view image Stories in their entirety before the Story ends.)
Instagram users exit faster from video Stories.
Image Stories slightly outperform video Stories in terms of reach.
Instagram Stories have lower reach rates compared to posts in the feed. (This is not surprising given the fact that Stories are only available for 24 hours.)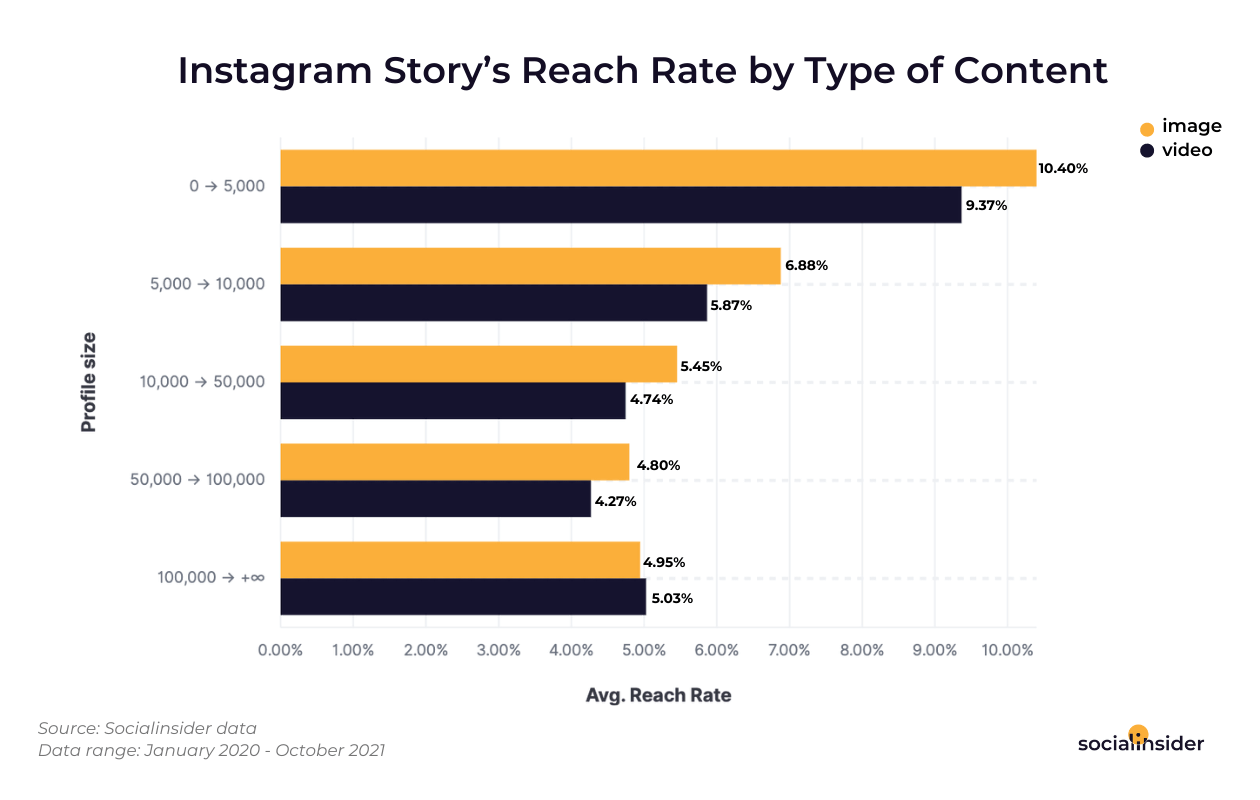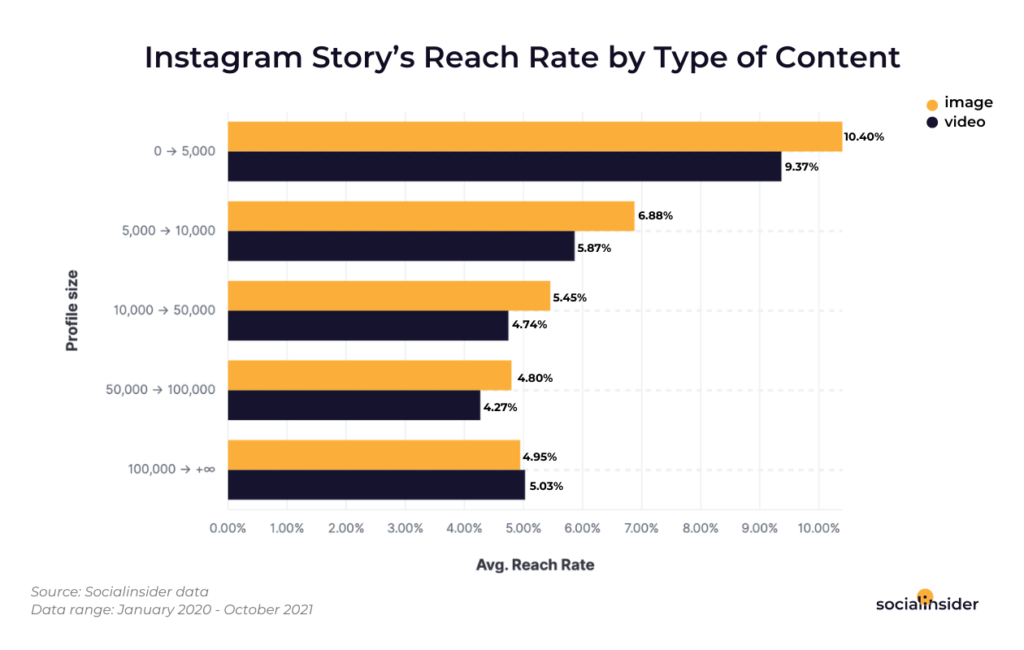 These findings seem to suggest that, for brands, image Stories might actually perform slightly better than video Stories. This is surprising based on the current success of short-form video content. But as always, make sure to test this for yourself, as the context wasn't taken into consideration, and not every finding is true for every account.
3. Social media tip: Micro-influencers drive more hedonic product sales
Another piece of influencer research, another (partial) endorsement for micro-influencers.
A recent paper found that, for hedonic products, promoted posts from small influencers (10k to 100k followers) drive more sales than those of large influencers (>1m followers). However, if the product is utilitarian, the influencer's size doesn't matter.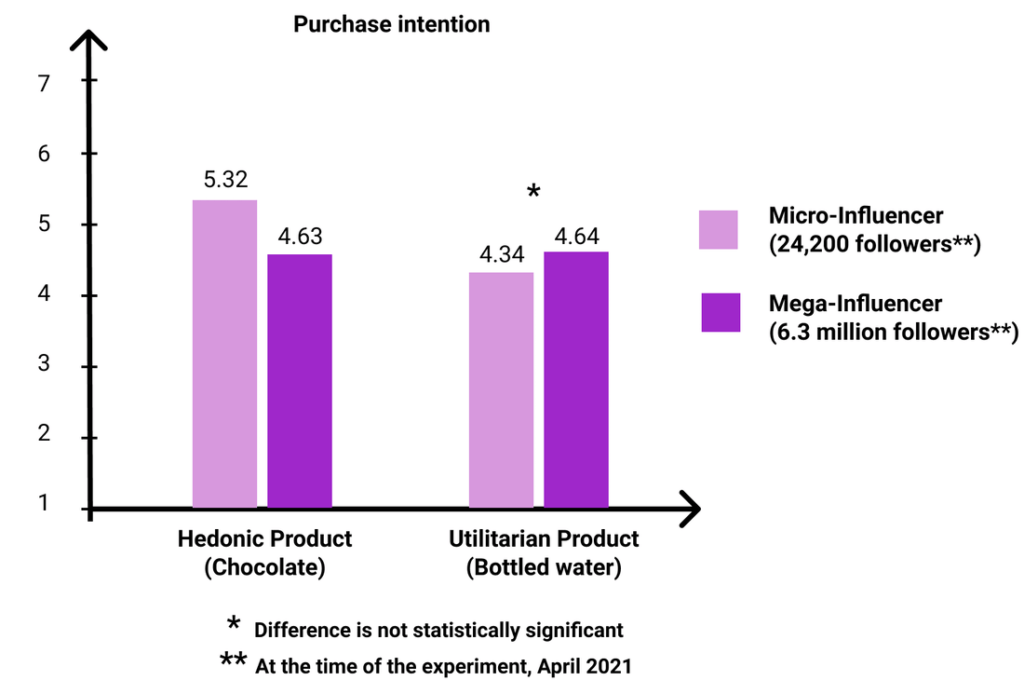 Hedonic products include fashion, restaurants, decorative candles, premium hotels or high-end electronics.
Utilitarian products are more useful or practical, such as basic kitchen appliances, bottled water, insect-repellent candles, motels, etc.
The general idea that micro-influencers (<25k followers in this case) drive better results than macro-influencers is also reiterated in Facebook's December guide on influencer marketing.
4. Twitter 2021 review: Top Tweets and trends
In their end-of-year video roundups, Twitter reveals the most engaging Tweets, most-used emojis, and most tweeted-about movies, TV shows and sporting events of 2021. Check out a couple of the top performers right here:
Vibe check? 😂 was finally dethroned as the top emoji worldwide, with 😭 taking its place. We're also keeping an eye on 👀, which is making its debut in the top 10 this year. pic.twitter.com/MQAPWwz7s2

— Twitter Data (@TwitterData) December 9, 2021
The platform also celebrated the standout brands and brand moments on Twitter in 2021. These included:
Most tweeted-about brand: Disney+
Most-tweeted brand hashtag: #NintendoSwitch
Most popular brand Tweet: Nicky Jr. celebrating their Blue's Clues TV series' 25th anniversary with an appearance from Steve.
Best brand presence: MacDonalds, thanks to its celebrity meal campaigns, loyalty program launch, and other constant communications.
Best campaign launch: Ford Motor Company and its new EV truck.
Best campaign that "connected to a major moment:" Mountain Dew directing fans to Twitter to guess how many bottles appeared in their Super Bowl ad.
Best creative campaign: Oreo analyzing fans' most recent Tweets to share a personalized #OREOscope with tasty insights about their personality.
Best "thank you" campaign: CeraVe with #ThankYouNurses, shining a light on front-line workers during the pandemic.
5. TikTok 2021 review: Highlight moments
TikTok celebrated the end of the year with a roundup of their top "trends, moments and movements" — from #TikTokMadeMeBuyIt wish lists, to feta pasta food trends, most-used songs, funniest videos, and content that was only possible using TikTok's own features.
You can check out the full list of U.S. and global accounts, hashtags, communities and songs in the report. But here's already a snapshot of these top TikTok moments:
In another December report, TikTok also looked back at the stand-out and sold-out U.S. brand trends of the past year. Review it in full here.
6. Snapchat 2021 review: Top Lenses
Another platform, another 2021 roundup. Snapchat released a report of the most revolutionary Lenses featured on the platform over the past year. From the most innovative AR, to top cultural moments, the 2021 Lenses highlighted by Snapchat include:
Shopping Lenses that enable users to virtually try on different clothing items and accessories.
Lenses that led, or reacted to, cultural trends, including cartoon characters, squid games and little Bernie.
Sounds and music-based Lenses, from J Balvin and Olivia Rodrigo, to emerging artists.
Travel Lenses that enable users to transport themselves to new locations.
Lenses based around political and social issues, from running campaigns to climate and drug awareness topics.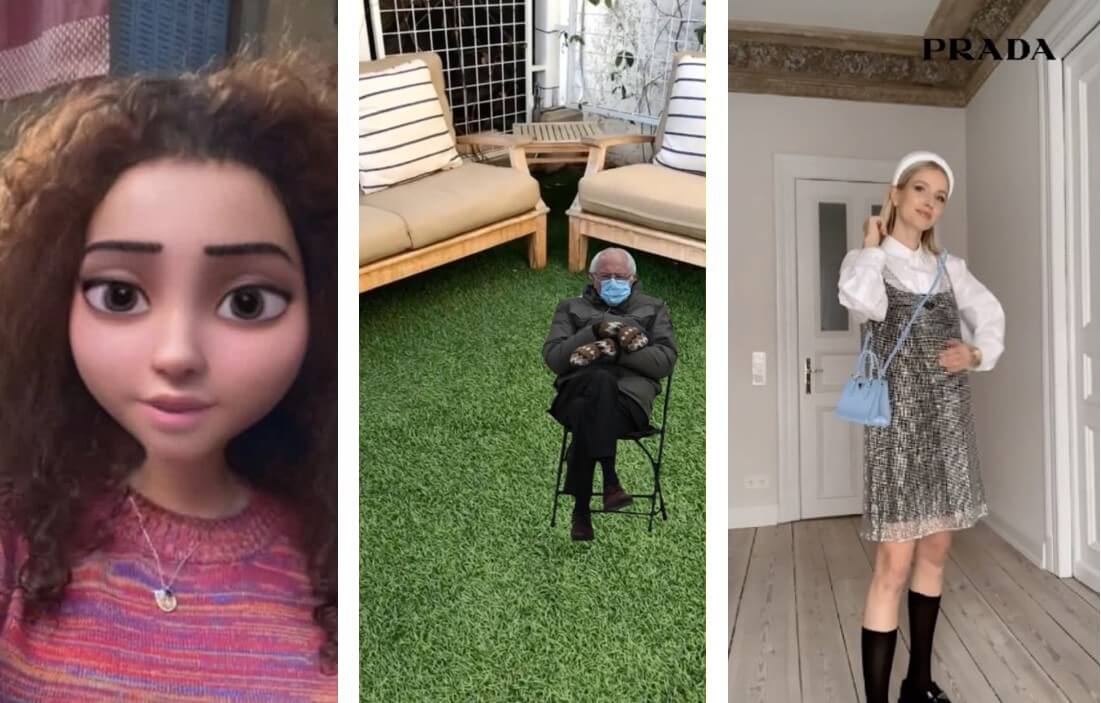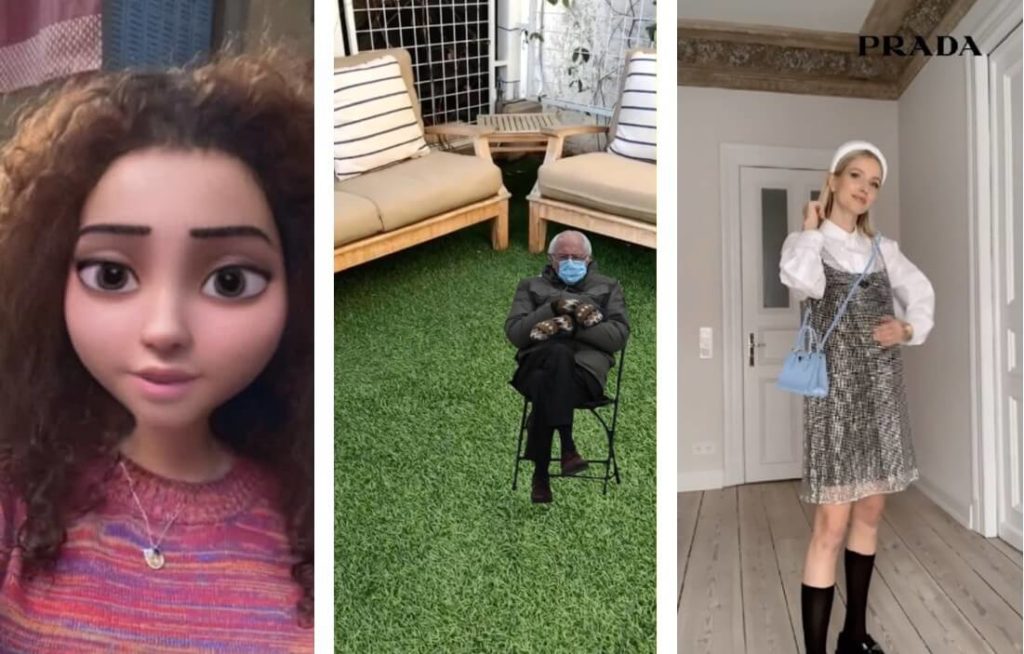 Want to know what might be next for Snapchat Lenses, and find more inspiration for your brand? Read Social Media Today's key takeaways from Snapchat's recent Lens Fest AR showcase event.
7. Social media trends: Most talked-about trends for 2022
Get your social media strategy ready for 2022 by incorporating some of these most talked-about trends. Pick the ones that will work best for your social media goals. Stay clear of those that don't make sense for your brand. And don't be afraid to test and try new things!
Social commerce
Short-form videos
Augmented reality (AR)
User-generated content (UGC)
Changes in social media advertising
Decentralization of social media
Omnichannel marketing
Micro-influencers
Learn more about each of these trends in our 2022 social media trends roundup.
8. Instagram trends: 2022 trend predictions for Gen Zs
After surveying 1,200 Gen Zs based in the U.S., Instagram put together a report of forecasted Instagram trends for 2022. These include:
Fashion and beauty: Maximalist fashion and minimalist makeup.
Careers and education: Looking at alternatives to standard college paths and 9-5 jobs.
Music: From discovery through short-form videos, to visual streams and dance challenges.
Food: Especially experimenting and improving kitchen skills at home.
Wellness: Including mental and physical health, and holistic wellness.
Plus, trends around creators and influencers, shopping, gaming, memes, and social justice.
9. Pinterest trends: 2022 trend predictions
Pinterest claims that 8 out of 10 of their trend predictions for 2021 turned out to be accurate. So it might be wise to stay on top of the trends they're forecasting for 2022.
From "be jeweled" to "don't quit your yay job", Hellenistic revival and flexercise, check out all 35 of Pinterest's trends for 2022 in their report. You can filter by audience and category, to find the predictions most relevant to your brand.
10. Social media tip: Platforms to watch out for in 2022
HubSpot released a list of new social media platforms (and features) marketers should watch out for in the upcoming year:
Twitch: Interactive live streaming platform
Discord: Chat app
TikTok: Short-form video platform
Clubhouse: Audio-only app
Twitter spaces: Twitter's audio-only feature
Caffeine: Live broadcast platform
Instagram Reels: Instagram's short-form video feature
Houseparty: Group video messaging app
Should your brand be active on every one of these new platforms just yet? Probably not. But you might want to track the growth of each of these apps, and even start experimenting with those that make sense for your audience and your brand.
Spotted on social last month 👀
Did you catch us in the Polish professional football league's behind-the-scenes TikTok video? Great to see that we're such an essential part of Ekstraklasa's content creation and social media routine:
We'd love to see how we fit into your own social media routine! Tag us on LinkedIn, Twitter or Instagram with your behind-the-scenes video.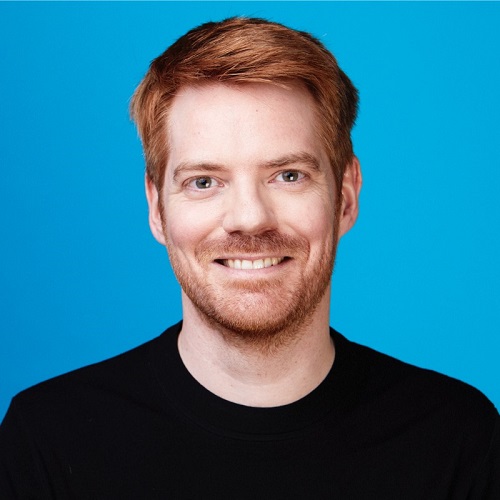 Get more social media trends and ideas from our experts
Plus, follow us on LinkedIn to get our monthly social media best practices and more straight to your feed!