Every month, we're summarizing the latest and biggest social media tips, ideas and news to help Social Media Managers improve their strategy. These are based on the hundreds of industry posts and articles we read monthly, as well as on our experience helping teams simplify and improve their content creation with our platform.
Discover these January trends for ideas on how to improve your social media strategy and boost your results. But be sure to always test before making any big changes, as not every best practice works for every account or platform.
Want even more social media trends and tips? Take a look at our March 2023, February 2023, and other monthly roundups, as well as the top social media trend predictions for 2023.
1. Social media news: Catch up on the latest platform updates
Stay up to date with the biggest social media platform news and developments for January 2023: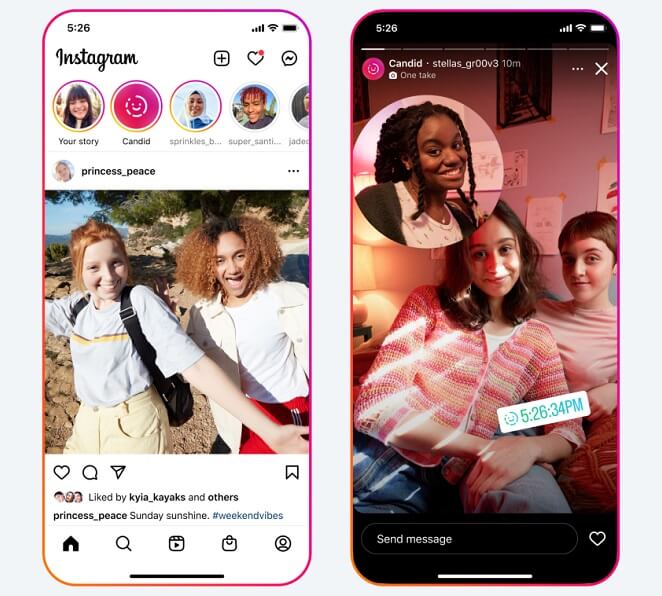 2. Social media trends: Top 6 predictions for 2023
As the annual social media trend predictions re-surface for 2023, we read through dozens of articles and newsletters to identify the most talked-about trends. These were the biggest and most intriguing predictions we came across:
Brand responsibility, transparency and authenticity: More and more customers are demanding transparency, and expecting companies to take a stand on important issues. Therefore, in 2023, brands are expected to work harder to base their social media image around high social standards.
First steps into the metaverse: While we're not going all-in just yet, customers will get more accustomed to (aspects of) the metaverse in 2023 — from VR and AR, to NFTs and avatars.
Multi-sensory social media: Brands and social media platforms will bring more engaging experiences to users with the integration of multiple formats into the same post and/or channel.
Super apps: Several social media platforms appear to be working towards creating all-encompassing, "super" apps, by extending their range of services and features.
Social media for customer service: More businesses will be incorporating a customer service element into their social media strategies in 2023.
Short-form videos and TikTok: Short-form videos are expected to maintain or even grow their power in 2023.
Get tips and ideas on how to prepare for these 6 trends in our 2023 social media trends summary.
3. Twitter news: Key changes among all the noise
Want to keep up with Twitter's twists and turns under Elon Musk? Here's our best attempt at summarizing the key changes from this past month. Spoiler alert: little has actually changed (if you exclude all new policies that were implemented and quickly overturned, such as banning links to other social media platforms).
4. Social media trend: TikTok remains at the top… for now
TikTok continues to dominate the social media scene, as it once again takes top spot as the most-downloaded app in November 2022. The video app takes the number 1 spot for most-downloaded app on iOS. And while it drops to 3rd place on Android (probably due to the ban on TikTok in India), it retains its top ranking in the combined total.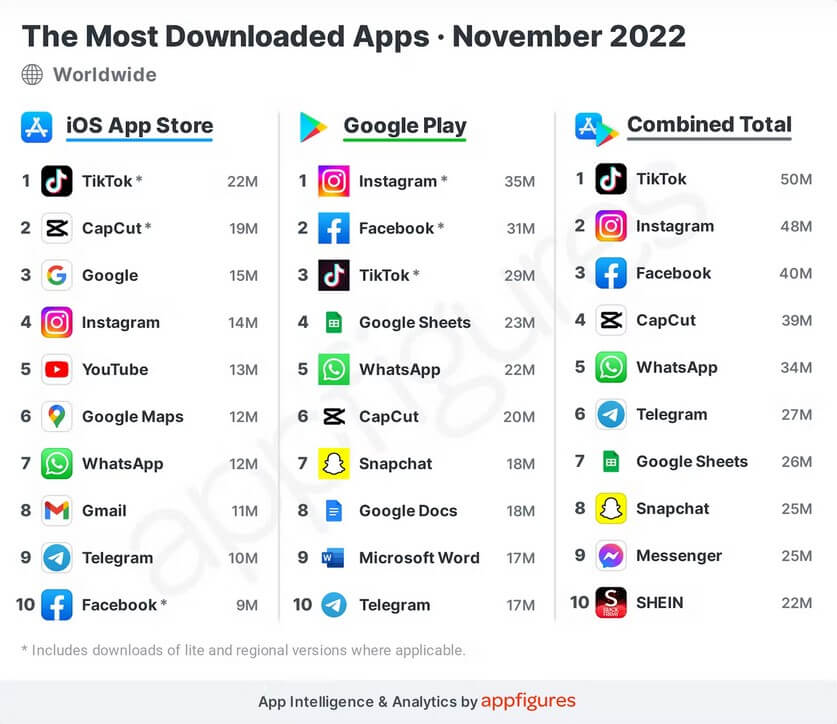 As for the other social media apps, Instagram and Facebook are still right behind TikTok in the combined total. WhatsApp, Telegram, Snapchat and Messenger also made it into the top 10, while YouTube is left out this month. And although it does not make an appearance into this ranking, it's worth noting that BeReal was awarded best app of 2022 by both Google Play and Apple.
However, additional data suggests that TikTok's download momentum is slowing. This is not the case for Meta's apps, which have continued to see download momentum. Therefore, whether TikTok is able to keep hold of the top spot in the months to come remains to be seen.
5. Social media inspiration: Review the best of 2022
As we step into 2023, several social media platforms took a look back to celebrate the best trends and content from the past year. See if these 2022 highlights from YouTube, TikTok and Snapchat can inspire your content and campaigns for the coming months.
YouTube's top trending video of 2022 in the US was Technoblade's father reading a farewell message from his late son, followed by the Will Smith slap incident and Dream (Minecraft gamer)'s face reveal. The top 3 Shorts included cracking an egg underwater, partner trampwall tricks, and a fluffy dog getting a shave. And the top 3 ads were by Amazon, Telecom Egypt and Clash of Clans.
TikTok released a list of top videos and trends for 2022, which it summarizes in one video (below). It also awarded its first ever Greatest TikTok Europe prize to Italian retailer Unieuro, for its humorous 'The Clerk' campaign. The series saw the brand invent its own creator who acted as a clerk trapped inside TikTok.
Snapchat revealed its AR Lens of the year as the Crying Lens. It also shared the most popular songs, TV shows, locations and movies on the platform in 2022.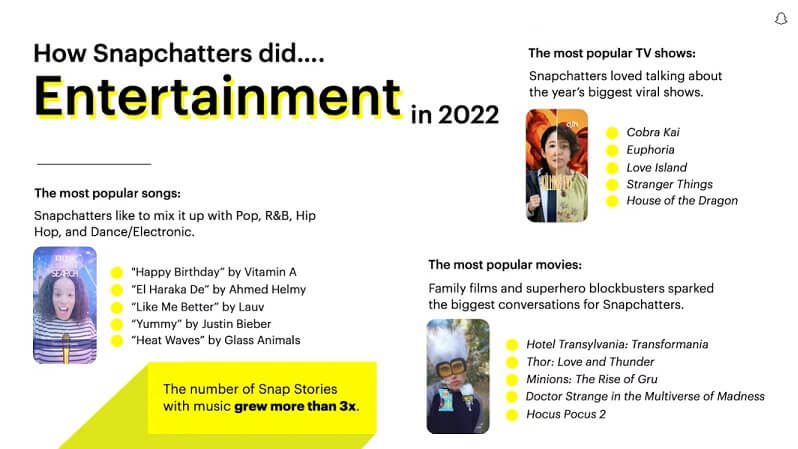 6. Social media trends: Try these content predictions for 2023
As some looked back at 2022, many also looked forward to 2023. Pinterest, Instagram and TikTok released their predictions on the biggest upcoming trends to jump on, based on their platform data and, at times, additional third-party research. These include themes and topics that they expect to be rising trends in and outside of their individual platforms.
Pinterest 2023 trends
Based on their search data, Pinterest predicts the next big things for 2023 to include:
Fashion: Lace, tulle, and shimmer trends ("Airy styles"), body-baring silhouettes, tassels, 2000s romcom-inspired outfits, sci-fi and rave looks.
Hair & beauty: Two-toned hair, micro beauty, and a focus on scalp care.
House & home: Combining vintage with modern styles, maximalist "weirdcore" décor, natural ways to conserve water, and a focus on the front porch.
Celebrations: Pool parties for dogs, terracotta and copper color schemes for weddings, and milestone celebrations for Boomers and Gen X.
Hobbies: Wildflower recipes, and paper crafts.
Traveling: Train travel to make a comeback.
Finance: Gamifying finances.
Wellbeing: "Primal" workouts, a focus on the postpartum period, "elevated" shower routines, art, music and journaling as therapy, and seaweed as superfood.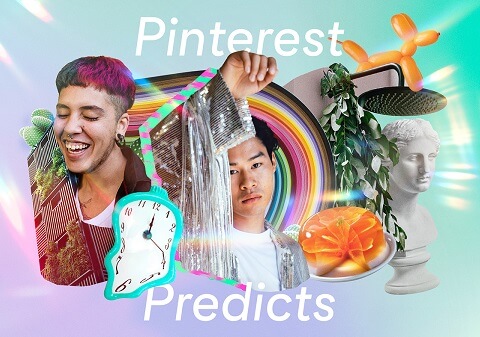 Instagram 2023 trends for Gen Z
Instagram also published its own predictions, this time based on a study of Gen Zs in the US. Here were some of the themes which it outlined:
Fashion: Thrifting, DIY clothing, and digital avatar as influencers.
Hair & beauty: Makeup that expresses personality, and climate-proof beauty products.
Hobbies: Raves and global music, and food from different cultures.
Finance: Monetizing social media, increasing financial skills, and side hustles.
Activism: Supporting causes, and advocating for people with disability.
TikTok 2023 trends for brands
Combining a mix of platform data and third-party research, TikTok compiled its 2023 trend forecast to shed a light on consumers' changing wants and needs — and how brands can best meet these:
Actionable entertainment: Brands see better results when ads are "loved like entertainment," i.e. fun, funny, engaging and uplifting.
Making space for joy: Messaging should align with TikTokers' desire for joy – from humorous posts to wellbeing life hacks that help people carve out joy for themselves.
Community-built ideals: TikTok is a collection of niche clubs. To connect with viewers, brands should tap into niches relevant to their key groups and not be afraid to get specific.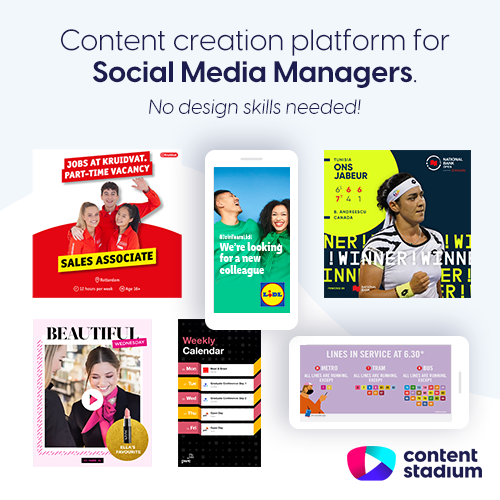 7. Social media study: Can memes increase your web traffic from social?
Memes are known to drive likes and engagement on social media. But can they also help increase your website traffic? Social Media Today put it to the test.
When they started adding memes to their social media strategy, Social Media Today saw a 12% increase in website sessions and 16% increase in users from social media, compared to the previous 3 months before they started posting memes. As expected, they also saw an increase in engagement, and in turn reach for those posts.
This was only based on a month of data, but it suggests that memes (as well as other "fun" posts) can have an impact on website traffic and conversions, in addition to engagement rates. So this approach could be worth a try for your organization too.
8. Social media tips: Content ideas for your videos
Sprout Social and Headway Capital shared some of their top social media video ideas. While it's nothing ground-breaking, there might be something new here that could inspire your next video post!
Behind-the-scenes videos: Show the people behind your company, share an employee story, film a "day in the life" of a colleague, show how your product is made, give a tour of your workplace, film your team at an event, and more.
Product benefit showcase: Open your video by describing the challenges of your target group, show your product in action, and outline its benefits.
UGC (user-generated) content: Repost your audience's content (with their permission), such as unboxing videos, reviews and testimonials, etc.
Educational and thought-leadership videos: Post how-to content, FAQs, predictions, styling advice, listicles, and industry-related videos.
Content recycling: Recycle your larger content pieces (reports, blogs, longer videos, etc.) into bite-size videos.
Questions: Get the conversation going and even gather audience data by asking questions and inviting your audience to answer.
Timely videos: Create content based on holidays or trending hashtags.
Focus on being authentic, not perfect. Then have fun with it! Just like in this example from Sprout Social:
Are you a client of ours? Don't forget your Holiday templates!
As a thank you for being with us, we gifted you two free holiday templates, which you can personalize with photos of your colleagues, partners, friends, family, and more — like the below example from our Customer Success team!
There's still time to share a few personalized New Year messages from your team: the templates will stay in your account until January 15. More info here.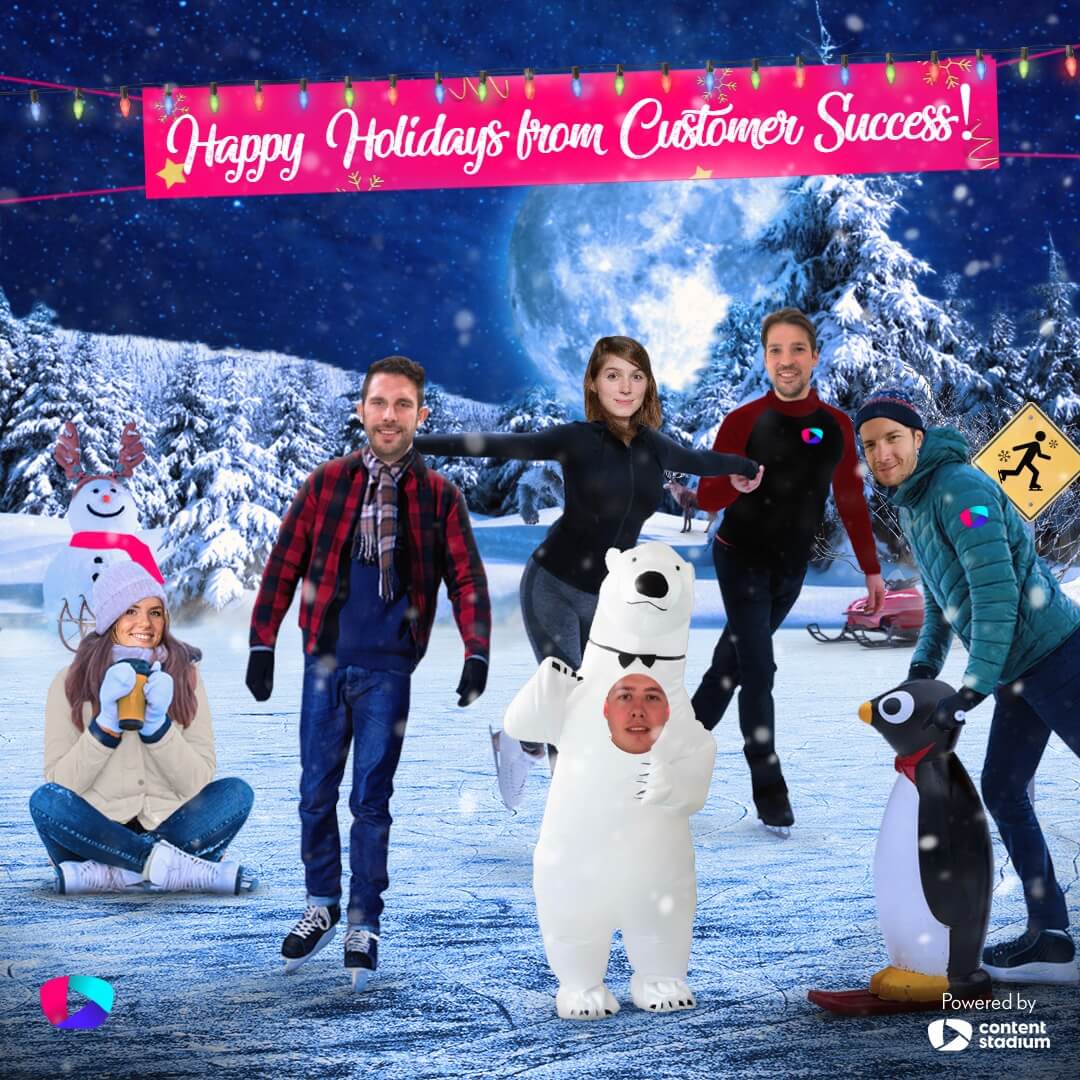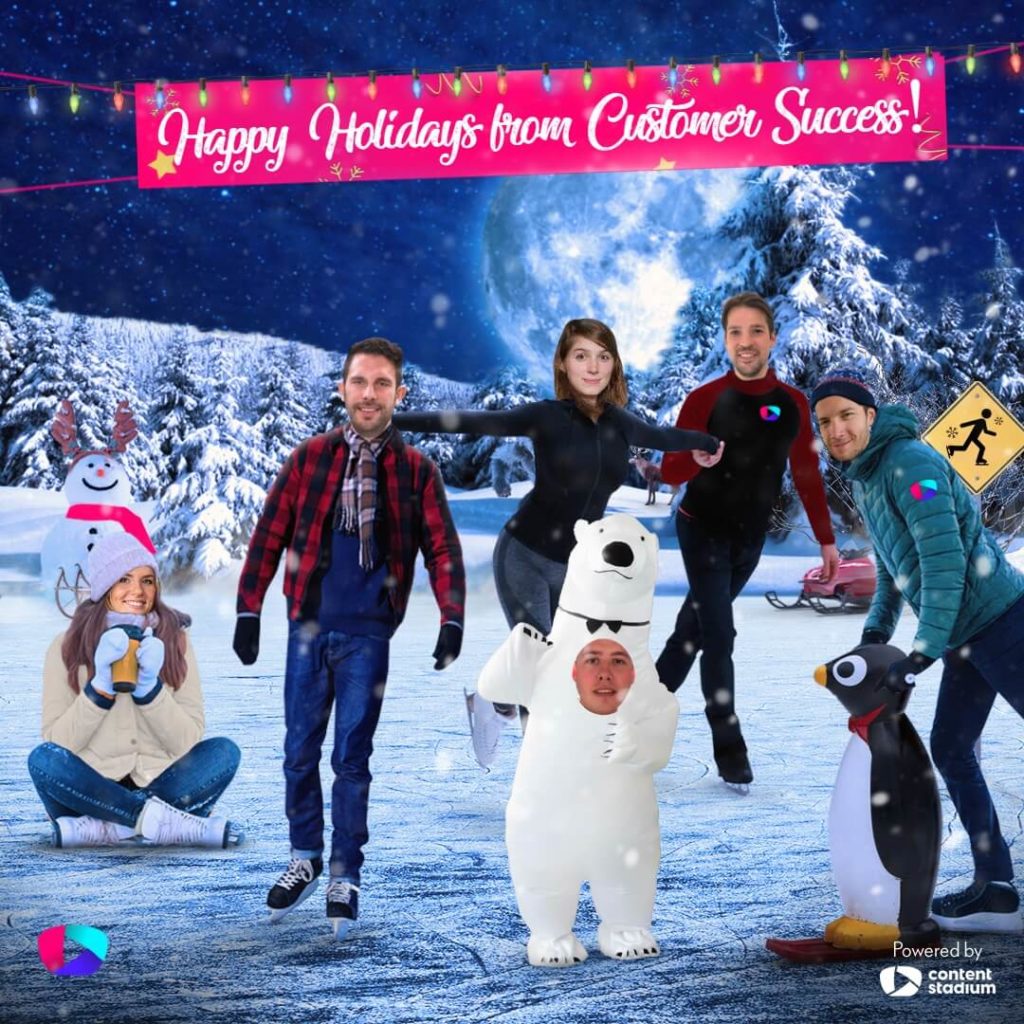 More social media tips and trends
Plus, follow us on LinkedIn to get our monthly social media best practices and more straight to your feed!