Every month, we're summarizing the latest and biggest social media news, tips and ideas to help Social Media Managers improve their strategy. These are taken from the hundreds of industry posts and articles we read monthly, as well as from our experience helping teams simplify and professionalize their process with our content creation platform.
See if you can improve your social media approach and boost your results with these February trends and tips. But be sure to always test before making any big changes, as not every approach works for every account or platform.
Want even more social media trends and tips? Don't miss our April 2023, March 2023, and other monthly roundups.
1. Social media news: Catch up on the latest platform updates
Stay up to date with the biggest social media platform news and developments for February 2023: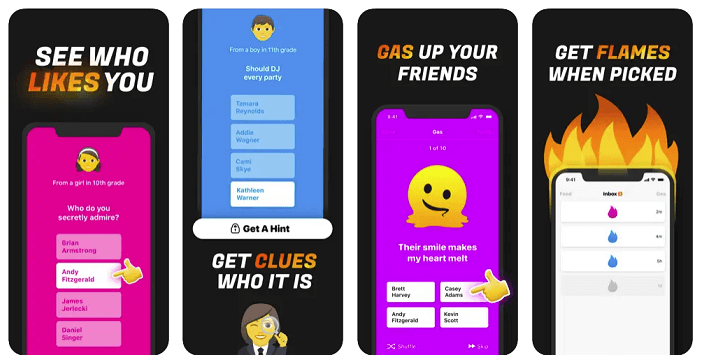 2. Social media trend: What role can ChatGPT play in your social media strategy?
AI chatbots, and most notably ChatGPT, are one of the hottest topics in the industry. But what are they really capable of? And how can they help you in your day-to-day social media tasks?
Based on a roundup by Alex Velinov, here are several ways social media managers can make use of ChatGPT, as tested by different experts: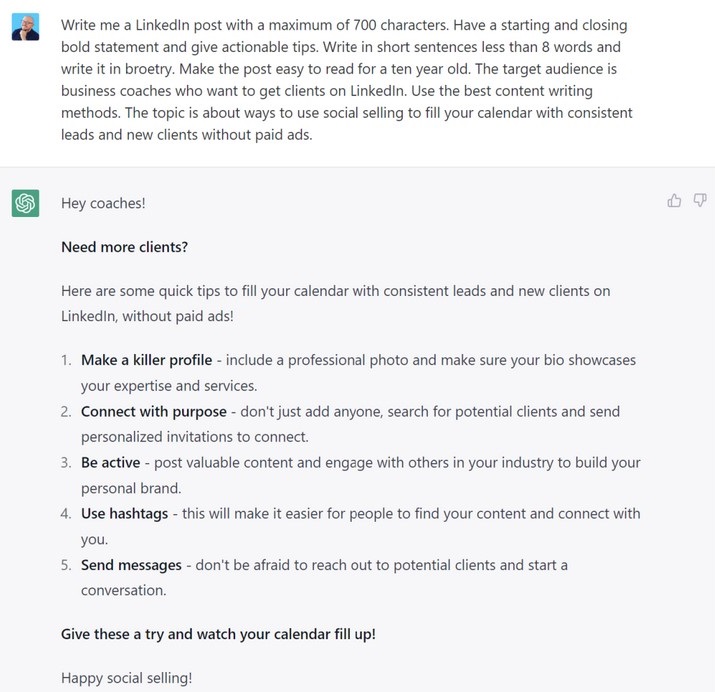 All testers agreed that, while the results are never the finished product, they are a great way to generate a lot of ideas quickly. It's also good to know that ChatGPT's outputs will not necessarily be unique to you. Therefore for now, it's best to view the generated content as a starting point, to then edit and build on.
3. Social media tip: Best times to post on each channel
We already shared Sprout Socials' recommendations on the best time to post on social media, based on data from thousands of its customers. HubSpot is now also sharing its best practices, this time based on a survey of 1,000+ social media marketers. Here were HubSpot's results:
Best time to post on Instagram: 12pm-9pm. Worst time: 6am-12pm.
Best day to post on Instagram: Saturday. Worst day: Monday.
Best time to post on Facebook: 12pm-3pm, and 6pm to 9pm. Worst time: 6am-9am, and 9pm-12am.
Best day to post on Facebook: Friday and Saturday. Worst day: Sunday.
Best time to post on Twitter: 9am-6pm. Worst time: 6am-9am.
Best day to post on Twitter: Wednesday and Friday.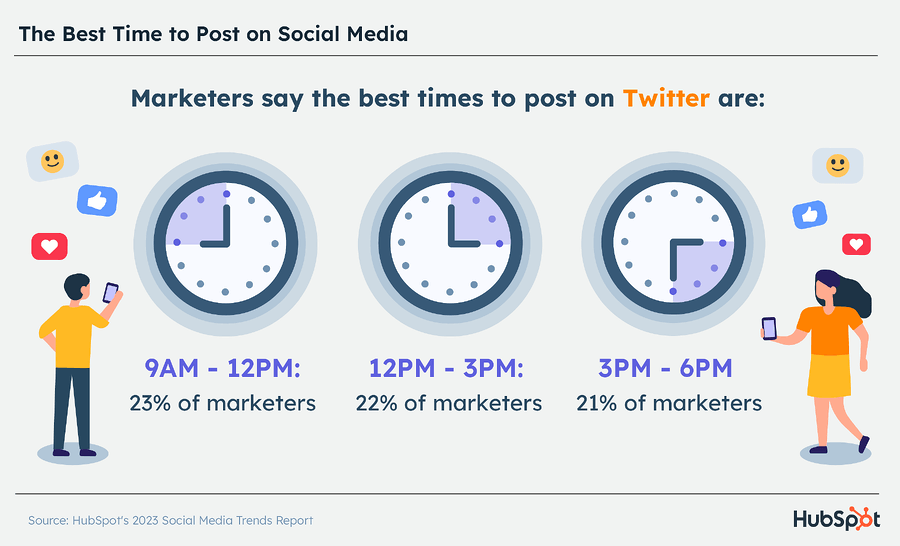 Best time to post on LinkedIn: 9am-6pm.
Best day to post on LinkedIn: Monday, Tuesday and Wednesday. Worst days: Saturday and Sunday.
Best time to post on Pinterest: 3pm-6pm.
Best day to post on Pinterest: Friday. Worst day: Sunday.
Best time to post on YouTube: 12pm-9pm. Worst time: 6am-9am.
Best day to post on YouTube: Friday and Saturday. Worst day: Tuesday.
Best time to post on TikTok: 12pm-9pm. Worst time: 6am-9am.
Best day to post on TikTok: Friday. Worst days: Monday and Tuesday.
How does this compare to Sprout's data-based recommendations for Twitter, Facebook, Instagram and LinkedIn? While there are a couple of overlaps, the results are overall quite different. So our recommendation is still to use these "best practices" as guidelines, but to test different times for yourself, to see what works for your own unique brand and audience.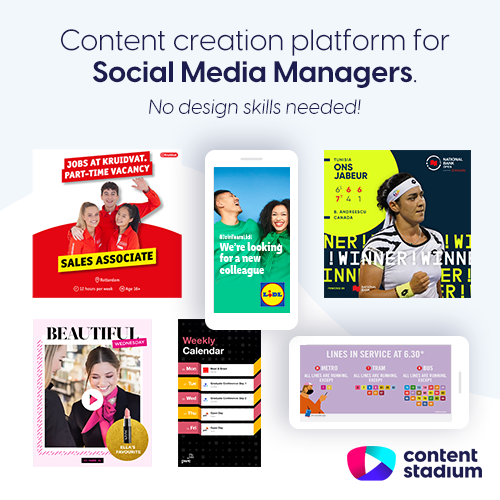 4. Social media trend: Professional sports & media are the most active and engaging industries
How do you compare to organizations inside and outside your industry? Based on 9 months of data from 729,000 public social media profiles, Sprout Social reveals the most active, engaging and proactive industries on social media.
In terms of activity and inbound engagement, there were 2 clear winners:
Professional sports takes the top spot as the most active industry on social media (average of 26 posts per day), as well as the industry that receives the most engagement per day (average of 639) and per post (average of 45).
Media & entertainment came in as the second most active industry (average of 21 posts per day), and the second most engaging industry (average of 334 engagements per day and 30 per post).
These findings align fairly well with those of Rival IQ's 2022 social media benchmark report, which found sports teams to have the highest overall engagement rates, and the media industry the highest overall activity rates. However, Rival IQ also noted that higher education had some of the highest engagement.
The discrepancies could be explained by the fact that Sprout Social included several more social media platforms in its research, and only counted "publishing activities" (such as retweets and comments) as engagement, while "non-publishing activities" (such as likes and reactions) were not included.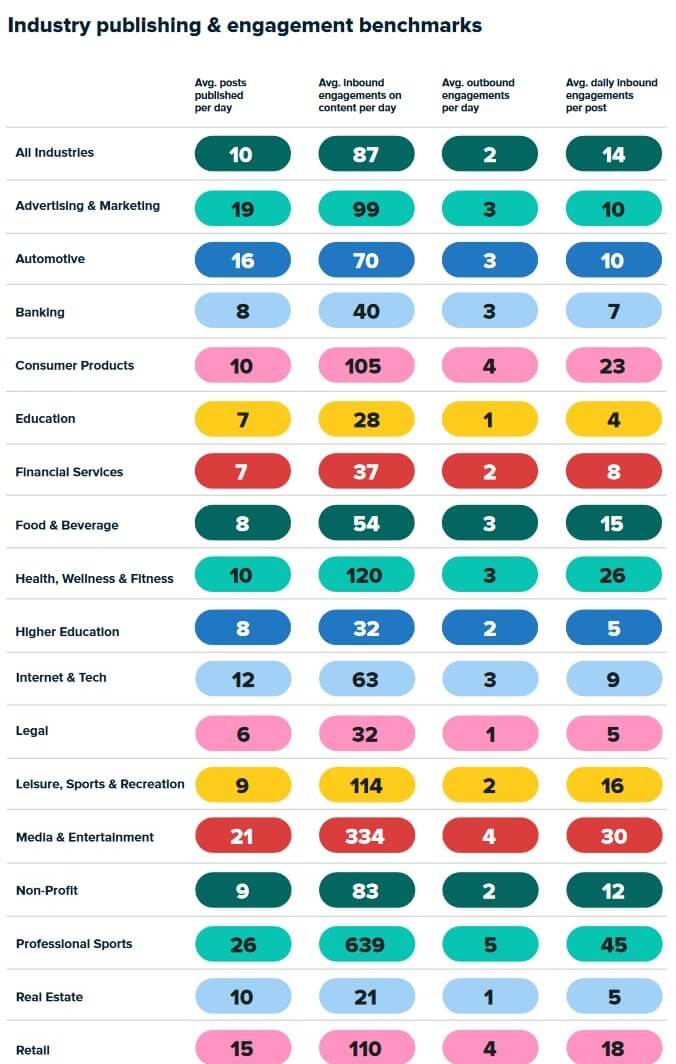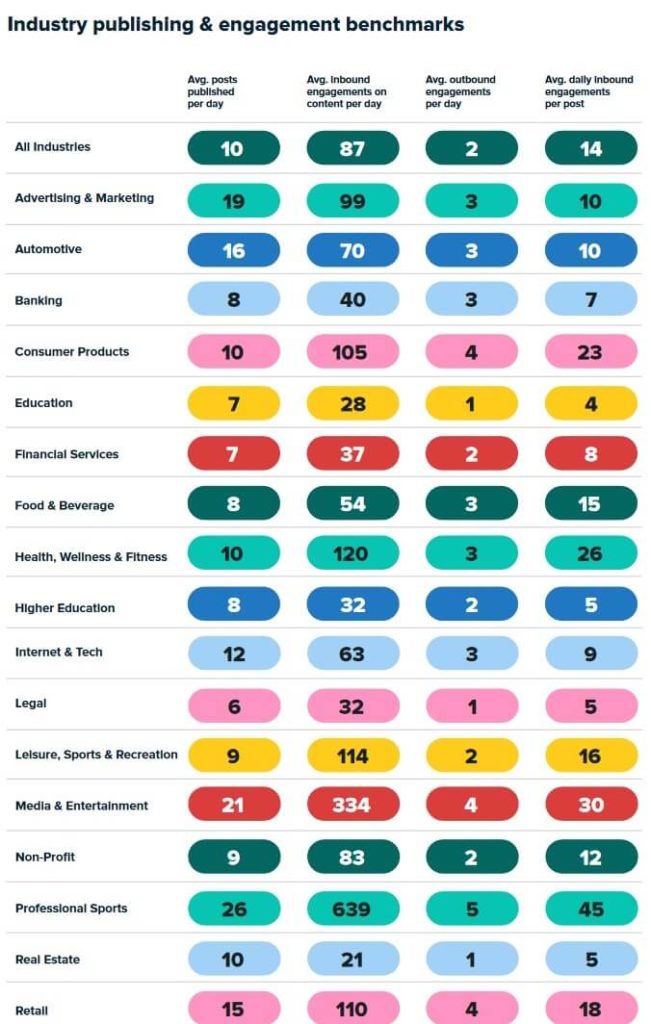 Which is the most proactive industry on social media (i.e. most outbound engagements)?
While inbound engagement is all about how much engagement a brand receives, outbound engagement looks at how much a brand engages with content outside of their owned posts — and this was a much tighter race.
As you can see in the table, professional sports comes top of the league again, with an average of 5 outbound engagements per day. However, media & entertainment, travel & tourism, retail, and consumer products come in right behind professional sports, with an average of 4 engagements per day.
5. Instagram tip: How to create Reels without a video team
Are you lacking video skills and resources (or even ideas)? Later recently shared some of their top easy-to-create Instagram Reels ideas. These were our favorites, combined with our own suggestions:
Overlay screenshots over generic videos. For example, you can overlay a screenshot of a Tweet, online review, or other social media comment over a simple video. You can film something quickly yourself, reuse a video from your brand archive, or simply download a video from a royalty-free website.
Use text as a focal point. Consider how you can turn your script ideas into animated text videos. This can include text that you'd usually post as image posts (such as customer quotes or FAQs). Then use the voiceover or text-to-speech feature to narrate your text and bring it to life.
Create a timelapse. People love a peek behind the scenes! Film a timelapse of you or your colleagues at work, to give your followers an insight into your day-to-day. You can also overlay a text on top of your video, similarly to the first tip shared above.
Use someone else's content. Look out for user-generated content (UGC) that you could reshare on your own channels (making sure to ask for permission first). Alternatively, if you have some budget to spend, try partnering with a creator.
6. Social media tip: Plan your 2023 with these holiday calendars
We already shared a couple of these in our December 2022 post, but we've since come across a few more handy calendars to add to the list. These social media calendars all offer different focuses, variations and useful resources, to help you cover every angle of 2023 and plan your content for the year: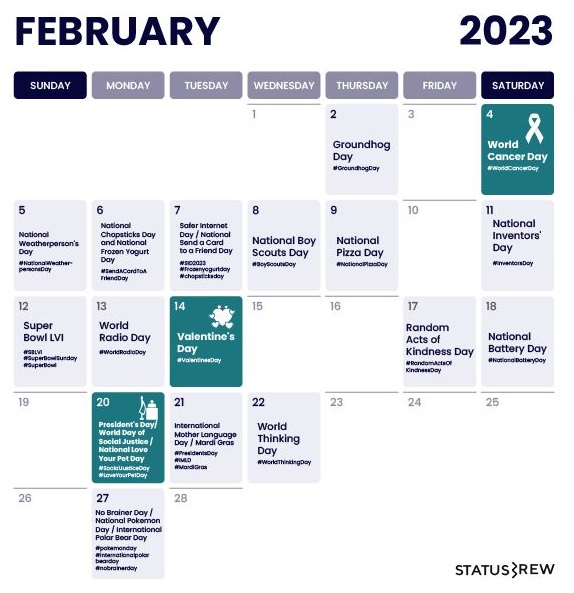 Get even more social media tips and ideas
Plus, follow us on LinkedIn to get our monthly social media best practices and more straight to your feed!