Are you planning your 2023 social media strategy, and want to understand the key trends that you need to incorporate and keep an eye on? There's already a lot of conversations surrounding the top 2023 social media trends. To make it easy for you, we gathered and summed up the most talked-about and exciting predictions in this article.
Use these predicted social media trends to guide your strategy for the next 12 months. Of course, it's important to remember that all 6 of these 2023 trends might not be the best option for your brand. So be sure to consider your social media goals, audience and brand message, and test the waters to see what works for you.
Want more ideas on where social media trends are heading? Stay up to date with our monthly social media trends, news, and tips articles, including for January 2023 and December 2022.
Top 6 social media trends for 2023
Trend 1: Brand responsibility, transparency and authenticity
Conversations around social responsibility and brand authenticity are nothing new. However, there continues to be a growing pressure on brands to show how they are giving back to society, and what ideologies they align with.
Talkwalker, Marketing Interactive, Mediatoolkit and Finances Online all agree that customers will demand utter transparency and authenticity in 2023. They also note that many customers believe companies should take the lead in addressing societal, environmental and political issues. Meanwhile, fake news and greenwashing will see an even stronger backlash from the public.
Brands will therefore have to work harder to base their social media image around high social standards. And brands taking a public stand on which values and behavior they find acceptable will be a growing social media trend in 2023.
Ben & Jerry's is a noteworthy example of a brand that addresses global issues. Its social media channels are filled with insights into its own ethical programs and sustainability initiatives. But they also use their voice to shed light and take a stand on political and societal issues, from policing to racism and women's rights.
Tips to navigate this social media trend: Outline the steps your brand is taking toward more ethical business practices — while avoiding any false or exaggerated claims.
Incorporate behind-the-scenes snippets of how your products are made, how your company contributes to a sustainability project, or how you take care of your employees. And don't be afraid to take a stand on important issues that are relevant to your audience. Customers will appreciate you using your social media reach to draw attention to issues that matter to them.
Trend 2: First steps into the metaverse
Social Media Today, PR Daily, Forbes and Talkwalker expect the metaverse to become more understood and integrated into our everyday social media consumption in 2023. Key trends include consumers experimenting with creating and using avatars, a focus on VR, AR, virtual stores and NFTs, and a format war between different metaverses.
Several brands are already experimenting with metaverse experiences. For example:
Tips to navigate this social media trend: Although the notion of the metaverse may feel new and confusing to many, you don't need to go all in just yet! If you can, start experimenting with the metaverse yourself, to get comfortable with it.
Then also consider how your business can take some initial first steps, such as implementing AR into your social media strategy. Shopify reported that AR and 3D product content benefits from a 94% higher conversion rate compared to traditional product content — so that's another reason to get started!
Trend 3: Multi-sensory social media
According to Talkwalker, multi-sensory social media will trend in 2023. Multi-sensory media is the integration of different formats such as audio, video, text and even fully-immersive environments. This helps to bring new and more engaging experiences to social media users.
For example, Instagram launched the option to add music to still images. Twitter added a podcast page in the US. And Meta is of course heavily investing into the metaverse.
Tips to navigate this 2023 trend: Editing your content to include audio, polls, GIFs, music, captions and more is a great way to introduce the notion of multi-sensory social media, even if it is on a smaller scale.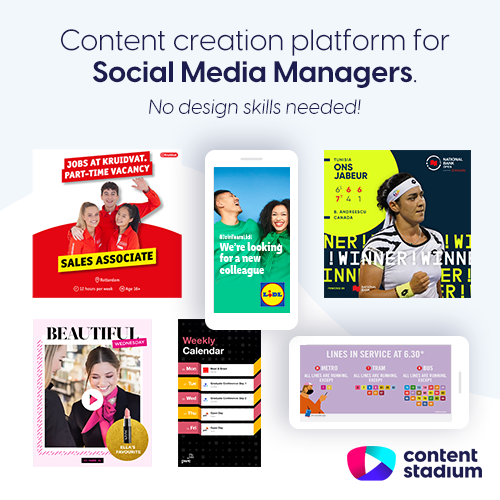 Trend 4: Super apps
The multi-sensory prediction ties in well with another top 2023 social media trend outlined by Marketing Interactive and Gartner: super apps. Super apps combine various features from messaging, video and entertainment, to commerce and payment — just like WeChat offers right now. This provides users both more immersive experiences, as well as the ease of having multiple needs met in one platform.
For example, TikTok has been adding multiple features that directly copy other social media apps, from a BeReal clone, to carousels, stories and longer videos, and it is even making moves into the non-digital world. Meta has been turning WhatsApp into an app that goes beyond one-on-one messaging, with community tools and payment features in selected regions. And Elon Musk described his purchase of Twitter as "an accelerant to creating X, the everything app."
Tips to navigate this 2023 social media trend: Make use of all features that can help to provide your followers with a more convenient, all-in-one experience on your social media platforms of choice.
Trend 5: Social media for customer service
Mediatoolkit, Hootsuite and Convince & Convert, all predict that we will see more businesses incorporate a customer service element into their social media strategies in 2023. This means using social media as a direct line of communication with customers, to quickly address questions, complaints and requests. It can also include proactively responding to customers who mention your brand.
Why should social media management include an element of customer service?
It makes life easier for your customers. Most of your customers are already on social media, so simply offering support via these platforms is a great way to improve your customer service.
Some social media platforms provide readily-available functionalities to simplify your customer service management and improve response times. For example, Facebook offers features such as a common inbox, automated responses, and chat bots.
It helps you grow your brand. Public responses show brands taking accountability and builds trust and transparency (which ties in well with the first social media trend above). While ignoring customer inquiries on social media can have a negative impact on your brand.
Tips to navigate this 2023 trend: There are several steps you can already take to incorporate customer service into your social media strategy:
Train your social media managers on your customer service processes.
Open your social media DMs for visitors to easily submit questions and complaints.
Consider setting up separate, dedicated channels for social media customer support. Just like Nike Service, Starbucks Care, and Evernote Helps on Twitter.
Provide customer support publicly. When done properly, this is great for PR.
Listen to brand mentions and proactively jump in on conversations about your products and services (even if you are not tagged). Starbucks is a great example of this.
How should you respond to public complaints on social media? As mentioned in a previous blog post, research found that responding promptly with a single empathetic reply, then moving the discussion to a private channel is the best recipe for success. Or if the comment is a rude one, the best approach could be to respond with humor!
Trend 6: Short-form videos and TikTok
We can't talk about social media trends without mentioning short video content and TikTok.
Forbes, HubSpot, Mediatoolkit and PR Daily all state that short-form videos will at the very least maintain their power or more likely grow further in 2023. HubSpot even predicts that short-form videos will see the most growth in 2023. According to its data, this marketing format is the most effective and has the highest ROI.


Meanwhile, in its 2023 social media trends predictions, Hootsuite claims that TikTok will become the number one social media network.
Tips to navigate this social media trend: Continue to think video-first in 2023. Be sure to have a presence on the most popular social media platforms for short-form videos, such as Instagram (Reels), TikTok, or YouTube (Shorts) — whether that's through having your own brand channel, or working with influencers. Plenty of social media platforms are also working on making video caption the default option, so be sure to also incorporate this into your 2023 video strategy.
2023 social media trends vs 2022 predictions
This time last year, the most talked-about social media trends for 2022 included:
Social commerce
Short-form social media videos
Augmented reality (AR)
User-generated content (UGC)
Changes in social advertising
Decentralization of social media
Omnichannel marketing
Micro-influencers
All of these social media trends still make an appearance in some form or another in many 2023 trend predictions. For example, Mediatoolkit lists social commerce and micro influencers as 2023 trends, Talkwalker includes decentralized social networks as a trend once more, and Hootsuite also predicts that social commerce will continue to grow (although platforms are scaling back their features).
However, the main social media trends that make a re-entry into the 2023 list, as we saw above, are short-form videos. In addition, AR is also a key topic of discussion for 2023, as a result of the metaverse becoming a more familiar concept to social media users.
Want to improve your social media content processes in 2023?
Thanks to our platform, our clients are able to speed up their content creation and relieve pressure on their design teams, all while improving the quality of their visuals, maintaining brand consistency across regions, and professionalizing their social media channels.
How? Through our template content creation solution, where we design and build each of your templates according to your unique needs, however complex. This means that you are in total control of what your templates look like, how they function, and how they can be edited. Now anyone in your team can create quality content quickly — no designer needed.
See how our platform can make your job easier in 2023! Learn more or let us do the work by booking your demo.
More social media resources
Get ready for 2023 with more social media best practices, examples, and trends: