In 2022, we surveyed 250+ in-house recruitment, talent acquisition and employer branding teams about their social media habits, challenges and best practices. We round up the key statistics and trends from this social recruiting research below.
See how your team compares and get ideas for your social media recruiting strategy by finding out:
What percentage of recruitment teams are currently using social media?
Which are the most-used social media channels for recruitment?
What are their social recruiting goals?
What content types and topics do they post on social media?
How are recruitment teams creating their social media content?
Looking for more stats and ideas on how recruiters use social media? Download the full social recruiting and employer branding 2022 report.
96% of recruitment teams use social media
It's clear from our research that social media is an important channel of communication for in-house recruiters in 2022, with a huge 96% of teams currently using social media. This includes 64% who have dedicated social recruiting and employer branding account(s).
Additional statistics show that 51% share (some of) their social media account(s) with other departments within the company (for example, corporate or marketing teams). And 62% use their personal profiles (for example, LinkedIn profile) as a communication channel for recruitment and/or employer branding purposes.
In contrast, just 4% of recruitment specialists do not currently use social media.
Why? Some stated that it is planned, but they haven't started yet, that they just don't know where to start, or that they don't have the time, budget or resources needed. Just 1% stated that they are simply not interested in including this in their social recruiting strategy.
LinkedIn and Facebook are the most-used channels for social recruiting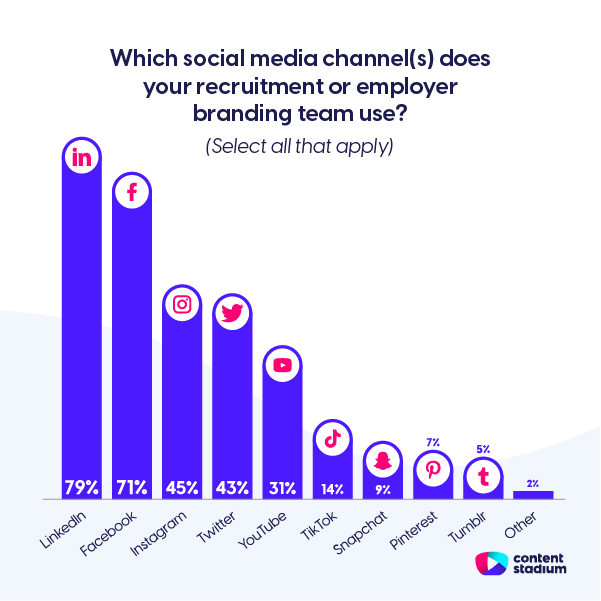 For those recruitment teams who use social media as a communication channel, the vast majority use LinkedIn (79%) and Facebook (71%).
Instagram, Twitter and YouTube come in third, fourth and fifth places, with 45%, 43% and 31% respectively. But the statistics vary by country.
Recruiters in Germany and the Netherlands favor Instagram and YouTube over Twitter (55-57% use Instagram, 39-41% use YouTube, and only 27-31% use Twitter). While teams based in the UK, France and Belgium are more likely to use Twitter over Instagram or YouTube (45-63% use Twitter, 31-41% use Instagram and 23-28% use YouTube).
One of the newest social media channels, TikTok is used by 14% of recruitment teams. While less than 10% use Snapchat, Pinterest and Tumblr.

Recruiters are focusing their social media strategy on getting more applications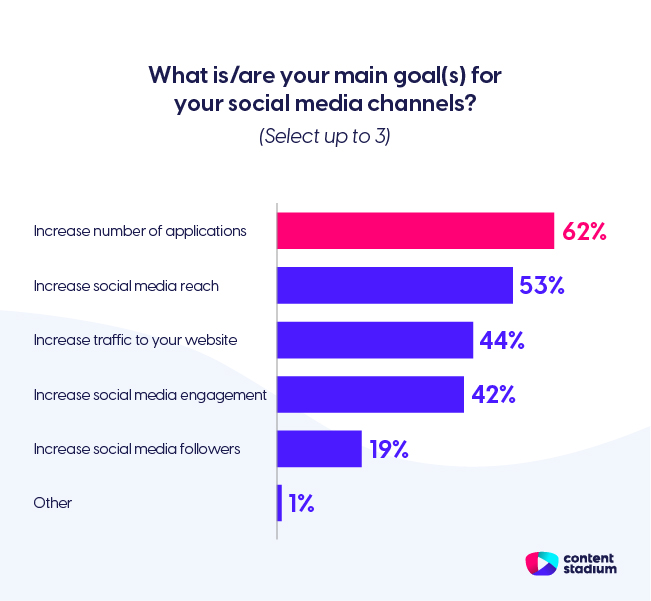 Our social recruiting statistics showed that most recruiters are moving away from focusing on what can be called "vanity social media metrics," such as follower numbers (19%).
Instead, teams are focusing on number of applications, reach and website traffic as their main social media goals, with 62%, 53% and 44% selecting these options respectively.
Social recruiting isn't only about posting job vacancies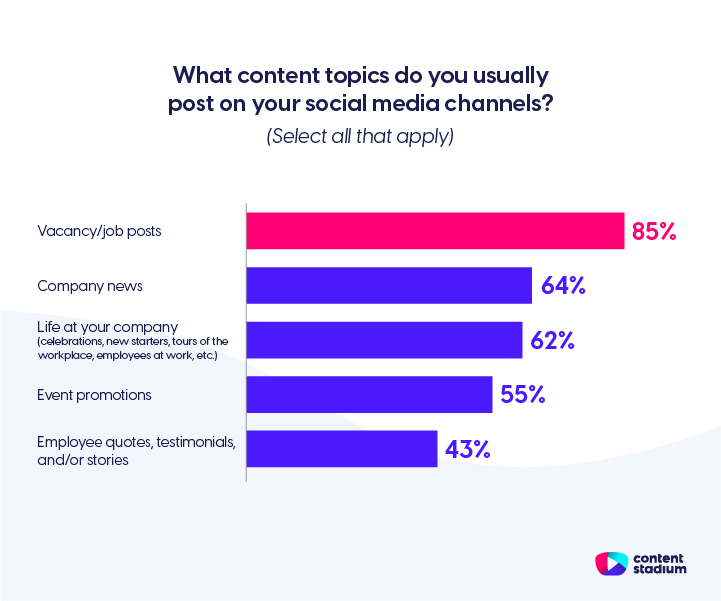 While the most common post topic continues to be job posts (85%), the statistics from our research show that social recruiting is no longer just about posting job vacancies.
The majority of recruitment and employer branding teams also post about company news (64%), life at the company (celebrations, new starters, tours of the workplace, employees at work – 62%), and event promotions (55%), as part of their social media recruiting strategy.
Need some inspiration for your social media recruiting posts? Check out our articles for 23 examples of "we are hiring" social media posts, 21 examples of "welcome new hire" posts, and 37 event promotion examples.
Video is the most common post type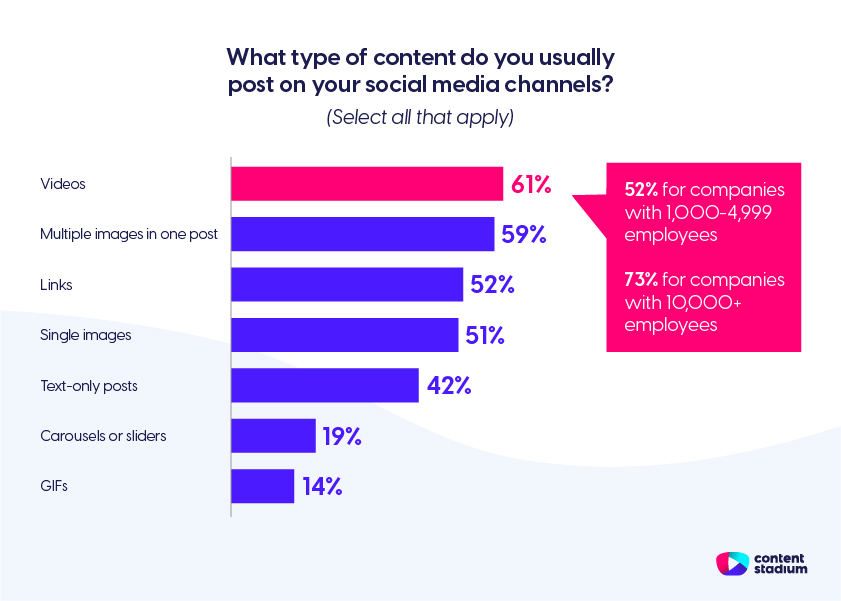 Looking at the type of content teams post on social media, 61% of teams make use of videos. This social recruiting trend increases as companies increase in size: 52% of companies with 1,000-4,999 employees use videos, compared to 73% of companies with more than 10,000 employees.
Surprisingly, only 19% of the specialists we surveyed use social media carousels. Research often finds this content type to be one of the most engaging across social media platforms, which means that 81% of recruiters are likely missing out on potential extra engagement.
For more social recruiting advice and best practices, access the free social recruiting and employer branding 2022 report.
86% encourage their employees to engage with their social recruiting content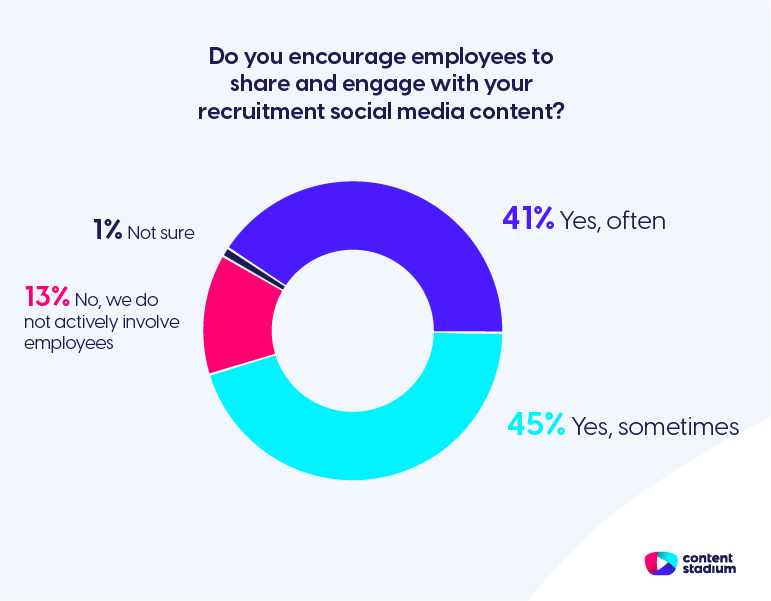 Most recruitment, talent acquisition and employer branding specialists involve their employees in their social recruiting activities. Out of the 242 specialists who use social media, 86% indicated that they encourage their employees to share and engage with their recruitment content.
But what's the best way to get employees involved in your recruitment activities? We put the question to the specialists we surveyed: check out their 9 best practices in our blog post on employer advocacy on social media.
Recruiters are still heavily relying on marketing to create their content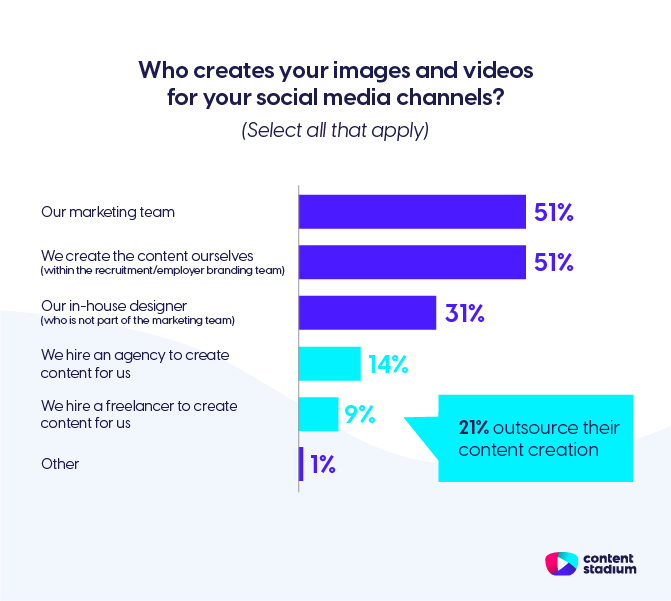 According to our social recruiting statistics, 51% of teams who use social media still get help from their marketing departments to create their images and videos.
The same number of respondents (51%) are also able to create their social media recruiting content themselves, within their own department. Meanwhile, 21% of teams choose to outsource this work to agencies or freelancers. And 31% have access to a dedicated in-house designer.
Most teams use content creation tools for their social media posts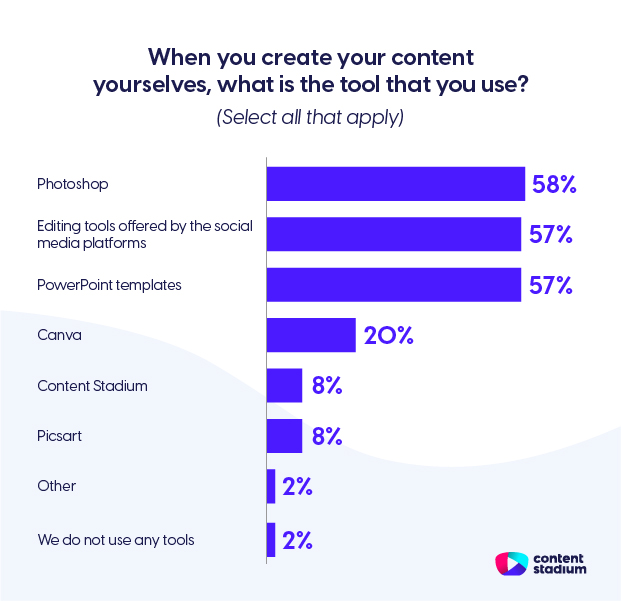 Of the 123 recruitment specialists who indicated that they create their content themselves, 98% use some form of tool to make their social media visuals.
The majority use tools such as Photoshop, native features offered by the social media platforms themselves (such as filters), and PowerPoint templates. Dedicated template platforms such as Canva, Content Stadium and Picart are also some popular alternatives.
71% of teams face content creation challenges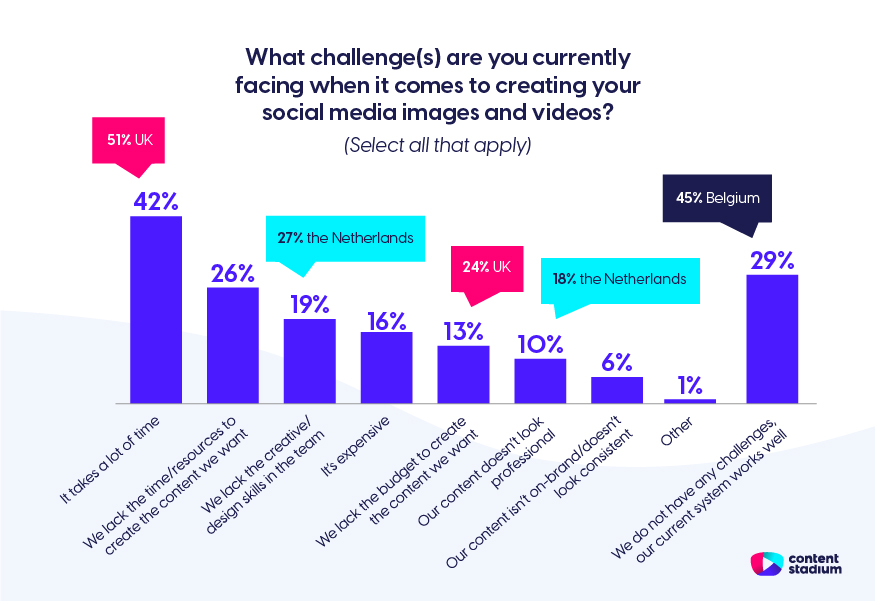 71% of the recruitment, talent acquisition and employer branding specialists who use social media face one or more challenges when creating their content.
The statistics show that the biggest issues centered around 3 trends:
Time: While some specialists are investing more time than they would like (42%), some cannot create the social media recruiting content they want due to a lack of time and resources (26%).
Creative skills: 19% of teams lack design skills.
Budget: 16% find creating content expensive, while 13% simply do not have the budget to create what they want.
"We are capable of producing professional content, but we lack the time," stated one recruitment professional. Others added, "Due to a lack of budget, we only do patch-up jobs ourselves," and "In addition to normal tasks that otherwise arise, it is not always possible to create content regularly."
Meanwhile, some respondents shared their solutions. Several specialists recommended "doing your research for good apps, systems or software," which they mention can save time, increase quality and decrease costs.
Create professional branded content yourself – in a few clicks.
Lack of time, design skills, or resources shouldn't stand in the way of consistent social media content.
At Content Stadium, we give recruitment teams the tools to create, share and post professional branded images, animations and video content, in a few clicks, thanks to our custom-built templates.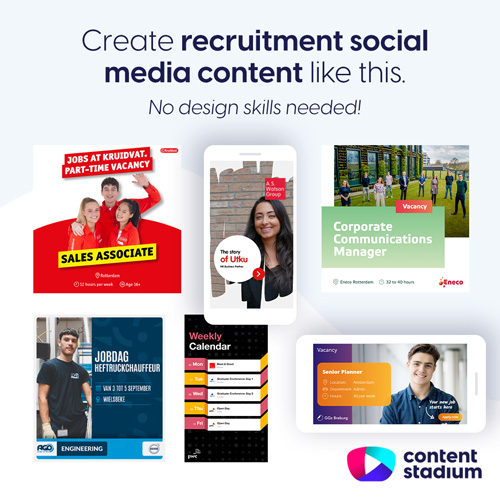 Learn more about how we can help you attract the right talent on social media: discover our content creation platform for recruitment and employer branding teams.
Get more social media recruiting ideas and examples