Are you wondering whether you should go for a paid version of Canva, or an alternative content creation platform? Or perhaps you and your team have outgrown Canva, and are looking at alternative template solutions that might suit your needs better than Canva?
To help you out, we summarized the key differences between our custom template content creation solution, Content Stadium CREATE, and Canva's paid versions, Canva Pro and Canva for Teams. Each platform offers different advantages, depending on your priorities and the stage of your content strategy.
Content Stadium vs Canva: Table comparison
Download the PDF for a full overview of how Content Stadium CREATE compares to Canva Pro and Canva for Teams, or keep reading for a summary of the differences between both alternatives alongside visual examples.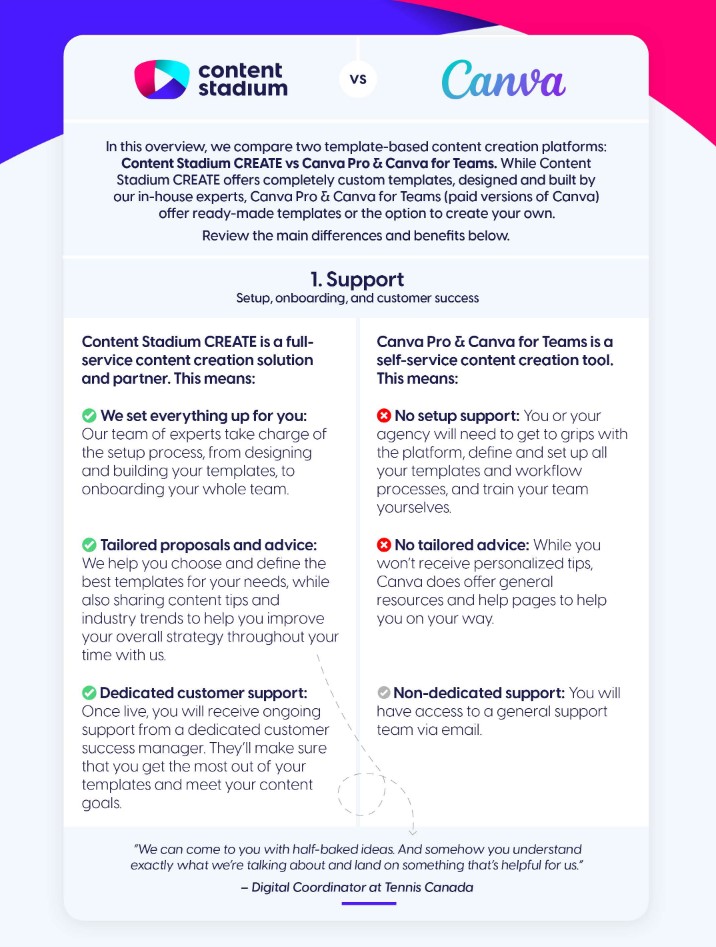 What are Canva Pro and Canva for Teams?
Canva is a template-based graphic design tool. It offers ready-made template designs, as well as the option to build your own. Canva Pro and Canva for Teams are paid versions of Canva, which offer more design features. Canva Pro is designed for individuals, freelancers and solopreneurs, while Canva for Teams allows you to add multiple users with access to additional collaboration features.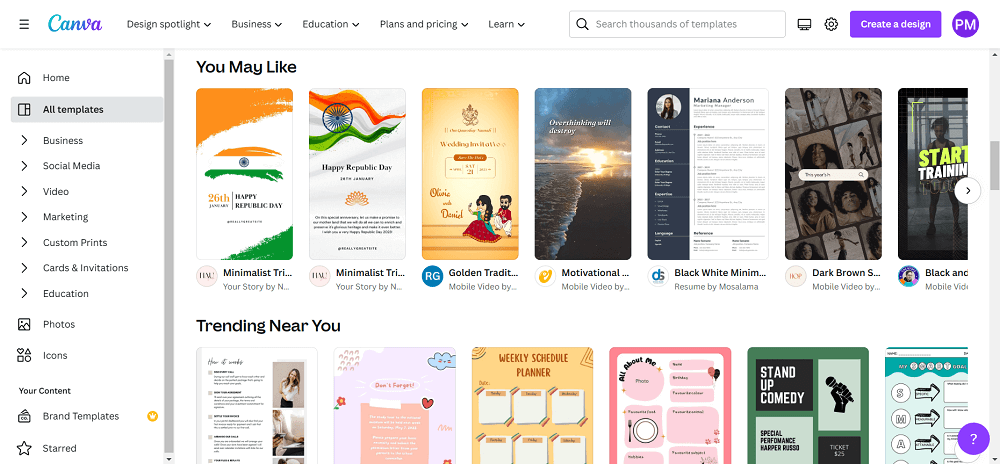 What is Content Stadium CREATE?
Content Stadium CREATE is a template-based content creation platform. Unlike other template solutions, we both custom-design and custom-build your branded templates. This means that they are completely tailored to your unique (brand) needs to make your content creation process as efficient and on-brand as possible.
In addition, we'll take the setup work out of your hands, by drawing up proposals, and driving your project forward. Learn more about how our custom template solution works.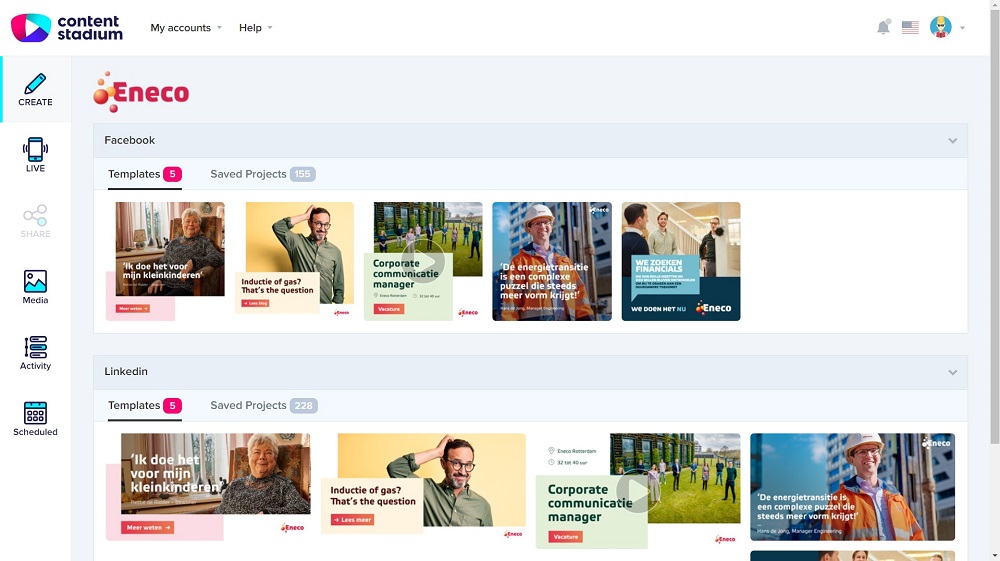 Alternative to Canva: Key differences between Canva and Content Stadium
Read on for a summary of the main differences between Content Stadium CREATE and Canva Pro and Canva for Teams, including how the two solutions compare in terms of support, designs, ease-of-use, brand consistency, typical users and price.
1. Support
Canva (including Canva Pro and Canva for Teams) is a self-service content creation tool. This means:
No setup support: You or your agency will need to get to grips with the platform, define and set up all your templates and workflow processes, and train your team yourselves.
No tailored advice or dedicated support. But you will have access to help pages and general support via email.
Content Stadium CREATE is a full-service content creation solution and partner. This means:
Complete setup support: We set everything up for you, from designing and building your templates, to onboarding your team.
Tailored proposals and advice: We'll help you choose the best templates for your needs, as well as share tips to improve your overall strategy. You'll also be assigned a dedicated Customer Success Manager to support you throughout your time with us.
"We can come to you with half-baked [template] ideas. And somehow you understand exactly what we're talking about and land on something that's helpful for us." – Digital Coordinator at Tennis Canada and Content Stadium client.
2. Designs
Canva Pro and Canva for Teams:
Default, generic designs: Canva offers the same default template designs to everyone who uses the platform.
You can also create your own template designs yourself.
Possibility to create standout and complex visuals: Canva often requires several clicks and manual adjustments to create a more complex design. A user with limited design skills can therefore find it difficult to produce standout and attractive visuals.
Content Stadium CREATE:
Tailored, standout designs: Our designers will create standout designs based on your specific brand guidelines.
If you prefer, you can also submit your own designs.
Easily create standout and complex visuals: We offer a wide range of smart template features that help you create scroll-stopping designs in a few clicks.
"Everything is tailor-made for our own brands. It's not a design package that any other [brand] could also have." — Employer Branding Specialist at A.S. Watson and Content Stadium client.
Watch how A.S. Watson can switch up the design of their Content Stadium templates, while staying on-brand:
3. Ease of use: Templates
With Canva Pro and Canva for Teams, you can create custom template designs yourself, by editing a default template, creating your own designs from scratch, or uploading your Adobe Illustrator or PowerPoint files. But the template logic isn't custom-built for you. This means:
Easy to use, but time-consuming to edit and train new users: Once set up, editing a template is easy. However the process is manual and can therefore be time-consuming. And you will need to explain each of these steps to new users.
Basic responsiveness: Some template elements are responsive, but you often also need to make manual adjustments as you edit your templates (see an example below).
Huge number of functionalities: As you use your templates, you will need to navigate through hundreds of features, most of which you will never need.
Each design needs a separate template, and your team will then need to search for the correct variation each time.
Content Stadium CREATE templates are custom-designed and custom-built for you by our team of designers and developers. This means:
Quick and easy to use, and onboard new users: Because your templates are built exactly how you need, they are super easy to use and explain to new users.
Fully responsive designs: Templates respond automatically to all your changes and edits, according to the rules you chose during the setup process (see an example below). It's like bowling with the bumper rails up!
Only the functionalities you need: All your template features are chosen by you, so you only see the options you need and can action them in a few clicks.
Multiple designs in one template: A single template can offer hundreds of pre-set design combinations. So you only need to request and work with a few templates.
"It's simple to use. It's fast. It's intuitive. Everyone is clear on how to use the platform." — Social Media and E-Commerce Communities Manager EME at SEPHORA and Content Stadium client.
Example of a responsive design
See how a Content Stadium template responds when duplicated to another size, versus how a Canva design responds: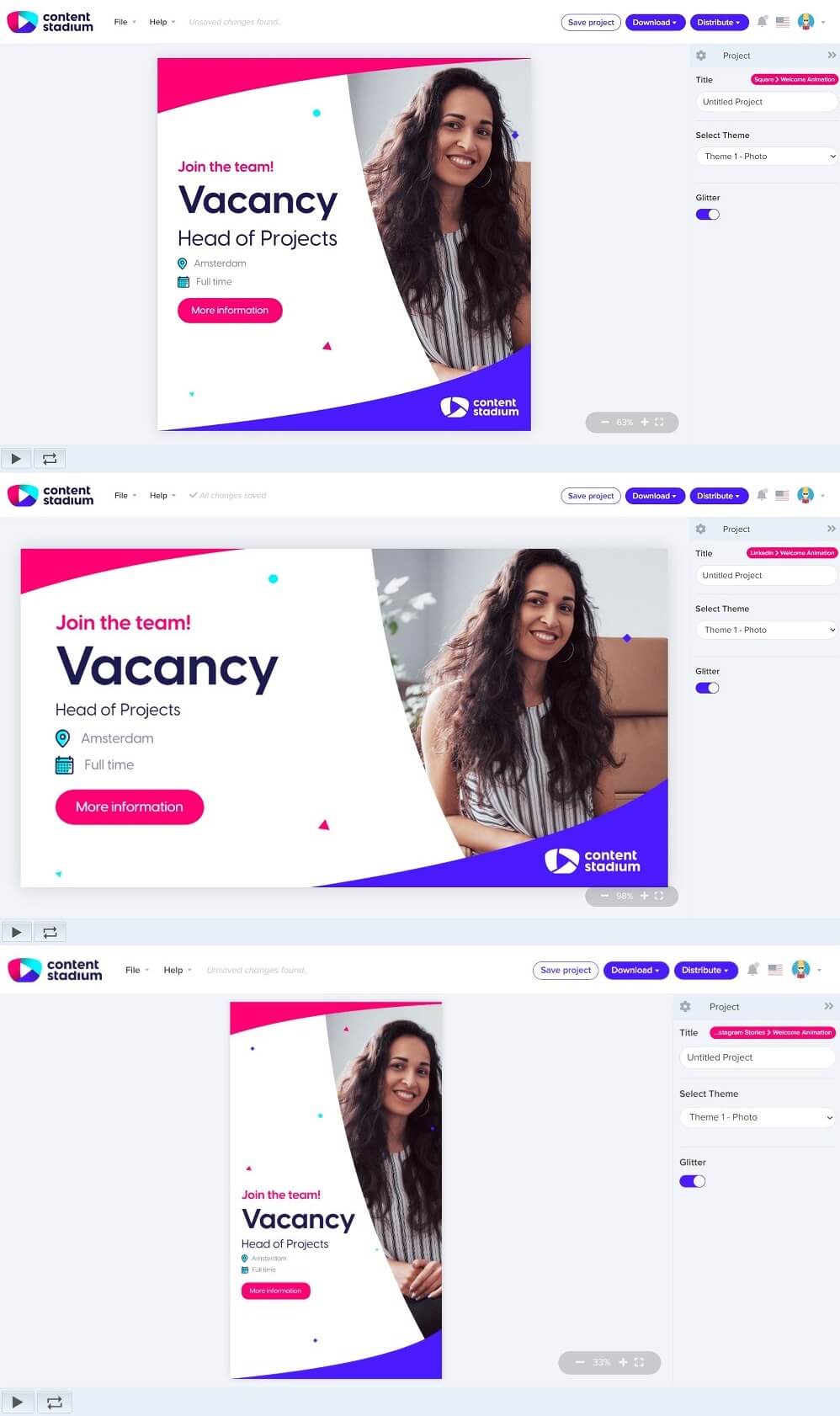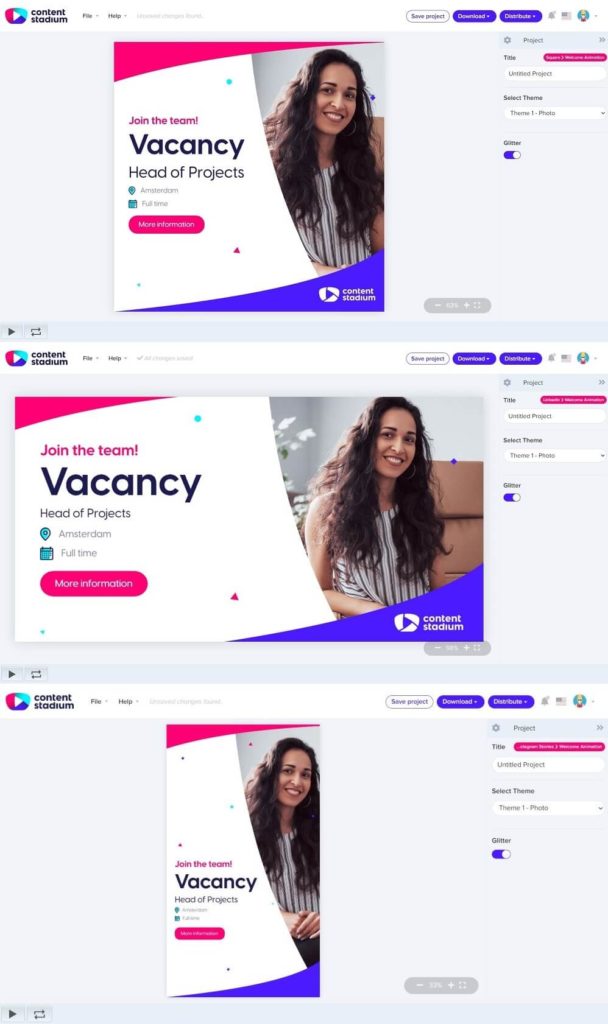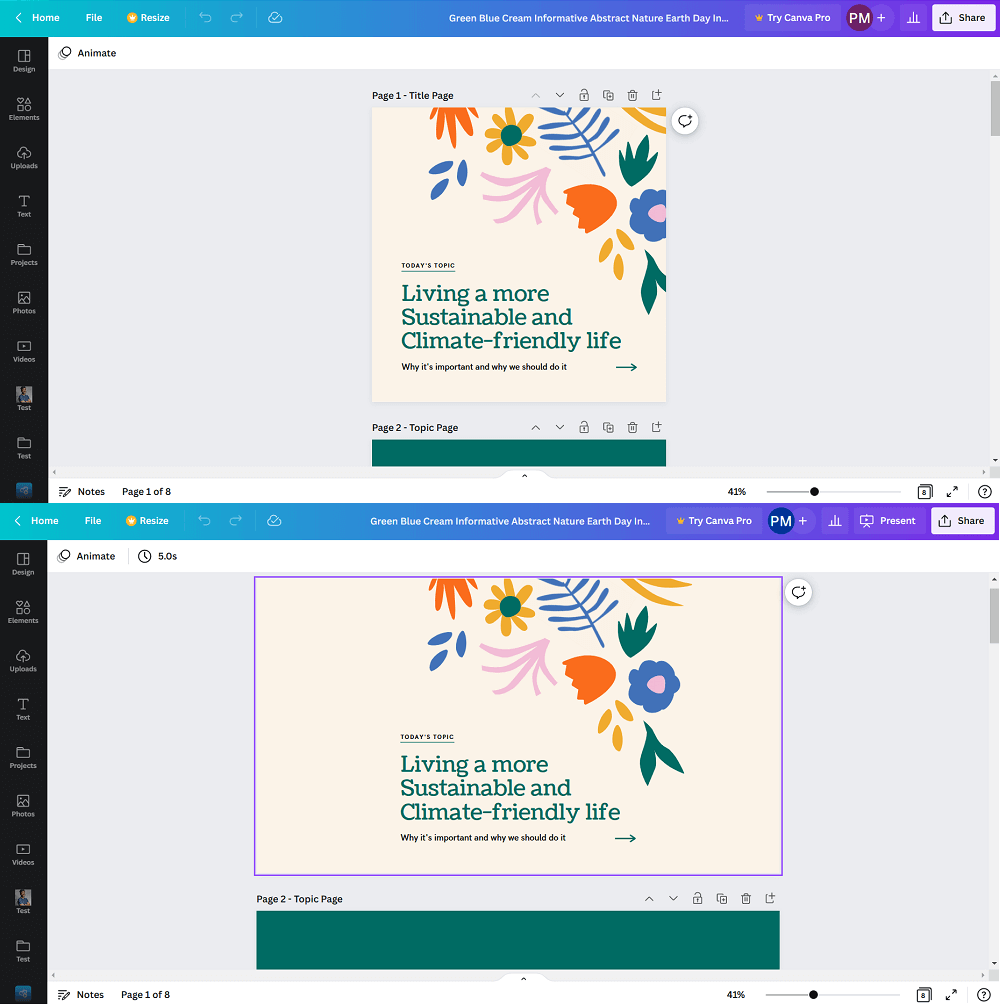 "With Content Stadium, everyone on the team can create quality, eye-catching graphics quickly and effortlessly. It would have been impossible to do even a fraction of the graphics we're producing today without this powerful tool." — Social Media Manager at Sporting Life and Content Stadium client.
Watch how quickly Sporting Life can edit one of their Content Stadium templates, including data import, multiple layouts, cut-out tool to remove photo backgrounds, and animation:
4. Ease of use: Platform
Canva Pro and Canva for Teams:
Congested interface: The platform is filled with every feature available on Canva, which can be overwhelming when looking for the features you need.
Content Stadium CREATE:
Straightforward interface: The platform is kept free of clutter — you only have what you need — helping you work faster.
"We work with many other platforms, which tend to be quite intense: information-heavy dashboards, long trainings, constant need to stay up to date etc. The thing about Content Stadium is it's super simple. The templates themselves can have as many features as you want, but the dashboard and menus are all really easy to work with." — Social Media & Content Manager at betFIRST and Content Stadium client.
See how betFIRST can easily access all the features they need to quickly edit their video template:
4. Brand consistency
With Canva Pro and Canva for Teams you have 2 options:
Lock your brand by building numerous templates: Account admins can limit or lock colors, fonts, and some other design elements. However, you will then need a different template for every design variation.
Risk branding errors with fewer templates: Alternatively, you can create fewer templates by putting in fewer restrictions. However, this puts your brand at risk, as your team can easily move and change elements.
With Content Stadium CREATE, you benefit from:
Always on-brand designs: To prevent branding mistakes and ensure consistency, you can choose to lock and limit any template element. We can also add pre-set design switches that allow elements or entire designs to change in one click, according to your brand guidelines.
"If you want to respect your brand guidelines, and you want people to recognize your brand, with Canva this was difficult. [On the other hand] respecting brand guidelines, and building a recognizable brand and visual communication strategy is very easy with Content Stadium." — Social Media Coordinator at STIB-MIVB and Content Stadium client.
Watch how STIB-MIVB can quickly import their data into the right position in their Content Stadium template, plus switch up their branded design:
5. Who is it for?
Canva Pro and Canva for Teams is a cheaper solution more suited to freelancers, or smaller companies that might not yet have a communication strategy in place and/or are still testing and trying different approaches.
Content Stadium CREATE is a professional solution designed for communications and social media teams, who are looking to improve their content creation process and strategy. This includes increasing efficiency in their creation process, professionalizing their branded content, creating more content, and/or reducing content creation costs (by removing the need for additional designers or agencies).
"We're a machine when using Content Stadium. The platform allows us to work fast and well. It's quality mass production. And it's a life-saver for any social media manager." — Digital Content Manager at the European Handball Federation and Content Stadium client.
See the cool videos and animations the European Handball Federation can create in Content Stadium, without the need for a designer or videographer:
"Because it's so quick to create content, I have the flexibility to make more visuals and post more often." — Digital Marketer at VIVES/Brugge Business School and Content Stadium client.
Watch one of VIVES/Brugge Business School's templates at work in the Content Stadium platform:
6. Price
Canva Pro and Canva for Teams:
Cost of the tool €-€€ / $-$$: Canva Pro is priced at €109.99 for one user per year. Canva for Teams prices increase as you add more users, from €139.90 for up to 5 users per year, to €2,164.90 for 20 users per year, €3,469.90 for 30 users, etc.
Cost of setup and maintenance €-€€ / $-$$: Not included in the Canva pricing are the agency costs and/or internal resources you will need to allocate to your project, in order to define, design, build and maintain your templates, set up your accounts, and train your team.
Content Stadium CREATE:
Complete package (templates, setup, support etc.) €€-€€€ / $$-$$$: Prices are entirely custom and based on your template needs (number of templates, complexity, etc.). We can find a solution to fit most budgets, with client packages ranging from €3,O00 to €100,000+ per year.
See the differences for yourself
Want to see how Content Stadium CREATE compares to Canva Pro and Canva for Teams? Book a demo to see our platform in action and get all the insights to make the right decision for you and your team.
More information about Content Stadium CREATE