Read our most up-to-date post for June 2023.
Every month, we're sharing bite-size summaries of the top social media trends, content ideas and best practices we came across. These are based both on our own experience helping our clients improve their social channels with our platform, and from what we've been reading around the web.
Take a look at these June tips for ideas on how to improve your social media channels. Just be sure to always test before changing your strategy entirely, as not every approach works for every brand or channel.
Want even more social media tips and tricks? Check out our August 2022, July 2022, and other monthly roundups.
1. Social media news: Catch up on the latest platform updates
Stay up to date with the biggest social media platform news and developments for June 2022:
2. Snapchat ad tips: Maximize visual contrast and minimize text
After analyzing more than 14,000 Snap ads over the last 3 years, VidMob reveals the key Snapchat ad creative best practices for the entertainment, CPG and financial services industries. These were their findings that applied to all 3 sectors:
Give your visuals a high degree of contrast. Make your lead image stand out from the background by using contrasting or bold colors, and/or differences in brightness. High contrast visuals led to a 40% higher swipe rate for entertainment ads, double the average screen time for CPG ads, and a 15% higher swipe rate for finance video ads.
Reduce the amount of text on screen. When the text took up less than 5% of the screen, the view rate was 175% higher for the finance industry and 85% higher for CPG, while the swipe rate went up 23% for the entertainment industry.
Get a celebrity endorser. Opening an ad with a celebrity spokesperson saw a 39% and 17% higher swipe rate for finance and CPG ads respectively. For the entertainment sector, the swipe rate was 18% higher when the celebrity talent directly faced the camera.
Read the reports for more data specific to each industry: entertainment, CPG and financial services.
3. Social media tip: Boost your brand with clever humor
Research published last month found that brands using clever and witty humor on social media see an increase in brand attitude and engagement.
Jokes must be clever and ideally related to your audience (their interests, your product, or your competitor's products). Such humor will signal that your brand is competent (smart enough to come up with these funny mental connections) and warm (we feel closer to a brand that makes references not everyone would understand), which in turn positively influences attitudes and sales. Generic humor won't work.
For example, Tweets from brands like Netflix and MoonPie are retweeted more and get more replies the more clever the humor they use.
Check out some examples of clever brand humor on social media from Ryanair and MoonPie below:
4. Instagram tip: Customize your Stories link stickers
Instagram currently offers 4 different default designs for your Stories link stickers. But did you know there are ways to further personalize both the look and text of your Stories links?
Whether you want your stickers to look more eye-catching or more on-brand, High Season Co. shares 2 tricks to customize your links:
Use Instagram's default text feature: Add your link sticker to your Story as you normally would. After that, simply use the text feature to cover the sticker and create your own custom call-to-action text. Users will still be able to tap the link that is now hidden behind your text box.
Create your own (branded) stickers: Design your own custom stickers with the look and feel of your choice, such as your exact brand colors, fonts and CTA button format. Then send it to your phone, and insert it into your Story as an image. You can now place your custom sticker on top of the Instagram link sticker to create a new button.
Watch the full video for step-by-step instructions on how to customize your Instagram link stickers:
5. Twitter trend: 😂 and ❤️ are the most-used emojis worldwide
Crossword Solver retrieved 9 million geotagged tweets to determine the most-used emojis per country.
Their findings included:
Tears of joy 😂 and red heart ❤️ are the 1st and 2nd most-used emojis worldwide.
Wordle-themed emojis 🟩 🟨 ⬜ now feature in the U.S.'s top 10.
Emojis can mean different things in different countries. In China, the clapping hands emoji 👏 can mean "making love," while thumbs up👍 can cause offence in Greece.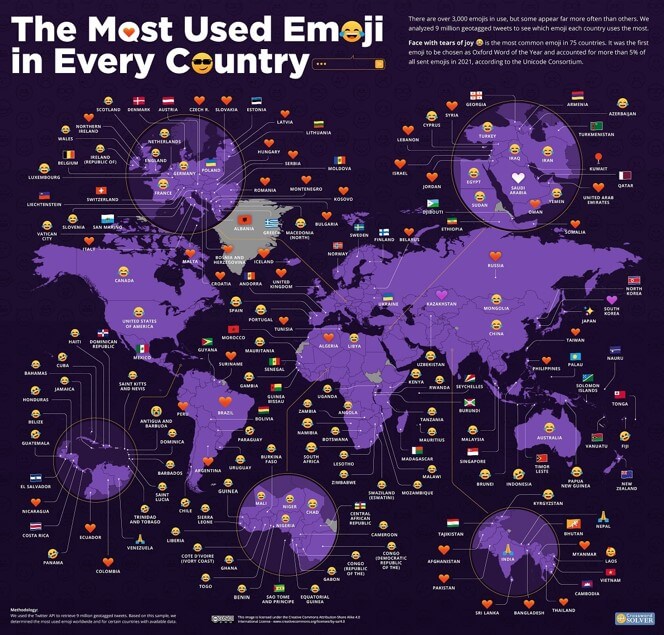 Did you know? At Content Stadium, we offer content creation and distribution solutions that help you simplify your social media processes. See how they can make your life as a social media manager easier: check out our platform.
6. Social media tip: Work faster with social media shortcuts
Want to make your social media process more efficient? Hootsuite put together a list of 111 social media keyboard shortcuts to help you work smarter.
These include shortcuts for creating new posts, engaging with content, navigating to different pages and more, for Facebook, YouTube, Twitter and LinkedIn, plus a few standard shortcuts to review your basics.
These were 3 of our favorites:
Twitter: Search for positive and negative brand sentiment Tweets with : ) + company name or : ( + company name respectively (removing the space between the colon and bracket of the emoticon). Use the same formula to search for sentiment on any other term.
YouTube: Use number keys to skip forward and backward when watching a video: 1 = 10%, 2 = 20%, 3 = 30%, etc.
Facebook: Scroll through photo albums with J (previous) and K (next). Be sure to enable Facebook keyword shortcuts in your settings first.
7. TikTok trend: The rise of 60+ TikTokers
Recent research has found an increasing number of TikTok accounts belonging to users aged 60 and older with millions of followers. These TikTok creators are often using their account to defy ageist stereotypes, and racking up a huge number of views and even good earnings along the way.
At the same time, the number of people aged 60+ who are accessing the internet and owning smartphones has also drastically increased in recent years. So it might be time to consider how you can tap into this increasing older audience.
Get more social media tips and ideas
Plus, follow us on LinkedIn to get our monthly social media best practices and more straight to your feed!