Read our most up-to-date post for July 2023.
Every month, we're sharing bite-size summaries of the top social media trends, content ideas and best practices we came across. These are based both on our own experience helping our clients improve their social channels, and from what we've been reading around the web.
Take a look at these July tips for ideas on how to improve your social media strategy. Just be sure to always test before changing your strategy entirely, as not every approach works for every platform or audience.
Want even more social media tips and tricks? Check out our September 2022, August 2022, and other monthly roundups.
1. Social media news: Catch up on the latest platform updates
Stay up to date with the biggest social media platform news and developments for July 2022:
2. Instagram trend: Photo dumps
An Instagram photo dump is a collection of unedited photos and videos that are (seemingly) casually and randomly collected into one carousel post. They might include blurry videos, action shots, casual settings, and silly images. This stands in contrast to the more typical Instagram carousel of carefully selected and edited content.
Celebrities, influencers and everyday Instagrammers alike have already jumped on this trend, which helps them come across as more authentic, fun, and easy-going.
How can brands also embrace this trend? You could try a carousel of user-generated posts, a casual look behind the scenes, a collection of throwback photos, or even a photo dump around a specific theme (award, open day, new launch etc.), to create a more authentic and relatable perspective. You could also test this approach with a carousel on Twitter, or photo album on Facebook.
Learn more about this trend and see more examples in HubSpot's blog post.
3. LinkedIn page tip: Increase engagement with carousels (and videos)
Social Insider and Cloud Campaign analyzed 141,474 LinkedIn posts from 1,126 LinkedIn pages to determine what works best on the professional social media platform. Their findings included:
Native documents (aka LinkedIn's version of a carousel) generate 3 times more clicks than any other content type.
Videos had the highest engagement per impression rate for small to mid-size accounts (< 50,OOO followers).
The research also found that the average video view rate on LinkedIn is 15.61%, and the average LinkedIn page reach rate is 3.49% — check how your page compares!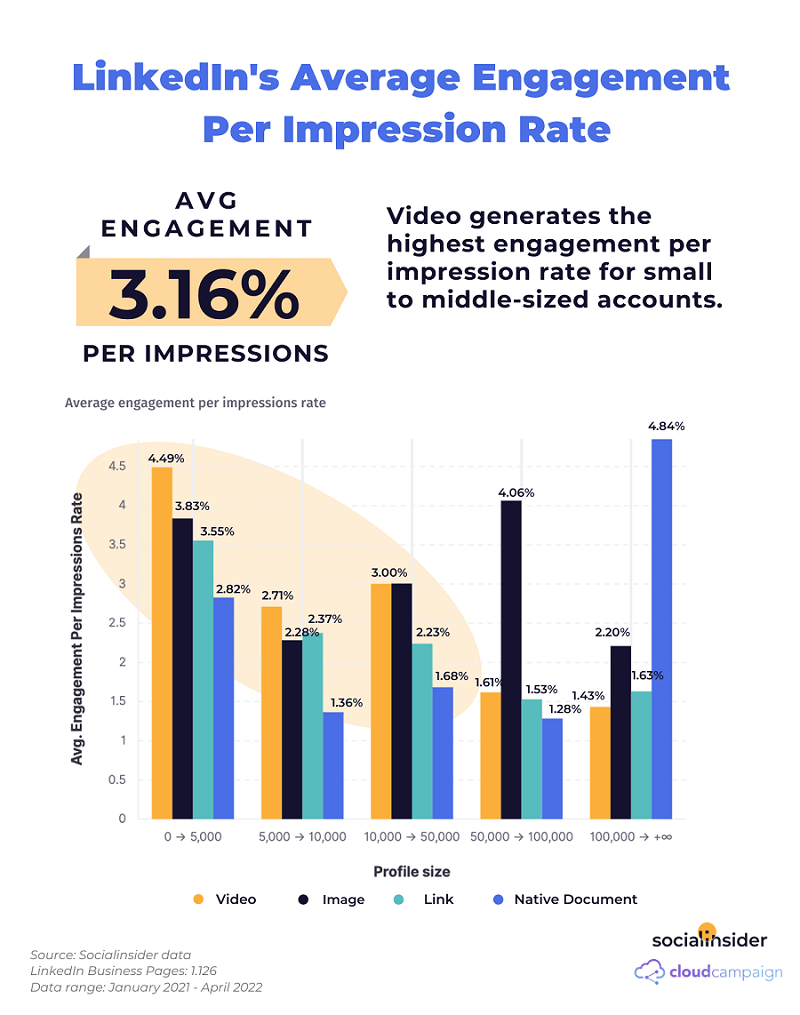 4. Brand consistency tips: How to keep your social media posts consistent
Want to build a recognizable and memorable brand on social media? Try these tips to ensure your brand looks and sounds consistent across your feeds:
Develop a brand style guide. Take it one step further by adding guidelines on how to design your branded social media images and videos.
Create a visuals library, where all your content creators can easily find and re-use approved branded assets.
Define and communicate your brand values consistently.
Determine your tone of voice. It should not matter who is writing your posts, your audience should be able to hear the same "person" speaking at all times.
Devise a content approval process, such as having one team member review all your posts before publishing.
Use social media templates to keep your brand consistent – no matter who's creating your images and videos, and even if you have to create your content in a rush.
Audit your social media content regularly.
Maintain a consistent posting schedule.
Learn more about each of these 8 tips alongside real-life examples in our article on how to keep your posts consistent.
5. Reddit ad tips: Get to know the unique nuances of the platform and its audience
Reddit recently released an infographic of ad creative best practices. Here are some of the main recommendations and tips that we found differ from typical social media ad best practices:
Redditors like to read, so make the most of your ad copy.
Explicitly call out your product benefits and/or brand differentiators.
Write like you'd speak to a well-informed friend.
Demonstrate your knowledge of Reddit: use callouts to specific subreddits, users or themes, and avoid hashtags and emojis (Redditors typically don't use these).
6. Content ideas: Test new ways to engage your audience
Bootcamp Digital collected 81 social media post ideas to inspire your own. Among the expected "ask a question", "share behind-the-scenes content" and "post a special offer" content ideas, we also found some more unique and interesting suggestions.
These were some of our favorites, alongside some additional examples from us:
Ask for advice or recommendations (for example, what do your followers want to see, what color should you paint the new office, what new product should you launch, etc.).
Engage your fans with "would you rather?" dilemmas.
Share a quick time-saving or cost-saving tip (relevant to your brand and field).
Say thank you or show gratitude in some way.
Share before and after images or photos (for example, then and now photos, old brand vs new brand, etc.)
Promote another platform you're on.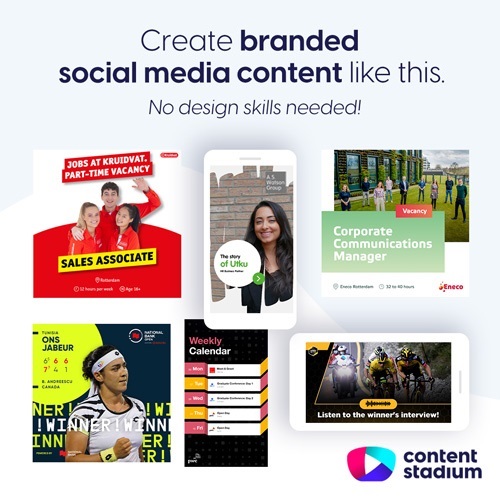 7. Social media tip: Create content faster with our templates
We recently asked our clients why they use our template-based content creation platform — what does it help them achieve?
Almost all indicated that we make their content creation process more efficient (90% stated that we help them create content faster and 80% that we help them save time in the creation process). Other popular reasons included ensuring their content stays on-brand (54%), creating more content (50%), and creating better content (40%).
Are you too looking for ways to simplify and improve your branded content creation process? Check out our template solution Content Stadium CREATE, and read more about what our clients had to say about it in our latest survey.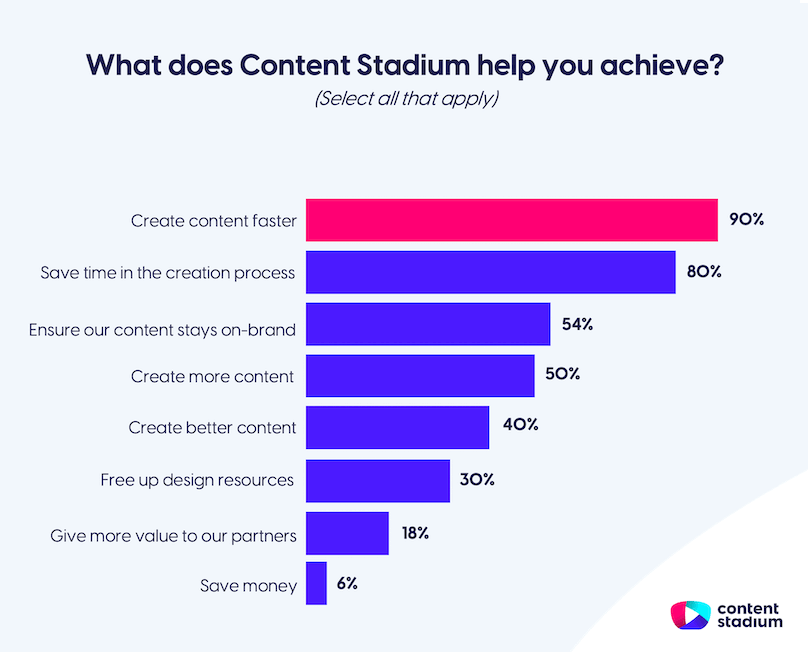 Get more social media tips and ideas
Plus, follow us on LinkedIn to get our monthly social media best practices and more straight to your feed!